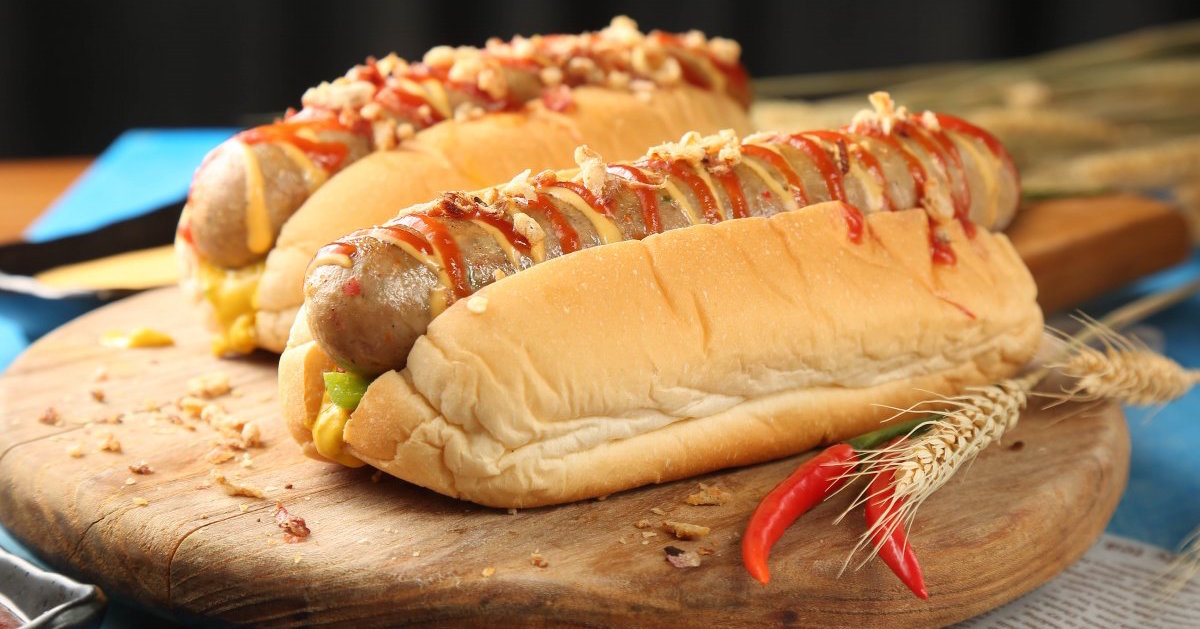 In the wake of TBJ's successful Hot & Spicy Festival our fiery restaurant coverage continues with this Feel the Burn series. Those of you who acquired a taste for all things hot at the fest can maintain the burn by visiting these chili rife eateries.
You may know Legend Beer for its craft brews, like its hefty eponymous IPA (6.8 percent ABV), its Beatles American Amber Ale and its Party Queen Wheat. However, at this past weekend's Hot & Spicy Fest, the local purveyor of artisan suds also showed off another skill set: a flair for readying spicy eats.
More interesting still: that grub wasn't exclusive to the owners' native China. Instead, their booth had a wide, East-meets-West range of snacks, from chili topped hotdogs to spice slathered braised duck meat. We were quick to queue up for one of Legend's hot dogs at the fest. It's been one of our favorites since it debuted on their menu this past fall. At the time we scarfed one of those dogs down and it immediately struck us as "impressive as it is spicy (the chef put bird's eye chili and pepper in the house-made sausage), stuffed into the house-made buns and topped with mustard and ketchup." We were quick to warn readers: "Caution while eating: it is piping hot with a slow, lingering burn at the end. If you would like to go extreme, they also have a longer version of it, called the 'Hoooooooot Dog' (RMB 98)." The fact that those hot dogs were sold alongside spicy braised duck at the fest last weekend was just an added bonus.
Such eclectic fare may seem special, but it's pretty par for the course for Legend. The Workers Stadium west brewpub (which fittingly has a 4.5 percent ABV named after that location) has served hearty bar food since its opening in 2016. When we popped by the gargantuan, 400-square-meter brewery shortly after its opening in 2016 we were quick to not only knock back a few pints but also gobble up some of the German and American dishes on offer. Highlights included pork knuckles with sauerkraut, handmade sausages, mini burgers, pancakes and, best of all, roasted prawns with avocado on crispy lettuce.
Just over a year later, we returned to take a peek at Legend's upgraded menu, noting the brewpub seemed to offer "a little bit of everything, treading the line between European, American, and Asian. Their sausage platter (RMB 108) comes packed with four types of sausage, creamy mashed potato, and sauerkraut, whereas a roasted prawn and avocado salad (RMB 38) comes on a bed of crispy lettuce. We'd also recommend the kitchen's trio of fish, beef, and pork sliders, generously garnished with lettuce, tomato, and onion, and sides of fries."
We were all the more gobsmacked, however, by the roasted meat offerings that came in portions big enough to evoke the venue's vast square meterage. An RMB 298 leg of juicy, chewy and delicately seasoned lamb leg, for instance, was more than enough to quell our protein hankerings. As much as we enjoyed the lamb, it was rivaled by the gleaming glazed winter squash pig (RMB 39), a crackling fatty pork dish that instantly whisked our tastebuds to a far-off Bavarian foodie paradise.
Sure, Legend's booth wasn't home to the most intensely blazing offerings at this year's Hot & Spicy Fest. But its fine, German-inspired craft brews— be it their sharply bitter and hoppy lagers or their sweetly scented IPA's— cooled us down amply when the spice became too much for us to handle. Meanwhile, their booth's meaty eats (not to mention the prospect of pulling up a chair at their spacious patio as the weather grows warmer) all left us craving another visit to their Workers Stadium West brewpub before long.
Think you can handle more heat? Then be sure to check out the latest issue of our Hot & Spicy themed magazine and more of our ongoing chili related restaurant coverage so that you can keep the burn going.
Photos: Courtesy of Legend Beer

Visit the original source and full text: the Beijinger Blog