Voting in the Sweet 16 may have closed at noon today, but that's no reason to stop the orgy of consumption, as four of Beijing's top 16 burger-makers have 2-for-1 burger specials on offer every Monday. And with locations in Shuangjing, Sanlitun, Lido, and even Shunyi, there's no excuse for you to go and partake.
So before you come back and vote in the next round (which opens at 4pm today) to see who will make the Final Four, why not take advantage of the 2-for-1 deals on offer at one of these venues today, pronto: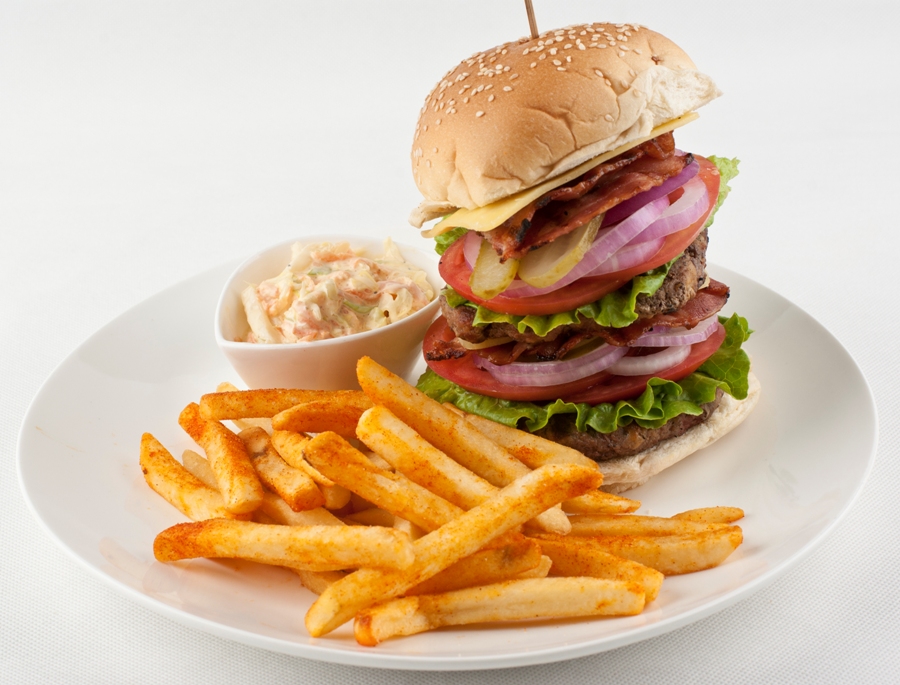 The Garage (Shunyi)
Shunyi may seem like a long way to travel for a burger, but if you live northeast of the city, The Garage is your answer. The surprising underdog has made it into the Sweet 16 with their classic bacon cheeseburger (above).
It's an American classic burger with toasted bread, good quality meat grilled juicy, and secret seasoning made in-house, served with french fries, coleslaw, and onion, tomato, lettuce and a pickle on the side. 
Blue Frog (Lido, Sanlitun and two other downtown locations)
Blue Frog's burger promotion is after 4pm only, but with locations in Sanlitun, Lido, and two other downtown locations, you're likely to be near one just as you get out of work this evening
Take a friend and each of you can plow through a Montana (above), a 100 percent Australian beef patty topped with onion rings, cheddar cheese, bacon, and barbecue sauce.
Plan B (Shuangjing)
Shuangjingers already swear by this south side establishment, but those that dare not venture south of China World are missing out, big time. Take the subway or take advantage of Monday's relatively light traffic to go on down to chow down a pair of bronco burgers (above), served with crispy bacon, cheese, fried onions, jalapenos and house-made Jack Daniels barbecue sauce, all on a soft sesame seed bun.
Q Mex (Sanlitun)
Q Mex is actually offering 2-for-1 burgers every day for the duration of the Burger Cup, so it's good for today or any day ... but heck you might as well try one today. Try one of their double cheeseburgers (above) on the 2-for-1 special, or maybe try their signature carnitas burger, featuring the shredded, braised pork and beef typically used in taco and burrito filling, served with a side of roasted corn.
Photos courtesy of the venues

Visit the original source and full text: the Beijinger Blog