When it comes to treating yourself, nothing compares to comforting sweets in the afternoon after a tiring morning, finding an upgrade to your terrible office coffee, and tucking into a delectable lunch without burning a hole in our wallets. Thankfully you can do all that and more at Lincey, a recently opened Italian joint at Chaowai Soho.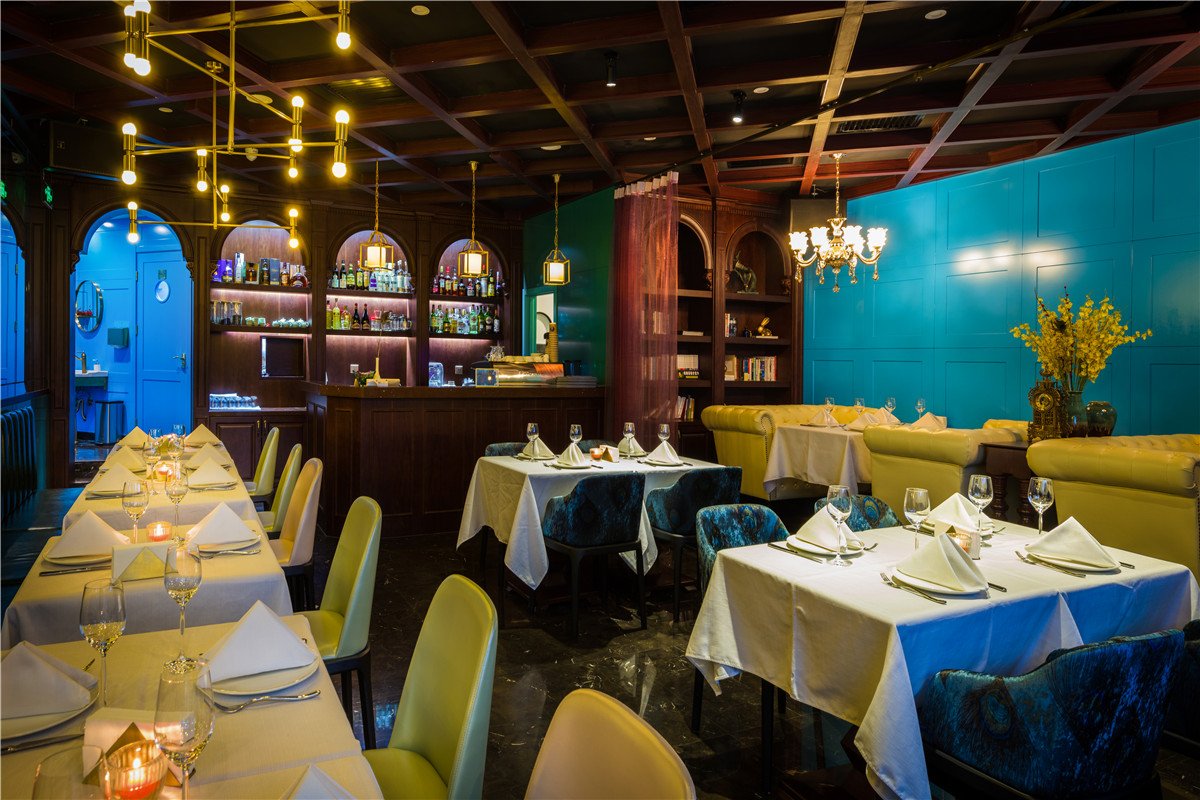 Its restaurant-in-a-café atmosphere boasts full on color saturation – sapphire, peacock blue, gold, and blue velvet. Danna Wang, the owner wants to create a warm yet elegant spot, providing affordable dishes. The menu includes multi-choices of antipasti, soup, salad, pasta, mains, and desserts. We noticed that the set menus are a good value. RMB 98 will get you an antipasti. You can choose from spaghetti, gnocchi, and mains like grilled tenderloin or stuffed chicken breast, along with dessert, coffee or tea. You can also upgrade to RMB 128 for a choice of linguine, or spaghetti with slow cooked beef, and a dessert with coffee or tea. Then there's the splurge RMB 238 option, which gets you an antipasti, a soup, a main, a dessert and a drink.
The seafood soup (RMB 48) was simply delicious thanks to its cooked codfish and tomato sauce. It also featured clams, mussels, and other seafood, and was put over the top by a hot finish from its chili. We also enjoyed the zesty kick from a thick lemon wedge floating in the soup. A long slice of toasted garlic baguette, baked in house, was served alongside and gave the proceedings a satisfying crunch.
Their Lincey salad (RMB 88) was generously portioned and featured cashews, cheese, ham, mushroom, red and green bell peppers, lettuce, kidney beans, corn, quail eggs, chicken, radish, all paired with classic vinaigrette. It proved to be a fresh choice for people who are doing paleo practice.  
Our favorite, however, was the octopus linguine, which was dyed black by octopus ink. Its spicy and savory flavors balanced well with its salty capes, and sweet cherry tomatoes. The abundance of octopus also brought lots of umami flavor to this dish.
You can't call it a meal without trying the signature coffee here. Cristian Rojas, the restaurant manager from Italy, grew up in Argentina and spent years training as a barista in Ireland. He provides four special coffees with liquor, such as an Irish coffee (RMB 45/88) with a choice of Jameson whiskey, or Kilchoman single malt whisky; Irish cream coffee with Baileys (RMB 48); Spanish coffee (RMB 48), with Tia Maria and Grand Marnier; and French coffee with brandy (RMB 48). The Irish coffee we tried with one of our favorite single malts was as good as it looked, featuring a thick layer of smooth fresh cream with smoky aromas and a sugary kick from the brown sugar. It was balanced out by the hand-pressed coffee, which had a lingering bitterness. We couldn't think of a better digestif as we made our merry way back to the office for a far more joyful than average afternoon.
Lincey Italian Cuisine
Daily 9.30am-11pm. 1/F, 0105A, 6B Chaowai Dajie, Chaowai Soho, Chaoyang District (5869 0078)
林栖意大利餐厅:朝阳区朝外Soho朝外大街乙6号1层0105A
More stories by this author here.
Email: [email protected]
Twitter: @flyingfigure
Instagram: @flyingfigure
Photos courtesy of Lincey, Tracy Wang

Visit the original source and full text: the Beijinger Blog