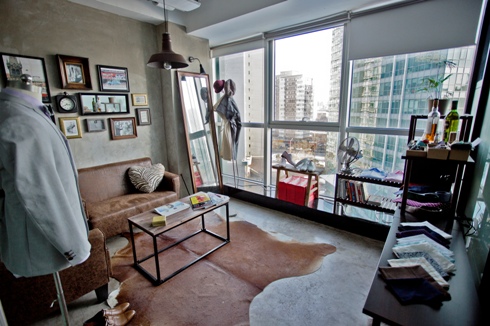 Beijing could always use more men who can confidently pull off bow ties and pocket squares. Even a few others who were better informed about the intricacies of a well-fitting suit and whose color matched their skin tone would be satisfactory. Charcoal and shiny, after all, only look good on a trash bag.
Luckily, the latest to join Beijing's modest assemblage of menswear boutiques, Principle M, means business when it comes to tailoring: they give personalized styling advice that puts the flummoxed male shopper in good hands. Experienced staff can explain basics like tying a tie and how to pair colors and textures, discuss how to transition from the office to a party, and even cover the more complicated questions, like why it's good to invest in pants that have triple closure. It all sounds like a too-good-to-be-true, real-life version of GQ's style section.
Mixed in are Principle M's "essentials," both ready to wear and made-to-measure menswear designed by cofounders Wouter de Haan from Amsterdam and Justin Kwan from the US. The collections incorporate what Principle M maintains are key garments needed for complete, versatile outfits: shirts (starting at RMB 880) and sport coats (starting at RMB 2,580), cashmere sweaters (starting at RMB 2,180), chinos (RMB 980), wool trousers (RMB 1,080), hand-made ties (RMB 280), and made to wear suits (from RMB 5,800). They've also teamed up with notable brands like Dutch label O'Quirey shoes to help fill in the gaps.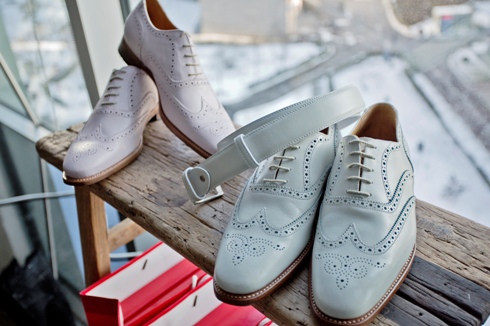 It's well known, in fact, that Beijing has made a name for itself as the place where tailoring can be done easily and at low cost. So why are there still so many residents with ill-fitting clothes? Kwan certainly recognized what was wrong: It's hard to come by a Sanlitun tailor who will tell you your suit was in fashion last year or that your tie doesn't match your shirt.
Principle M
Daily 10am-6pm. 0807, Wing 3 Kunsha International Center 16 Xinyuan Li, Chaoyang District (6409 4356) 
朝阳区北京市朝阳区新源里16号琨莎国际中心3号楼0807
800m west of Liangmaqiao station (Line 10)
Also try: Senli and Frye, D&J Fine Tailoring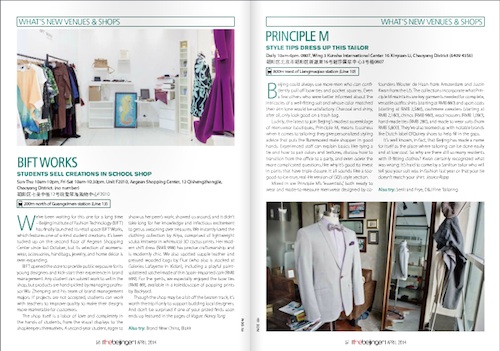 For more style columns from the Beijinger click here.
Photos: Ken

Visit the original source and full text: the Beijinger Blog