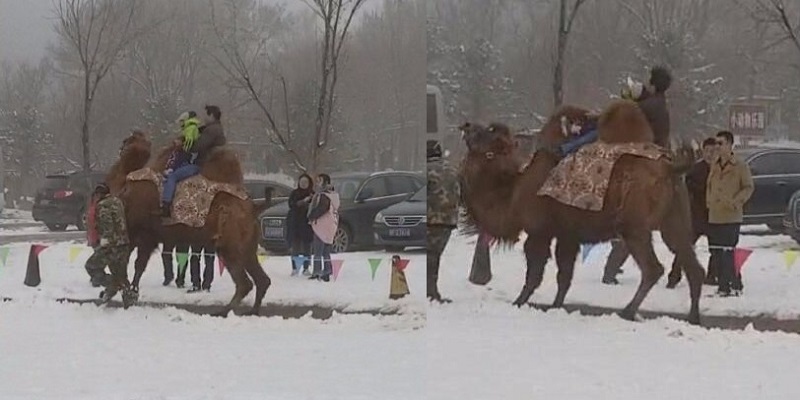 Popular Beijing tourist attraction Badaling Wildlife Park says they will issue a public apology after one of its animals injured a person last week.
A 76-year-old man named Li and an unidentified four-year-old boy fell off a camel at Badaling Animal Park's Ark Square last Thursday. 
As seen in an uploaded video, the camel seems to have been spooked by something that caused it to suddenly rear on its hind legs, shaking off its two riders. Although one of the park's supervised animal attractions, the out-of-control camel was too much for the attendant leading it on a leash around a closed track.
Badaling Wildlife Park management said the injured visitors were taken to hospital where they were determined to have not suffered any serious injury.
Although the boy was released a day afterward, Li has remained in hospital, complaining of back pains and dizziness.
The park said it will compensate the victims, though negotiations have not been finalized. Meanwhile, the camel ride attraction has been suspended.
Last Thursday's incident is the latest incident at Badaling Wildlife Park by which people, both visitors and park workers, have been injured or killed by park animals.
Most of the incidents occurred in Badaling's self-driven tour of its "Dangerous Animals" exhibit which famously resulted in a 2016 tiger mauling death. Since then, some Badaling park visitors have continued to risk their safety in order to taunt the animals or see them up close, resulting in one man getting bit in the shoulder by a black bear. 
Badaling park is one of the few remaining places in China that allows visitors to drive through enclosures filled with dangerous animals. However, the park also features a non-dangerous animal area where visitors can feed and pet animals like deer, zebras, and camels (recent video here). Unfortunately, incidents have also occurred here.
In 2016, a Badaling Wildlife Park employee was trampled to death by one of its elephants that was in heat.
More stories from this author here.
E-Mail: charlesliu1 (at) qq (dot) com
Twitter: @Sinopath
Images: Weibo (1)

Visit the original source and full text: the Beijinger Blog