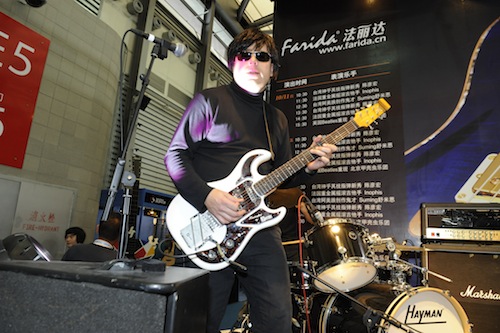 "Last Orders" is a regular magazine column in which we ask noteworthy Beijingers to imagine their final meal before leaving the city for good. This month's host is Troy Reilly of The Beijing Beatles.
It's hard to top playing a set with London Mayor Boris Johnson, so perhaps that's why Troy Reilly recently left Beijing for Australia after 15 years in Beijing. Having appeared as Jorge Arrowsmith, the lead guitarist of The Beijing Beatles, Troy thought back on one more round of gongbao jiding shortly before leaving for the land down under last month.
The venue 
The All Too Familiar Family Restaurant (太熟悉餐厅) in Tuanjiehu. Why? Because my friends and I have celebrated many special occasions at this restaurant over the years including birthday parties and Peking duck Christmas lunches. I like casual dining, and here the food is not expensive and tastes great.
The starters
Cold dishes to start: favorites include clear noodles in chilli sauce; jellyfish tossed with green onions and toasted sesame seed oil and cucumber strips with minced garlic.
Main course
Peking duck; twice cooked pork (huiguo rou); Japanese tofu; a mushroom and vegetable dish; maybe some dumplings; and of course Kung Pao Chicken (gongbao jiding)! The local Chinese might be baffled by gongbao jiding's popularity but the laowai love it.
Dessert
Maybe some glutinous rice balls (tang yuan or yuan xiao) literally meaning "fullness" or "full circle," representing the inner circle of close friends.
The music and entertainment
There'll be plenty of discussion around the table so no need for music at dinner. Chinese restaurants are usually quite atmospheric anyway so any background music would get lost amongst all the lively "heat and noise" (renao).
Any other entertainment?
Normally I would become the entertainment later on in the evening with my band. Our dinner party would take a couple of taxis down to Gulou and hit up Beijing's most fun live music venue, Temple. Gao Xu, Clement and Pink (the cutest bar manager in all of China) run a fantastic live music haven.
Last stop?
Early morning breakfast at The Den with their friendly, patient staff. From Bloody Mary's and Eggs Benedict to celebrity spotting and early morning catch-ups with the likes of Desmond Blooze (the Blackwater Irish band lead singer) and the legendary Beijing Boyce. The kangaroo skin hanging above the bar also makes me feel right at home.
The beat goes on for The Beijing Beatles at Jianghu Bar tomorrow (Apr 11).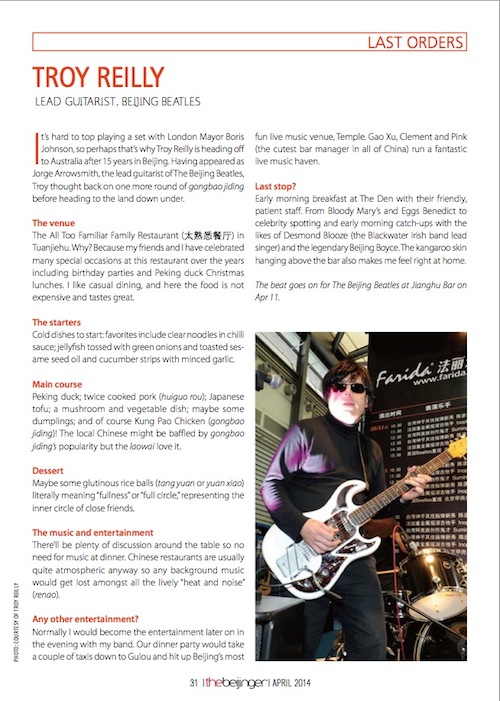 Photo: Courtesy of Troy Reilly
To read more Last Orders click here.

Visit the original source and full text: the Beijinger Blog