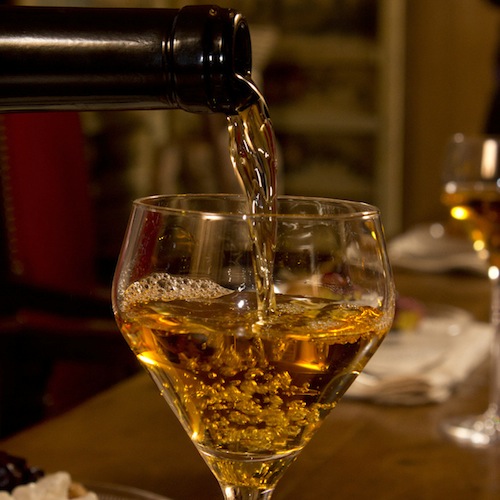 It's a sticky situation many of us would enjoy: finishing a meal with a glass or two of sweet wine. Not cloying, not lean, but in-between. It might come in the form of a refreshing ice wine from Canada, a particularly well-produced port from Spain, or a Tokay from Hungary made with grapes infected by a fungus called botrytis cinerea, but more appealingly known as – in one of the all-time wine public relations spins – "noble rot." All of these would make a fine dessert wine in and of themselves.
What many don't realize is that China's wine industry also has a sweet tooth. Such wines are made by operations throughout the land, from Sun Spirit in Yunnan to Mogao in Gansu and Tonghua in Jilin. When tasted on their own, they might seem balanced and delicious, but when a quality bottle from, say, Austria is introduced, it becomes obvious these local drops are a magnitude away in terms of sweetness and acidity.
That doesn't mean the situation in China isn't improving or that there are no worthy wines. Ice wine is a particular interest here and China finds itself on an upward curve to being a major player in the world market.
The requirements for making such wine include summers warm enough to allow grapes to mature, falls where the cold comes in time to prevent grapes rotting on the vines and winters that see the thermometer dip below minus eight Celsius. Given many parts of northern China offer such conditions, it is not surprising to find lots of operations, but it is the Northeast that is getting the most press so far. One major player is Changyu, one of the country's three biggest wineries – along with Great Wall and Dynasty.
Changyu invested heavily in Liaoning, from drawing on Canadian expertise and planting plenty of Vidal grape vines to creating a massive chateau. The result is wines that are good enough to attract some serious attention. London-based Berry Bros & Rudd, one of the oldest wine merchants in England, listed Changyu's gold, blue and black "diamond" series in its portfolio last year.
Want to try some? The cheapest bottle of this trio – the "gold" version – sells for RMB 168 per bottle on the company's Taobao site. Changyu also lists its wines as available at numerous retail outlets in Beijing.
These are not the only decent sweet wines in China but they provide a starting point for exploring the local drop. The next time you finish a meal – whether it's dim sum, Peking duck or paella – consider opening a bottle of Chinese sweet wine.
Photo: flickr user Dinner Series
Want to read more about wine in China? Why not try Talking Wine with Dragon Phoenix Wine Consulting, Delving Deep Into Wine at the Hilton's Food & Wine Experience or Opera Italian High Quality Wines.

Visit the original source and full text: the Beijinger Blog