Workers' Stadium, home to high-end restaurants like Da Dong, Si Ji Min Fu (Beijing Chamber), Xu Xian Lou, and In Love, has over the years built its arsenal to become a destination for wealthy diners. Now Wutong Plus, which delivers contemporary food with impeccable service, joins this fine dining club.
Mostly a blend of industrial and traditional styles with black and gold tones, Wutong's decor is smooth and refined, and strikes that note immediately with its concrete facade, gilded entrance to the lift, transparent panoramic golden-framed wine cellar, thick navy blue tablecloths, and semi-opaque gold screens dividing the private rooms from the public area. The space also completely lacks acute angles, giving you the sense that everything flows together like water. 
The menu takes a firm contemporary Beijing cuisine focus and includes dishes like fusion steamed fish with hot and spicy sauce, pan-fried Wagyu with yam, salted duck liver with bread, cold noodles with mushrooms, stir-fried crispy prawns with kung pao sauce, and braised abalone with fish roe. There are also set meals priced at RMB 688/888/999/1,180 per person that include an appetizer, soup, several main dishes, a staple, and a dessert.
Ordering a la carte, meat-lovers will want to try the stir-fried beef with okra (RMB 598) for its exquisite and moreish glazed cuts of high-quality, well-seasoned beef piled up alongside crunchy bites of chili-flecked okra. Served on a wavey hand-like sculpture that is more of an artwork than a plate, this main sets the tone for what's to come.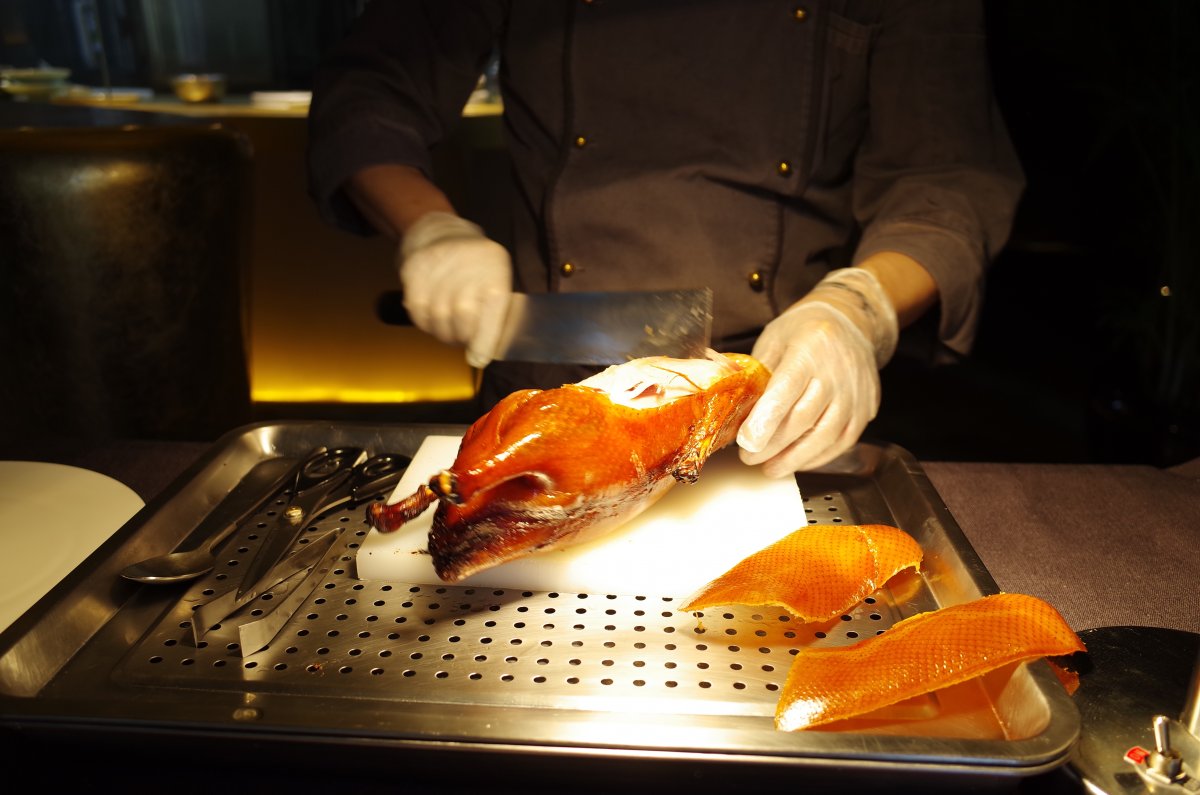 In this case, the roasted baby duck (RMB 398). Not your regular kaoya, this 20-day-old baby duck is stuffed with rice and truffles, which soak up the flavors of the duck fat during roasting, making for a lush combination that is finally carved up and plated in front of you. It's then served with pancakes and a range of creative sauces, including passion fruit, kiwi with mustard, and soybean paste. The skin was utterly crunchy and crisp.
For an accompanying staple, we recommend the fried penne rigate with diced pork and eggplant, special for being a Chinese take on an Italian pasta dish.
Wutong Plus' sweets are no less remarkable. Several options include traditional Chinese desserts including swallow's nests, hasma (dried fatty tissue found near the fallopian tubes of frogs), and more usual treats like pannacotta and smoked tiramisu. We were especially impressed by the smoked tiramisu (RMB 88), where every bite was full of strong smoky notes while not being overly sugary. The pannacotta (RMB 88) made for a sweeter option, balanced by the citrusy and tart layer of passion fruit jelly and whipped cream.
Boosting service to a whole new level, each private room includes a patio where people can smoke or grab a drink. They'll also soon be opening the restaurant's main rooftop, where diners can enjoy a meal facing the nearby park, lapped by the summer breeze, and making Wutong Plus an even more alluring venue to splurge on a business contact or that special someone.
Wutong Plus
Daily 11am-2.30pm, 5-10pm. 3/F, Inside east gate of Workers' Stadium, Chaoyang District (5352 1539)
梧桐PLUS:朝阳区工人体育场东门辅路向南150米三楼(小东门内)
More stories by this author here.
Email: [email protected]
Twitter: @flyingfigure
Instagram: @flyingfigure
Photos: Tracy Wang

Visit the original source and full text: the Beijinger Blog