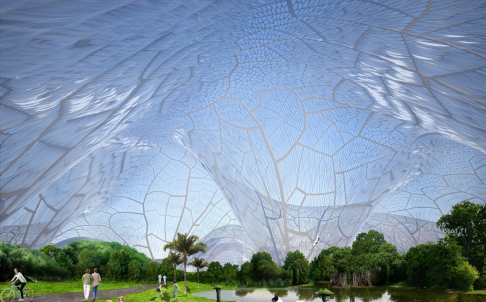 Nothing like a picnic under the dome to create that feeling of being on another world, right here in Beijing. That's at least what the architects at Orproject think, with their concept of covering Beijing parks with domes as protection against air pollution.
"It's just an infrastructure project like building metro stations and parks – it's applicable in every dense, polluted metropolis where there's a need for open, green spaces throughout the year," Rajat Sodhi at Orproject told The South China Morning Post in a long feature about the firm's "Bubbles" concept.
Both Sodhi and a fellow Orproject associate are from two of the cities best known for air pollution, New Delhi in India and Beijing, respectively.
– if it's even possible – and that's if the Chinese and Indian governments changed their policies right now. You have to accept that the climate is changing and we have to do something about it … in a couple of decades we may have passed beyond the mark where we can reverse anything."
"Air quality will take at least 20 years to undo
Orproject says it would use material similar to that employed in the construction of Beijing's Water Cube. It hasn't had any takers for its adult terrariums just yet. Read the whole article here.
Photo: Orproject

Visit the original source and full text: the Beijinger Blog