Have you ever wanted to eat clouds? Let me tell you something: surprisingly, they are crunchy. You thought they were soft, gossamer whispers of a thing, didn't you? This is not wholly untrue, but let's be real about this – ice crystals have edges.
A pavlova – cloud-like as it is – has edges, too, though that angular chunk of meringue may be hidden under- neath a landslide of heavy whipped cream, a slick of passion fruit sauce, and season allowing, a stratum of passion fruit ice cream. Yet as rough-hewn as it may be, this sweet's namesake is a ballerina, and for good reason. Like the crystals of a cloud, the crunch of meringue melts delicately once in the warm cavern of a mouth.
The pavlova (RMB 98) at Capital M could be served in any portion size, and it would vanish. But best to eat it in moderation ... and with the support of seven other desserts. In Capital M's dessert platter (RMB 128 per person, minimum two people), the signature pavlova rightfully claims top tier. But to ground this airy creation is a motley crew of other treats, stunning both alone and as an ensemble. With an octet, the probability is there: something will not be good.
But somehow, they've outdone themselves, and everything ranges from the very good to superb – a chocolate soufflé, eggy with the lightest of cocoa touches; an exceptional raspberry ice cream and coconut sorbet. Simple afternoon snacks of an earlier era are rediscovered, now matured, in Sandra's Baked Bananas topped with cream cheese, walnut-crunch ice cream and a drizzle of dark rum and in an understated date and orange tart. A mille feuille with butterscotch and praline is classic and captivating.
I first learned what a fool was on the rocky coast of Maine at age 20. It was a raspberry one and excessive. Here in the city and seven years later, it is salted caramel – the golden brown sugar folded in silky whipped cream – and perfect.
Capital M
Mon-Fri 11am-2.30pm, 6-10.30pm, Sat-Sun 11.30am-5pm, 6-10.30pm. 3/F, 2 Qianmen Pedestrian Street, Chongwen District (6702 2727)
崇文区前门步行街2号3层
200m south of Qianmen station (Line 2)
This article appeared in the Beijinger April 2014 issue.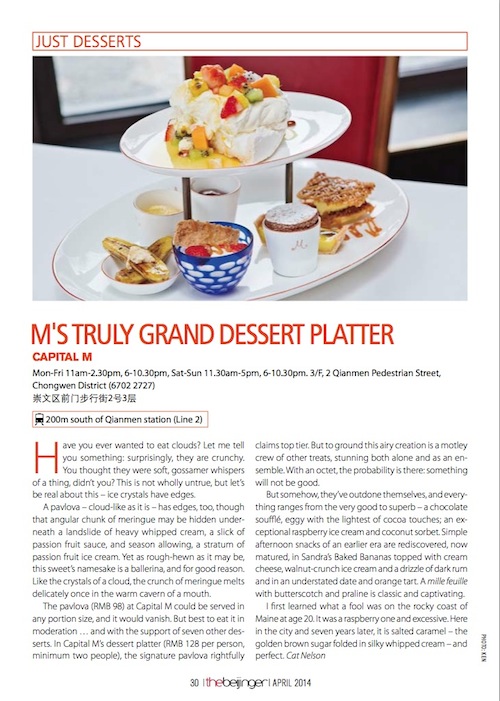 Photo: Ken

Visit the original source and full text: the Beijinger Blog