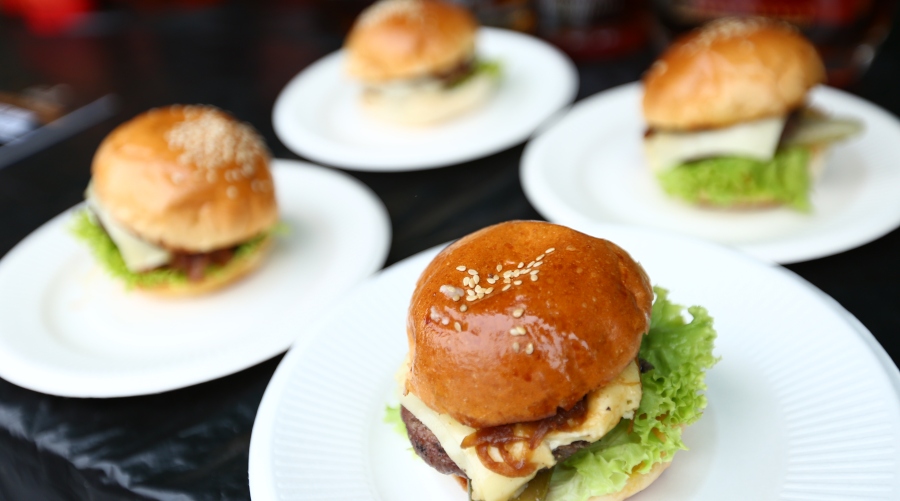 Three craft breweries, two favorite international beer brands, and more burgers than you can shake a stick at. That's right folks, the Beijinger Burger Cup is back for 2015 and it's bigger and better than ever!
Like last year, we are kicking off the proceedings with a huge Burger Cup Launch Party, held at Universal Creative Park, just opposite the north gate of 798, on August 15, 11am-8pm. This year's venue is pretty darn big so you'll be able to sample and gorge on burgers, beers, and much more from over 30 of Beijing's favorite restaurants and bars! A special thanks to Oasis International Health for providing such as awesome venue!
Take a look at some of the awesome vendors we already have confirmed:
Home Plate BBQ 

–

 Three-time Burger Cup champion 

– 

will they do it again this year?
Q Mex 

–

 A surprise favorite at last year's Burger Cup Launch Party
Loft Eatalicious 

–

 Three super-popular stores spread across the city
Blue Frog 

–

 Big burgers and clever flavor combinations make this one of Beijing's most popular joints
Great Leap 

–

 Craft beers and burgers come together at Beijing's biggest local brewery
Slow Boat 

–

 Slow Boat's excellent patties took home second place last year. How will they fare this year?
Vandergeeten 

–

 Last year our readers said they preferred drinking beer with burgers, so fuel up on some of your favorite brands at Vandergeeten's stand
Veggie Table 

–

 Veggie Table's all-veg burgers are more than a match for their meatier cousins around town
Duvel 

–

 Slake that burger-induced thirst with a pint of crisp Duvel or Vedett
Hotel Maximilian 

–

 The head chef at Paulaner Maximilian has come up with a burger promotion just for the Burger Cup, featuring everything from classic burgers, to a pretzel burger celebrating their German roots
Lily's American Diner 

–

 Classic Americana burgers from one of Beijing's favorite American comfort food joints
Panda Brew 

–

 Tasty and cool craft beers from one of Beijing's smaller brewing operations
Katchup 

–

 Huge burgers in craft combinations in Jiaodaokou from the team behind the original burger counter
Fly Pizza 

–

 Take a break from all those burgers with a slice of pizza from this popular Korean pizza and fried chicken joint 
YY Restaurant 

–

 Burgers come big and brash at this Jianguomen restaurant. Also serving excellent ice tea with a blend of Chinese and western teas
Luga's Villa 

–

 Although mostly known for their Mexican food, Luga's also serves up a mean burger
McCain

–

 Get some fries to go along with that burger from international giant McCain, who will also be sponsoring goodie bags for the event! 
To help you work of all that burger-based energy, one of our favorite bands, Tavey Lean and the Solid Gold Dream Machine, will be cranking out their signature funky tunes during the event, while there will be a play area for the little ones sponsored by MLB Play Ball.
Our media partner Metro Radio will also be hosting on-site competitions, burger tastings, and giveaways, to get you in the mood for when the voting starts for real.
As usual, said voting will kick off on August 15 after the launch party, so until then, get out there and start eating burgers or just look at a bunch of people enjoying themselves during last year's event here and here!
More stories by this author here.
Email: [email protected]
Instagram: @gongbaobeijing
Twitter: @gongbaobeijing
Weibo: @宫保北京
Photo: the Beijinger

Visit the original source and full text: the Beijinger Blog