Maggie Cheung has spent the last couple years out of the public spotlight. This is understandable considering she has had a very prolific career with over 70 films to her credit.
As we announced two weeks ago, Maggie is back but this time tackling the world of pop music. After being signed to mainland China's largest independent music label Modern Sky, people were wondering if she would be performing at this year's Strawberry Music Festivals in Beijing and Shanghai. Now it has been confirmed.
If we know anything about Maggie she is extremely active, with her hands usually in all aspects of the business. Currently, she is hard at work with her five piece band plowing through a rigorous practice schedule as well as meeting with stage design and lighting to help materialize her rock 'n' roll fantasy. Make sure to catch her between May 1- May 3 at this year's Strawberry Festival. Despite all of these recent developments, I still think Heroic Trio might be her greatest success.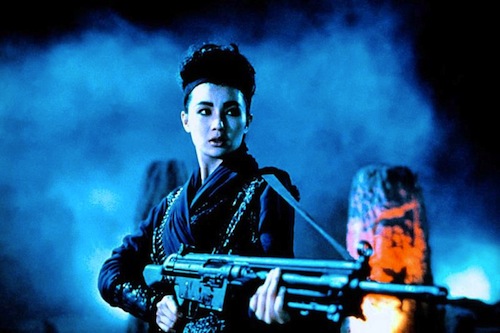 Hong Kong director Peter Chan is at work on a new film about parents who have been forcibly separated from their children. Also involved are his old buddies that helped him make the hit American Dreams In China, including actor Tong Dawei and screenwriter Zhang Ji along with an amazing group of young actors joining the bill. He recently hasn't had much luck, with a couple big budget follies under his belt, so he is going back to his original formula of low-budget releases about life in the wake of personal disaster. The film will be a China/Hong Kong co-production, and is based on the true life story of a child kidnapping that was big news a couple years ago.
TimeOut recently released a list of their picks for the 100 best mainland China films. I think it might be missing a few important titles but we won't blame them for trying to organize an entire history of cinema in an easily digestible Rolling Stone style 'top films of all time' countdown. But if you are unaware of the deep history of Chinese cinema, this is a great reference list to get you started on a magical journey.
More entertainment for the week:
Photos: Modern Sky, blogspot.com, blouinartinfo.com

Visit the original source and full text: the Beijinger Blog