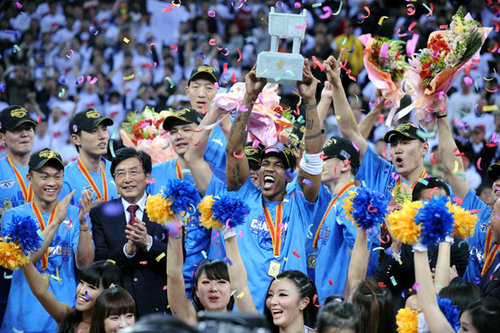 You may need to be a Monkey King to receive a Great Wall Friendship Award, but to be named an honorary citizen of Beijing? That's only for winners.
Beijing Ducks' star and former New York Knick and Boston Celtic Stephon Marbury received his second award in a week. First, he led his team to their second China Basketball Association (CBA) championship, winning the best of seven series over the Xinjiang Flying Tigers. On Wednesday, that title opened the door for Marbury, an American, to be named an Honorary Citizen of Beijing, presented by Beijing Mayor Wang Anshun.
"Thank you Beijing for the key to the city. I'm truly blessed and favored for your love and respect. I will always give nothing but my all on and off the court in Beijing. Beijing will always be home! God is truly great! Love is Love," Marbury said on his official Weibo account.
The two-time NBA All-Star has found his footing in Beijing after first joining the CBA Shanxi Zhongyu Brave Dragons before moving to the Beijing Ducks in 2011. He has become a popular figure among Chinese fans, regularly appearing on Chinese television and writing a column for China Daily.
Other honorary citizens of Beijing include former International Paralympic Games Chairman Sir Philip Craven and Japanese cosmetics giant Shiseido's Honorary President Yoshiharu Fukuhara.
Photo: China Basketball Association

Visit the original source and full text: the Beijinger Blog