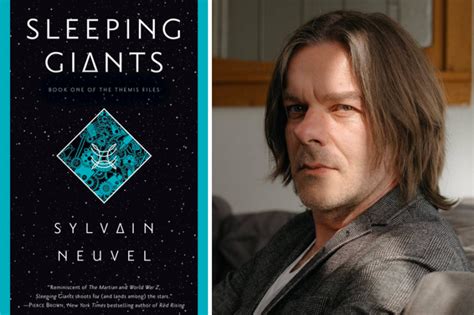 Most geeks fantasize about penning books and screenplays for their favorite franchises. But Sylvain Neuvel is one of the few sci-fi fans passionate and talented enough to turn that dream into a reality. The French Canadian wordsmith has had enough critical and commercial success with his Themis Files trilogy to build a loyal and sizable following, which prompted the creator of the smash sci-fi series Black Mirror to recruit Neuvel and two other authors to write official novels set in that show's universe. Ahead of his Mar 18 Beijing appearance as part of the Bookworm Literary Festival, Neuvel tells us more about his rise into the literary stratosphere.
How did you get the opportunity to write official Black Mirror novels?
The science-fiction I write is usually grounded, and the worlds I create feel familiar, except for that one sci-fi element. For example, the Themis Files has something to do with aliens, but I wrote those books as an excuse to explore what it means to be human. And it's setting is in the here and now, with very human characters. I suppose that's why they thought I would be a good fit for the Black Mirror project. Of course, it doesn't hurt that we have the same publisher!
I was ecstatic, of course, when the opportunity came up. It's an incredible honor to be asked to work on someone else's intellectual property, but it's another matter entirely when that happens to be one of your favorite shows. I've been extremely lucky. Two years ago, I was asked to write a short story for Star Wars Insider Magazine and make a tiny contribution to the Star Wars canon. Like I said, lucky.
I've read that you were raised in L'Ancienne-Lorette, a suburb of Quebec City. How did that upbringing impact you as a writer? For instance, I was born in a small town not far from there called Miramichi, New Brunswick, and sci-fi was always a nice form of escapism. Was that the case for you?
I don't know if science fiction was a means of escape, but being raised in a small town certainly made me curious about what was beyond my little world. I quit school and started traveling the moment I could. Science fiction was probably my way of going even farther than I could on a bus or a plane. The space program played a part in it too. The Columbia and Challenger incidents both occurred during my lifetime, and we now live in a world where the brightest spot in the sky after the sun and moon is a man-made object. It's hard not to look up and wonder what's out there.
I liked your recent Tweet comparing the discount price of your book to an overpriced latte. How does it feel to be an author in 2018 to connect with your readers on social media?
These are amazing times to be an author. When I was younger, it would never have occurred to me to write to Michael Crichton, Tom Clancy, or the other authors I was growing up with. Now, I get to interact with people from all over. I get tweets and emails and Facebook messages on a daily basis. Sleeping Giants exists in a little over twenty languages, so some of them come from halfway around the globe. I think it's fantastic.
Of course, nothing beats meeting fans in person. I'm writing this from Emerald City Comic Con in Seattle after a signing session. It's so great to meet readers and hear what the Themis Files has meant to them. Later, I have a panel on writing the future with a bunch of amazing authors. I can't believe this is part of my job.
I've read online that the idea for Sleeping Giants, the first entry in the Themis Files trilogy, "first came to Sylvain when his son asked him to build a toy robot. Not just any toy robot, he wanted one with an extended backstory, and wanted to know where the robot came from and what it did." How did your son react to what you came up with?
My son hasn't read the books yet. He was three years old when I wrote Sleeping Giants and he doesn't speak (or read) English. I gave him a short version of the story at bath time and he loved it. He's eight now, and he recently picked up the French edition for the first time. It's a big book for him and there are no pictures, but he's making progress. It was very touching to watch him read a story that is dedicated to him.
You wrote Sleeping Giants in a pretty unique fashion, forgoing standard narration for journal entries, extended back-and-forth dialogues, and other formats. What inspired that?
I couldn't tell this story from the point of view of just one character. I wanted all of them. I also wanted the reader to get to know them like they would a person in real life, through what they say, how they say it, without a window into their head. Once I figured out the Interviewer as a character, it all clicked into place.
Tell me about working on Only Human, the final chapter of Themis Files, and why you're excited for fans to read it when it's published in May.
I had a great time writing the finale. Ending a series if weird and tough, but I feel I left the characters in the right place. I have also lost some of them along the way and I needed to create new ones for this book. It's always difficult to do that late in a series, but there is this one character named Katherine in Only Human. She's probably my favorite one in the whole series. I can't wait for people to meet her.
Sylvain Neuvel will talk at the Bookworm on Mar 18 at 2pm along with Chinese author Zhang Tianyi on the topic of "Sci-fi and fantasy: the magic of world-building." Tickets are RMB 60. For more information, click here.
Photo: paperbackparis.com

Visit the original source and full text: the Beijinger Blog