[Updated 7/23, 3.20pm] Read a translation of Sweetie Salad's public apology below.
No, they were not protesting something important, like the Fall of Carthage, and this most certainly isn't Sparta. On Wednesday, approximately two dozen scantily clad "aliens" took to the streets of Sanlitun, wearing nothing more than thin straps of leather to hold back their bulbous pectorals, out on the prowl to promote shake salads from Sweetie Salad.
Unfortunately, the salad saga didn't end so sweetly, as an unspecified number of the models were arrested and dragged away by the Beijing police for "affecting public order," according to the Global Times. Photos quickly made the rounds on WeChat and the Internet, including yours we presume, showing their orderly formations at Guomao and their tragic downfall on a bridge in Sanlitun.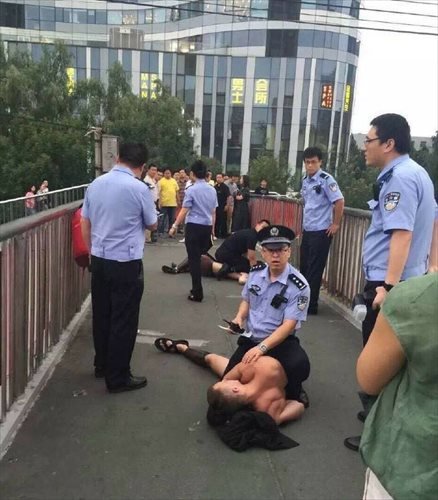 Allegedly, the Spartans ignored many warnings before the police stopped them in their path. We will keep you updated as more information comes in.
This is the second viral event that Sanlitun has been home to in the past week, after last week's video of a couple having sex in the Uniqlo dressing rooms was apparently seen by everyone in the entire world. Stay classy, SLT.
Sweetie Salad released a public apology on Thursday afternoon, which you can read translated below:
Letter from Sweetie Salad,
Our "Spartans" event yesterday generated far more interest than we had expected. Due to this, the police came and helped us handle the situation and disperse the crowd. Our company had thorough and sincere communication with the police last night regarding the unexpected enthusiasm that arose from the extreme popularity of our event, and there no more misunderstanding between us and the police. 
"Spartans" was part of Sweetie Salad's one year anniversary events. The purpose of this event was to highlight Sweetie Salad's core values, which stand for a nutritious diet and a healthy lifestyle. In order to promote these values, we decided to use the image of Spartans, and hired strong and handsome foreign models as a way to encourage our prospective customers to keep a healthy body shape. 
After the incident yesterday, we sincerely acknowledge our lack of experience in organizing large scale, offline events as a startup company. We abided by the instructions from the police. In the future, we will advertize our brand and core values and serve our customers without affecting public order. 
Thank you for your concern, and thank you for your support. Moreover, we truly thank the police for giving us assistance and instructions during our event. 
P.S. We are sorry for all of those concerned about this incident. We will strive to make better products, and will pass on the healthy lifestyle to others.
Additional translation by Patrick Li.
More stories by this author here.
Email: [email protected]
Instagram: s.xuagram
Photos: ifeng.com

Visit the original source and full text: the Beijinger Blog