Following from my post last week about my first experience of xiangchun and eating chunbing in Chunbing Jingwei Cai I'll now guide you through making your very own pancakes at home.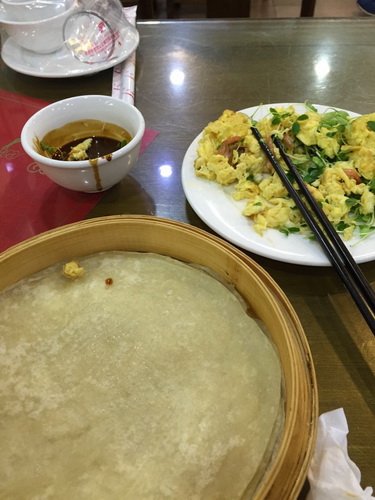 Ingredients:
Quanjude's chunbing (order from Jingdong here), RMB 13 for 400g
Quanjude's hoisin sauce (order from Jingdong here), RMB 10 for 180g
A handful of xiangchun sprouts where you can easily get from a local market. It is pronounced xiāng chūn miáo and looks like the greens in photo above.
Eggs (2 per person)
Other vegetables such as onions and peppers (if desired)
Steps:
Take out the chunbing pancakes and put them on a plate. Steam for five minutes or microwave for three. If you are microwaving, spray some water onto the plate to keep the pancakes moist.
Make scrambled eggs but be sure to make them more solid by cooking them longer (for two or three more minutes) to reduce the water content and make them bouncier, otherwise they will make the pancake soggy.
Wash the xiangchun sprouts.
How to eat it:
Take some eggs and fresh xiangchun sprouts and dip them in the hoisin sauce, then add them into a pancake and roll it up, exactly in the same way you'd roll up a Peking duck wrap.
The doughy pancake will pull the eggs, xiangchun sprouts, and hoisin sauce together resulting in an irresistible taste

–

 that's when you know you are ready for another.
Add additional vegetables if you wish.
Xiangchun chunbing wraps are perfect breakfast food, acting as a burrito with a Beijing twist.
Feeling adventurous? Here are some other recipes to try out.
Alternatively, head over to Chunbing Jing Wei Cai where wraps are only RMB 10, and eggs and xiangchun sprouts RMB 20.
Chunbing Jingwei Cai
Daily 10am-11pm. 153 Yonghegong Dajie (opposite Cafe de la Poste), Dongcheng District (6406 2183)
春饼京味菜:东城区雍和宫大街153号
 
Photos: easytourchina.com, Patrick Li

Visit the original source and full text: the Beijinger Blog