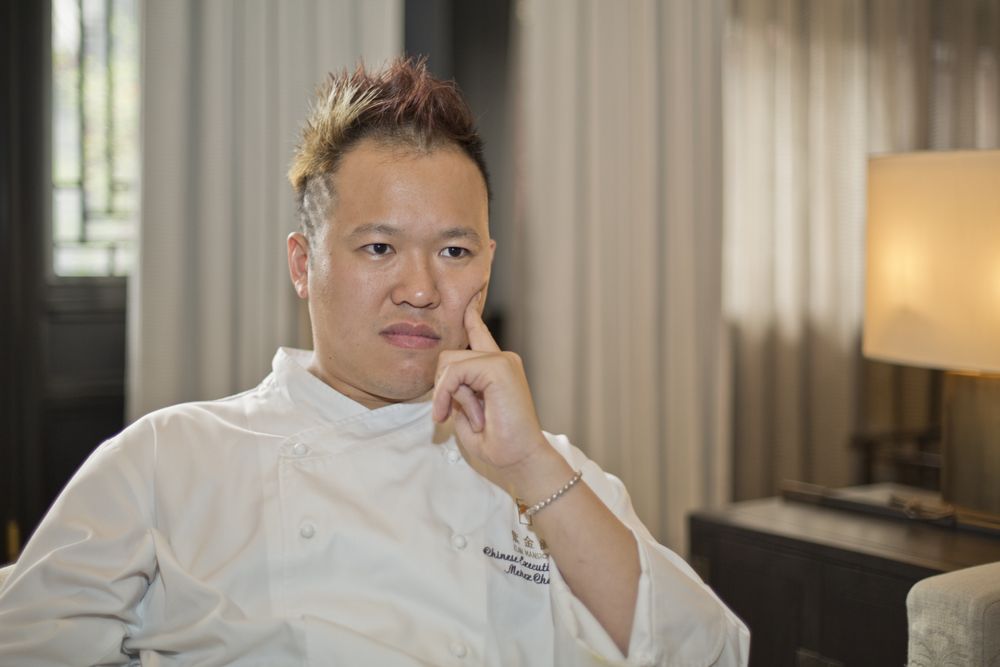 The Waldorf Astoria Beijing
This post is sponsored by the Waldorf Astoria Beijing.
 
Waldorf Astoria Beijing Chef Menex Cheung is responsible for the conceptualization and preparation of some of the most exquisite dishes in Beijing. Most recently he has been hard at work collaborating with LEGLE FRANCE Managing Director Desmond Chang on RUYI Gastronomy, a series of carefully researched and meticulously-planned banquets designed to recreate ancient Chinese fine dining traditions and present them with modern twists. 
But this culinary virtuoso's first kitchen forays were far less glamorous. "I always loved to taste delicious things since I was a little kid and I wanted to become a good cook so that I could share these flavors with others," says the chef, who was born Cheung Ka Yue but now frequently goes by his nickname, Menex. 
The child of a single-parent family, Chef Menex literally grew up cooking. "Sometimes [the food I made for myself] didn't turn out well – I'd make myself sick from eating it, but fortunately I never got sick enough to go the hospital," he recalls. 
Eventually this process of trial-and-error paid off and this former latchkey kid who had to cook his own meals blossomed into a full-blown professional. "I never gave up – and eventually I learned to make very good food."
We spoke with Chef Menex to find out more about his passion for food and how his latest work on the RUYI Gastronomy series has not only made him a better cook but also helped him to recapture the long lost flavors and traditions of Chinese fine dining. 

What brought you to the Waldorf Astoria hotel's kitchen and how did you get involved in the RUYI Gastronomy series?
My previous job was at the Shangri-La Hotel in Hohhot, Inner Mongolia. Later I worked in Shanghai, and really enjoyed it, and eventually came here to the Waldorf. I really like it here because the management has fully supported this RUYI Gastronomy project and given me time to develop the dishes as well as travel around to visit experts all over the country to learn what I needed to know to make it successful. That's why I like working here – I enjoy the cuisine and I want to create unique new dishes for guests. 

How has working on RUYI Gastronomy made you a better chef? 
Before RUYI, I didn't know much about Beijing cuisine. But now I fully understand it – not only from the technical side but also its history. And before this I never drank at all, but every dish in the RUYI Gastronomy is paired with a drink. So, thanks to RUYI, I have learned how to make drink pairings as well.

Is there a specific RUYI dish that is more challenging to prepare than the others, and if so how did you rise to the occasion?
The Braised Shark's Lip and Chicken Soup was challenging. It's a very traditional Beijing dish and it's very thick. A lot of people can make different versions of it, but not like I do here. The soup we serve in the RUYI Gastronomy is the purest, because it only uses three types of free-range chickens, giving it the full essence of the chicken. 

Desmond Chang, LEGLE FRANCE's Managing Director and the fine dining connoisseur that conceptualized RUYI Gastronomy, says this banquet series is special because it's so lavish. What are your thoughts on this?
Yes, I fully agree. He and I want the public to appreciate Chinese cuisine more. These days, Chinese people have no problem going to a fine French restaurant for three hours. We want them to know that they can spend the same amount of time with Chinese cuisine. This is especially true for RUYI Gastronomy, because every dish has its own story. We want to use RUYI Gastronomy to bring Chinese cuisine to a higher level and let the public appreciate it more. 
I hope that other chefs will come here and try it. Some may even try to copy or steal it, but I'm not concerned because I want more and more chefs to help the world explore real Chinese gastronomy.

What do you want the general public to take away from the RUYI Gastronomy experience above all else? 
A lot of people might think that RUYI Gastronomy is very creative. But I want people to understand that we actually didn't create this. We researched and recorded what traditional Chinese chefs did. And now we are just working meticulously to bring that back – to help explore and better [understand] real Chinese culinary traditions.
 
The Waldorf Astoria Beijing and LEGLE FRANCE's Beijing RUYI Gastronomy event runs from now until December 31, 2015 in the historic Ming Dynasty-style Hutong Villa. Guests will enjoy an elaborate nine-course meal inspired by the cuisine of Imperial Beijing paired with a selection of Chinese spirits, wines and teas, all served on fine RUYI tableware. 
RUYI Set Menu I: RMB 1,688 + 15 percent service charge per guest
RUYI Set Menu II: RMB 1,088 + 15 percent service charge per guest
For reservations and more information please call 8520 8916.
Photos: Uni You, courtesy of the Waldorf Astoria Beijing

Visit the original source and full text: the Beijinger Blog