According to Beijing News, authorities released their final designs for Line 17 on Monday. The new line will be another major track cutting across the city north-south, connecting Tiantongyuan, Wangjing, and Guangqumen residential areas with central commercial and bar areas of Sanlitun, Gongti, and Xindong Lu. Line 17 will begin construction by the end of this year and should be operational by 2018 or 2019.
Throughout the report there is one station that stands out: Beijing Worker's Stadium. We have known for a long time that Tuanjiehu and Dongsishitiao stations are situated too far from the stadium to be truly useful and opening of this new station is bound to reduce their congestion. Line 3 will also intersect the Gongti-Sanlitun station with construction of the station also beginning by the end of this year.
The new line will stretch 50 kilometers and incude 20 stations. A substantial portion of the line will run parallel to Line 10, which lies to the east, but we have good reason to believe that Line 17 will be much more popular than Line 10, especially among partiers, as it lies much closer to most of our city's bars and nightlife joints.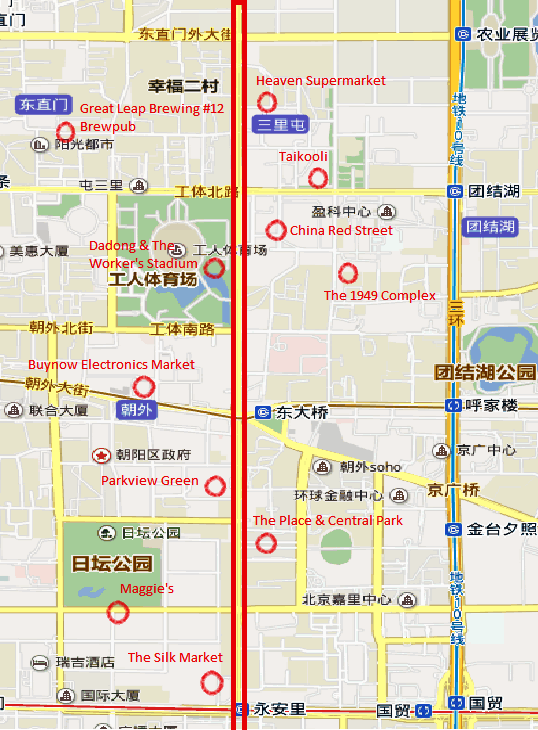 Though exact routes haven't been released to the public yet, we speculate that the new line to go through the major north-south artery which links Xindonglu, Gonti Donglu, and Yonganli, connecting many of Beijing's most popular bars, shopping malls, restaurants, and nightlife joints, including Great Leap Brewing #12 Brewpub, Heaven Supermarket, Jing-A Taproom, Homeplate Bar-B-Que, Parkview Green, The Place, and Maggie's. Ten of the 20 stations on Line 17 will be transfer stations, yielding the highest percentage of transfer stations among all Beijing subway lines.
The original plan contained 21 stations, but Yonganli North station, which would likely have been located at the crossroad of Parkview Green and The Place, disappears from the final plan, probably due to technical practicality as the station would have been too close to both Dongdaqiao and Yonganli Stations.
More stories by this author here.
Email: patrickli@thebeijinger.com
WeChat: xinwurenli
Weibo: @lucky__strike
Photos: baidu

Visit the original source and full text: the Beijinger Blog