Late night shoppers looking with a need to buy books will have their very specific conditions met in Beijing as 20 new staffless bookstores that will operate 24 hours a day are expected to open throughout the city this year.
Book-selling franchise Xinhua opened the first of the planned stores last month in east-end Tongzhou. Featuring an automated system with no regular human staff, the all-day bookstores are planned to be built at Beijing universities, government offices, and shopping malls.
READ: Step Into the Cashless Future With Beijing's Unmanned Stores
Like other staffless stores, the "Xinhua Lifestyle Store" requires all customers to register their real names using their WeChat accounts and have their faces scanned before entering. And because the store has access to all their users' purchasing information, it can offer "precise and humanized" book suggestions to all of its customers.
The automated store even features a robot who is touted as a key feature of the store. Although she didn't find the store's prices to be competitive, customer Mrs. Zhang commended its automated worker, saying that "the interaction with the store's robot is something worth experiencing, especially for the children."
Despite its convenience, the staffless store faces a number of drawbacks. For one thing, the 30-square-meter shop doesn't offer a wide selection of books. The store's book selection is limited to popular bestsellers that aren't regularly updated. And, if customers are able to hold off their purchases until normal business hours, they would find a wider selection of books at the 80,000-square-meter Beijing International Book Mall, inside which the staffless bookstore is located.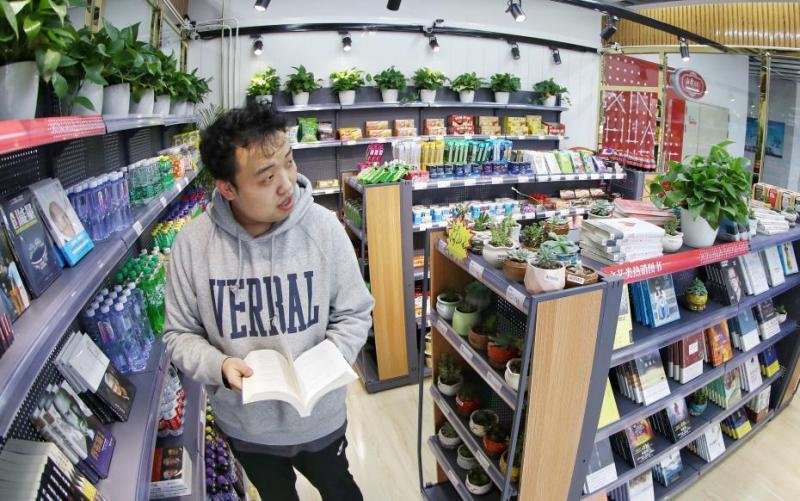 The 20 newly planned 24-hour staffless bookstores are the latest wave in Beijing's recent building boom of both bookstores and automated stores.
READ: Beijing Has Become China's Leading Cashless Society
Beijing opened its fifth 24-hour bookstore last November with another soon expected at the site of the former Sanlitun Dirty Bar Street. At the same time, staffless convenience stores and supermarkets are becoming more common around Beijing, while around half of the 3,000 new convenience stores expected to open in Beijing before 2020 will offer 24-hour service. Meanwhile, a national literacy campaign has also decorated Beijing subways by making them look like libraries (shown below).
Opening new bookstores are a top-down effort by Chinese officials to improve the lives of the public in a campaign where 24-hour bookstores have been described as "spiritual landmarks" that "infuse the night with warmth."
In describing his store, Beifa Net General Manager Nian Xiaolei echoed Chinese President Xi Jinping's words from the 19th Plenum regarding the role of books in serving the masses.
"We should use practical actions to provide rich spiritual sustenance for the public to live a good life," said Nian, who said his automated bookstore provides Tongzhou with a "bright future."
READ: Retail Explosion: Thousands of Convenience Stores, Dozens of Hema Markets Coming to Beijing
As much as the new Beijing bookstores will have to face competition from the online retailers, digital formats, and billions upon billions of uploaded Internet websites, there's one thing they won't have to worry about: libraries.
Although China has built some eye-catching libraries (like the one in Tianjin), Beijing hasn't done a good job at keeping them. Even though it became known as one of the "world's most beautiful libraries," Beijing shut down its famous Liyuan Library last year for having "vulgar content."
More stories from this author here.
E-Mail: charlesliu1 (ato) qq (dot) com
Twitter: @Sinopath
Photo: China Daily

Visit the original source and full text: the Beijinger Blog