Lily's American Diner has gone for the big time, this time with location number three entering the competitive Sanlitun market with a beautiful new 100-seat venue which soft-opened over the weekend.
The diner-style operation, which started with a modest shop in Shuangjing in 2009 and later expanded to Sihui, is known for its American-style breakfasts, burgers, salads, pizzas and Tex-Mex fare (and of course for proprietors Lily and Joe as well).
Located in that nether-region northeast of Heaven Supermarket, west of the Opposite House and just up the street from a gargantuan (relatively) new Jenny Lou's, the third incarnation of Lily's features the same diner-style fare, but this time in an upmarket, airy, nicely proportioned venue writ large.
New features include a large bar, lots of booth-style seating, a wall-sized chalkboard for specials and a new in-house coffee roaster where they'll be roasting and grinding their own blend. Outdoor cafe-style seating is available in front and plans are to add tables in the back as well.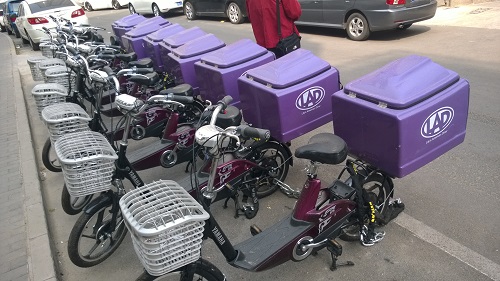 Perhaps best news of all (especially to us Beijingers working in Sanlitun), Lily's will be delivering – and their fleet of purple bikes are already parked out front ready for service. Though a delivery zone has yet to be designated, they should be able to reach north into the embassy district, west to Xinfucun, east to the Third ring and south to the Central Park area.
Until their official grand opening in May, the Sanlitun location will be open 10am to 10pm Tuesday through Sunday, with Mondays closed. Find them at Xindong Lu 8 Hao Yuan, Shoukai Bojun Bldg 5, Room 1-037 (新东路8号院首开铂郡小区底商5号楼1-037号) or call 8418 5497.
Photos: Michael Wester

Visit the original source and full text: the Beijinger Blog