Great vibes to be found here, and we're not talking about that silly 80s movie staring Cindy Lauper and Jeff Goldblum. Buena Onda is the new Peruvian pop-up bar/restaurant on the north end of China Central Mall, and you can feel the Latin flavor just oozing from every flavor crystal of this place. After 5pm, when the suits all go home or on to places with nice cocktails and or elegant eats, this is when Buena Onda comes alive with South American-inspired food and drinks. 
We started things off with their Pisco Sour (RMB 60, RMB 160 pitcher). It was a sour frothy Macarena in your mouth, or whatever the Peruvian equivalent of that song may be. We followed this with their Passion Sour, which as the name suggests, consisted of fresh passion fruit nesting on the top of the egg white foam.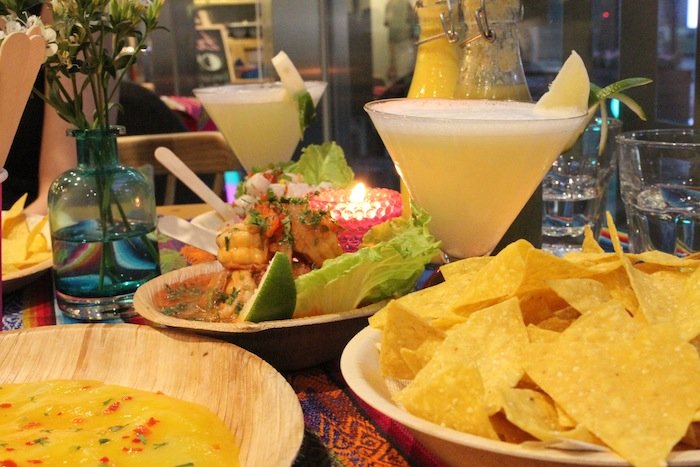 In addition to their drinks we sampled some of their delectable eats, including the classic ceviche (RMB 50), Ecuadorian ceviche (RMB 50), salmon tartar (RMB 90), and yellow tiradito (RMB 90). All fresh and mouthwatering, and if you require a little spice, they have some wonderful homemade tangy hot sauces to light the fire.
All in all, Buena Onde has an attractive ambiance: the interior looks a little like an oversized glass shipping container decked out in technicolor Peruvian patterns, and there is plenty of outdoor seating for those hot summer nights ahead. They even have live acoustic music throughout the week.
The owners are as of now playing it smart by using the pop-up model, sharing the space with upscale café Flatwhite, a trend that we appreciate and hope to see continue as it helps bring people in during off hours and presents a mutually beneficial practice for small businesses. We see a bright future for these newbies.
Buena Onde
North side of China Central Mall, 81 Jianguo Lu (8588 7955)
建国路81号华贸中心一号写字楼北侧集装箱
More stories by this author here.
Email: [email protected] 
WeChat: kippwhittaker
Weibo: @KippWhittaker 
Instagram: @KIDDWHIZ
Photos: Kipp Whittaker

Visit the original source and full text: the Beijinger Blog