Winter in Beijing usually means one thing: wheeze-inducing smog. And while this past season has been astonishingly good, the PM2.5 levels have been creeping back up since CNY (the AQI is at an "unhealthy" level of 181 at time of writing). That means it's not yet safe to disregard wearing a breathing mask. In fact, a new Chinese company is upping in the ante when it comes to daily pollution protection.
Changsha based firm Blue Sky Lab (whose sales and marketing is housed in the capital, while manufacturing takes place in Shenzhen) has designed a new futuristic mask called Atmoblue. The developers go as far to say that this gizmo is no mere mask, but instead a wearable air purifier. Masks from years past have sported battery powered fans, filters or other such features, but the Atmoblue's developers purport to go further with two industrial-grade H13 Hepa filters and a proper seal keeps pollutants from seeping in. After plugging it in and charging it, like you would a phone, Blue Sky Lab's flagship product is ready to be strapped onto your face so that, supposedly, you can head outside on even the soupiest of days in Beijing with purified air blowing in your face all the while.
Speaking of strapping it on – the Atmoblue has a drawstring-like strap designed aid its seal so that the mask will be properly snug. It also comes in different sizes to suit various face shapes, a solid idea seeing as nose size is an especially crucial factor for a proper fit.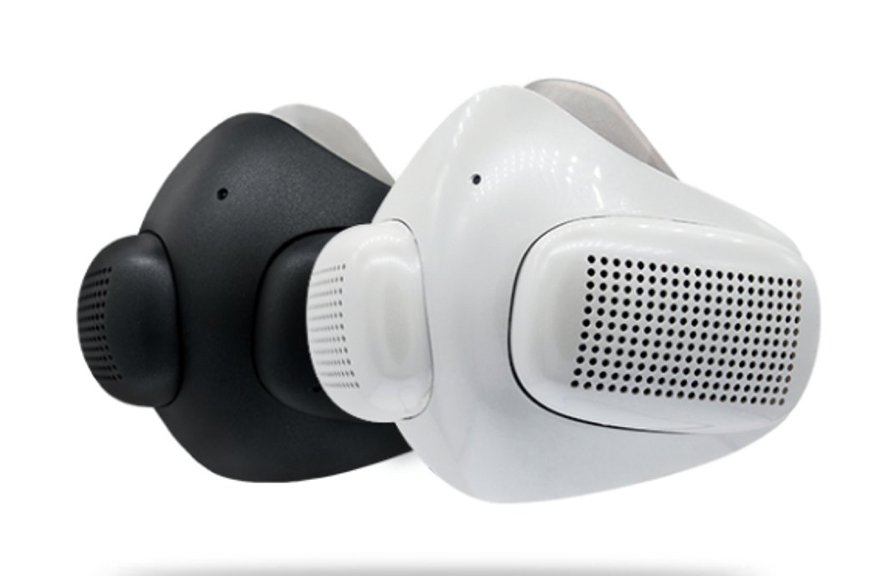 Blue Sky Lab's spokespeople tell us this feature is meant to help users breathe safely not only when they hit the streets for a stroll, but even when jogging, playing basketball, or partaking in other activities that require heavy exertion. This point leaves us at TBJ a bit skeptical, seeing as the mask felt a bit heavy on our mugs when we gave the device a try. It felt snug and comfortable enough while we were out and about walking and if we had to exercise in a mask this one would be far better than any other we've tried. Perhaps after a (considerable) adjustment period, it might seem more reasonable to make the leap, as it were, of wearing it for serious exercise.
Another feature that'll appeal to the techie set: Atmoblue's smartphone app, which allows the device to automatically adjust the fan speed in the filters to suit your breathing rate, whether you're at rest, walking or running. Its intelligent air system, meanwhile, features smart controls that adjust the airflow according to your heart rate. The app's functionality compliments the Atmoblue's aesthetic amiably.
And finally, the sleek design may even have the most skeptical, fashion-centric Beijingers who wouldn't be caught dead wearing a pollution mask from major brands like Totobobo or 3M, hard-pressed in denying that Blue Sky Lab's iteration has a great, futuristic look. The option to swap the Atmoblue's skin for different designs doesn't hurt either.
At RMB 498 for a basic model in black or white, along with a box of six replacement HEPA filter cartridges for RMB 138, the Atmoblue doesn't exactly come cheap. That price is on par with flashier high-end mask companies who have no apps or electronic functions (though there are plenty of thriftier options out there). And considering its inviting aesthetics, numerous bells and whistles, HEPA filters, and the laudably visible ambition of its designers, this product is certainly worth trying, especially for any AQI-conscious Beijingers looking for a better alternative to a standard, uncomfortable, disposable old mask.
For more information, follow Blue Sky Lab on WeChat at blueskylab or purchase Atmoblue's products via their JD store here.
More stories by this author here.
Email: [email protected]
Twitter: @MulKyle
Instagram: mullin.kyle
Photos courtesy of Blue Sky Lab

Visit the original source and full text: the Beijinger Blog