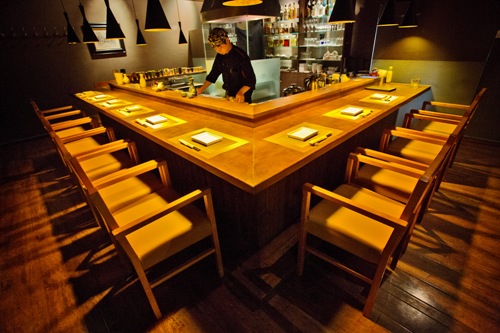 You know the situation where you select from an elegant menu of stunning dishes, only to have some low-budget approximation of them land on your table? Well this isn't it. In fact, it's the opposite. On walking into Glen Kitchen, a sleek new Japanese restaurant, you sit at one of the neat little spots that hug the kitchen, and then open a menu that looks like it might have been pilfered from an alleyway diner. The images are small, lifeless and hard to make out — which is all you'll have to go on if you don't read Japanese or Chinese.
What comes to your table, however, surpasses what your expectations might have shrunk to. The food is tender and delicious. It's simple and unpretentious, almost family style. We tried the bowl of edamame (RMB 20); a whole fish (market price); a prosciutto salad (RMB 65), which was crisp and fresh, and dressed lightly in Japanese mayonnaise; two helpings of deliciously simple grilled vegetables (RMB 35); and a yummy, albeit slightly kitsch, savory rice dish (RMB 50) that was wrapped in a thin omelet and drizzled with tomato sauce.
Above all, however, the sushi (RMB 20-25 each) was our favorite. Rather than the usual blocks of rice and fish, these were shaped into balls with the fish pressed snugly into them. The Japanese rice was soft, but toothsome and had a subtle sweetness to it. If we hadn't already overordered, we would have gone in for seconds or thirds.
Glen Kitchen 
Daily 6pm-midnight. 205, Bldg A, Taiyue Suites, 16 Nansanlitun Lu, Chaoyang District (above Beer Mania) (6591 1191) 
朝阳区南三里屯路16号泰悦豪庭A座205室
550m northwest of Hujialou station (Line 6 and 10)
For more sushi suggestions, you may want to try Tori Tei, Suzumei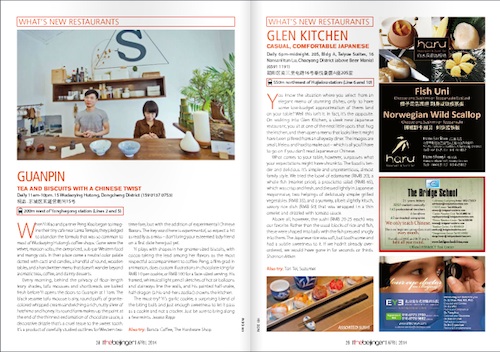 Photos: Ken

Visit the original source and full text: the Beijinger Blog