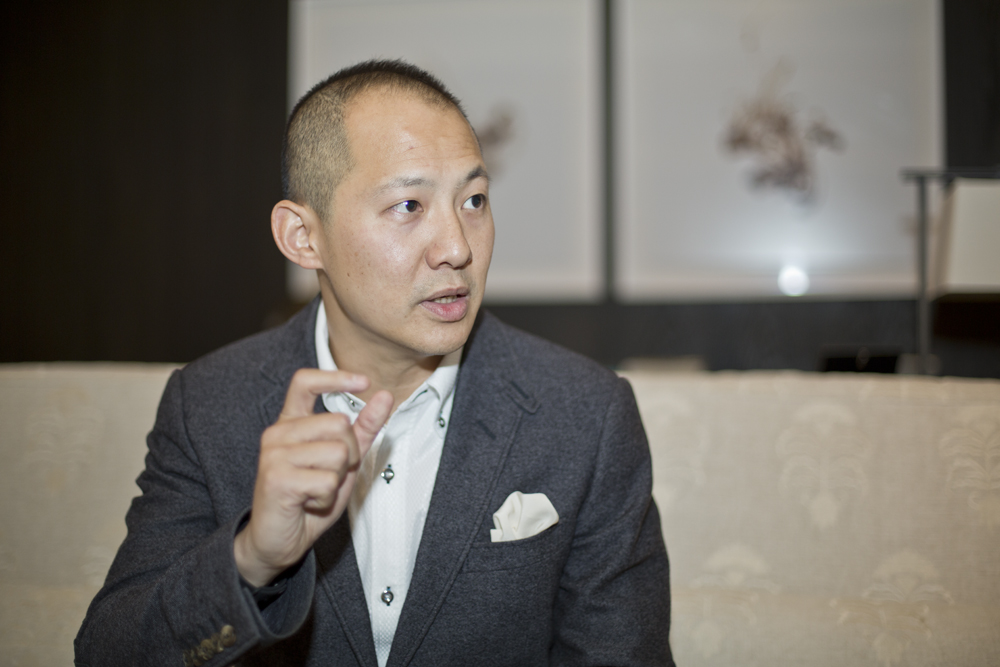 The Waldorf Astoria Beijing
This post is sponsored by the Waldorf Astoria Beijing.

It looked less like a dinner spread than an epic saga, with ingredients cooked, shaped and placed to resemble soaring phoenixes, towering mountains, lush flowers, and an elegant peacock. 
Desmond Chang was speechless as he gazed at the eloquent presentation of those dishes. It was 1984, and the then 14-year-old son of an esteemed Hong Kong porcelain company CEO had tagged along to Beijing with his father. After a week of being hosted by old friends in the Chinese Capital, the elder Chang decided that he must reciprocate their generosity by treating them to dinner. 
But where? As a Hong Konger, he only had access to the FEC (the now defunct currency system China used to institute on foreign visitors), because the renminbi was strictly reserved for residents in that pre-reform era. The only place that he knew would accept his coupons was the hotel that he and his son were staying at – the iconic Beijing Fandian (北京饭店).
Desmond Chang – who is now the Managing Director of esteemed French porcelain brand LEGLE FRANCE – remembers having his doubts about the dinner at the time, and had no idea how thoroughly his mind would be changed, and how much that meal would impact his current initiative to reinvigorate the legacy of Beijing fine dining at the Waldorf Astoria. 
"I remember that they only had three prices: 80, 150 or 250. And that's in US dollars," Chang says with a laugh, adding: "That was a lot of money thirty years ago. We asked them 'What do you have on the menu?' And they said: 'Don't worry, we will handle it.' We'd ask again and again, but they'd only give us the typical state-owned response."
Chang's anxiety quickly vanquished upon glimpsing those exquisitely presented dishes. He recalls being especially impressed by the peacock resembling dish, which was big enough to need a table of its own.  
"It was an art form. I don't know how much time was spent on it. It had to be one of the most lavish banquets I had even been to. Just stunning," says Chang, adding that in the ensuing years he quickly realized, upon subsequent visits to the Capital, that such lavish Beijing cuisine is "Nowhere to be found now. It's gone." 
But that lull is now over. With the RUYI Gastronomy Experience, Chang is treating guests at the Waldorf Astoria's Hutong Villa courtyard restaurant to refined versions of the Northeastern, Manchurian, Shandong, Tan and Imperial cuisine influences that converged over the years to form Beijing cuisine. 
The idea first came to Chang in 2012 in France when he was having dinner at a Chinese restaurant with celebrated ceramics designer Peter Ting. After admiring the tableware, Chang and Ting had an impassioned discussion about China's eschewing of all things bourgeois, including fine porcelain, during the Great Leap Forward, which left a void that European designers have gladly filled ever since. 
The pair decided to reverse that trend with their own artisan tableware for a new banquet series that would become the RUYI Gastronomy Experience. But as Chang began his in-depth research, he quickly realized that Chinese fine dining needed as much revamping as the porcelain upon which it is served – that the dishes should share history-with-a-modern-twist ethos that was also embodied by the tableware. 
After successful stints in Hong Kong and Shanghai, Chang has come to Beijing to begin another segment of the RUYI Gastronomy series based on the Capital's Imperial legacy. "The advancement of any culinary culture is closely tied with the advancement of the economy of that culture. If the US had not been so powerful in the past 60 years, hamburgers and Coca-Cola would probably not have gained such importance in food culture worldwide. The same goes for the influence of Cantonese cuisine within Chinese food culture. All the best restaurants in Beijing are serving Cantonese food or are helmed by a Cantonese chef, just like the Waldorf Astoria Beijing. The young talented chef Menex Cheung is from Hong Kong … so how does a young, Cantonese chef interpret the Beijing cuisine in its modern context?" 
To answer this question, Chang planned a culinary journey across China with Chef Menex to meet with chefs, academics and experts who could give technical, cultural and historical insights into how modern Beijing cuisine evolved.
The trip's biggest highlight was a full-circle moment for Chang: meeting Liu Guozhu, a Tan cuisine expert and the former chef of the Běijīng Fàndiàn hotel who is now the chef at a two-star Michelin restaurant in Macau. Liu invited Chang and Menex to sample some of his historically rich dishes while offering highly-detailed tips about how to prepare them. 
"He is the master of Tan cuisine," Chang says of the meeting with one of his culinary heroes. "We were honored to have him give us his support to make the Beijing RUYI very authentic."
During their travels they also met Taiwan's top food guru, Professor Zhu Zhenfan, who shared the breadth of his knowledge of China's culinary history by detailing the most ancient traditions and drastic changes of Beijing cuisine. "It was quite amazing," Chang says of the trip, adding: "Once we came back we had a blueprint of what Beijing cuisine is, we had a formula."
Now Chang is happy to not only have guests sample these carefully planned dishes, but also to host share the history and knowledge he learned from experts like Chef Liu and Professor Zhu. "I never would have imagined this when I was younger, but the divine always has the best plans for us. Little did I know that I was building myself up to this," he says, recalling his childhood roots in Hong Kong and his family's journey to taking ownership of one of the most prestigious porcelain brands in the world. 
The journey continues for Chang as he brings RUYI Gastronomy to Beijing and to Taipei later this year. "We have an agenda for the RUYI experience: to bring it back to the modern era. We have something here that Chinese people are not only proud of, but are happy to share with the world, and bring to the world of gastronomy … I see this as a renaissance of Chinese culture."
The Waldorf Astoria Beijing and LEGLE FRANCE's Beijing RUYI Gastronomy event runs from now until December 31, 2015 in the historic Ming Dynasty-style Hutong Villa. Guests will enjoy an elaborate nine-course meal inspired by the cuisine of Imperial Beijing paired with a selection of Chinese spirits, wines and teas, all served on fine RUYI tableware. 
RUYI Set Menu I: RMB 1,688 + 15 percent service charge per guest
RUYI Set Menu II: RMB 1,088 + 15 percent service charge per guest
For reservations and more information please call 8520 8916.
Photos: Uni You, courtesy of LEGLE FRANCE

Visit the original source and full text: the Beijinger Blog