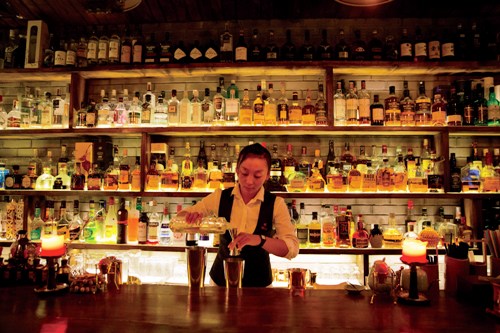 Don't mistake Ming Bar, Sanlitun's keycard access, members-only bar, for some kind of secret society brouhaha as exclusivity isn't the prerogative. Owner Xiao Ming's signature cocktails are no secret and are easily accessible via his additional two bars, Hidden House and Revolution, located close by. Rather, his lesser known watering hole is all about serving special, made-to-order drinks in a private setting.
Members have the option of choosing from a set drinks menu or requesting a drink that's adapted to their taste. I played it safe and ordered a classic mint julep (RMB 55), but had no regrets once I saw the way it was presented: Shards of chipped ice completely enveloped the outside of its silver mug, whose center emitted a sprig of mint leaves. I always associated the mint julep with malevolent plantation owners from the American south, but this stylized version took the drink to a new, almost medieval, level.
Getting in on sips like this requires a considerable fee (RMB 500), but the entire amount pays for itself through credit towards cocktails during future visits.
The interior of the small and intimate bar possesses that classic allure you might find in a John Grisham novel. Vintage lamps decorate the bar counter and wood and brick line the walls, making Ming a place you could sink into for awhile. It could benefit from being more spacious, but in warm weather, patrons can gather on the patio, which is, of course, secluded from the street.
Personally, I prefer those sleazy places where appropriate amounts of chaos are welcome, but I would definitely return to this calm oasis of craft spirits for a change in scenery. Oh, and the keycard? Anyone can obtain one — but only after being introduced to Ming by another member. (Don't everyone all call me at once, please.)
Ming Bar
Wed-Sat 6pm-2am, Sun-Tue 6pm-1am. Rm 101, 32 Nan Sanlitun Lu (near Two Guys and a Pie), Chaoyang District (138 1118 8991)
朝阳区北三里屯南32号楼2单元101底商
Also try: Revolution, Apothecary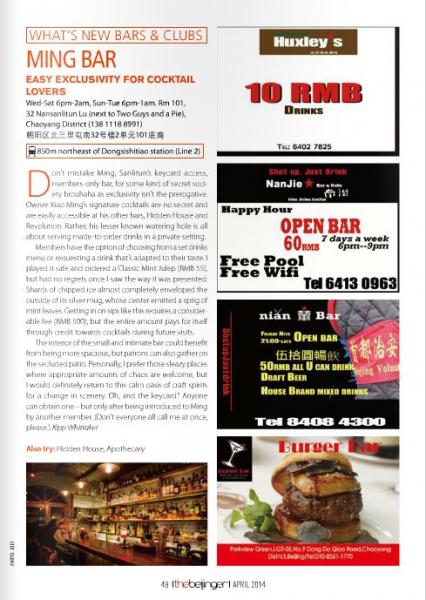 Photos: Joey Guo

Visit the original source and full text: the Beijinger Blog