As a food writer, no matter how many sea cucumbers, abalone, or swallow's nests I may have eaten, the ultimate comfort food on a gloomy day is always baozi and noodles. Unbeatable.
Which is why I was quick to embrace the opening of Jiangnan Snacks on the first floor of COFCO Plaza, which sits directly next to the elegant Jiangsu restaurant Huaiyang Dream and belongs to the same group: Huaiyang Fu. In the same vein of those restaurants, the decor delivers similar traditional vibes with a clean, white-tiled floor mixed with blackboard walls, industrial lights and makeshift shades, light-colored wooden Chinese-style armchairs and tables, bamboo, and a small rock garden in the corner.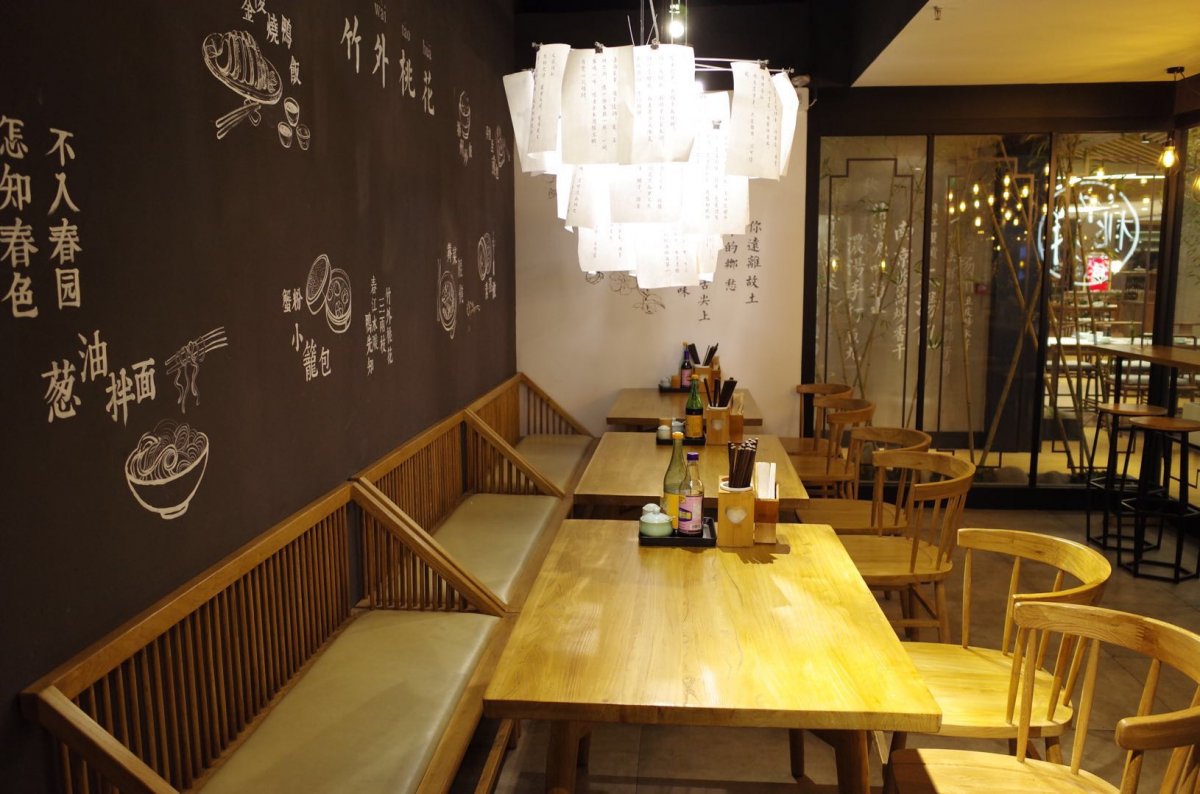 The one-page menu is easy to navigate and features three noodle soups (RMB 35-45), pan-fried baozi and xiaolongbao, duck blood and vermicelli soup (RMB 28), duck blood soup with wontons, and several cold dishes. The baked spongy gluten (烤麸 kǎo fū, RMB 8) had a delicate and soft texture, and a slight sweetness thanks to having been marinated in sweet soy sauce, a traditional Jiangsu method.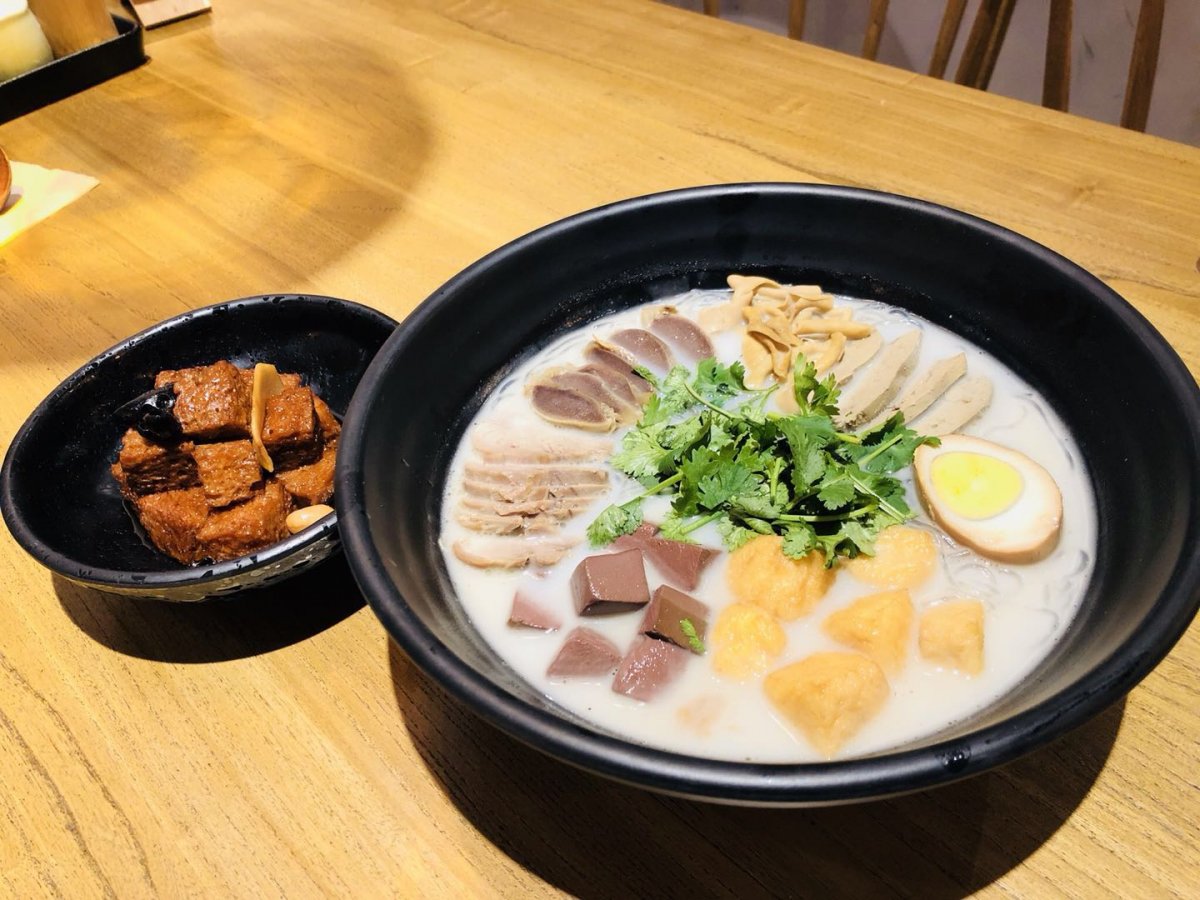 The signature duck blood and vermicelli soup (RMB 28, pictured above) comes in a large bowl packed with slices of duck liver, duck intestine, duck meat, fried tofu squares, and cubes of duck blood, all arranged neatly on top of the vermicelli base. The soup was full of duck flavor and a peppery after-kick from the white pepper broth. By the end, we wished that there was even more soup to gulp down.
You won't be complaining though once you fill up on huang qiao shaobing (黄桥烧饼 huáng qiáo shāobǐng) instead. Three of these flakey ovals cost RMB 12 and are made with flour, lard, peanut oil, and sesame, and stuffed with a combination of sausage, scallion oil, sugar, and pork floss, giving them a sweet and savory flavor. Deepened by the not-so-greasy fat from the lard, these balls of goodness could melt all of your problems away.
A hearty soup, a tray of xiaolongbao, and a cold dish – what better comfort lunch could there be? A short walk from the Beijing Railway Station, you may want to make time for Jiangnan Snacks next time you're heading in or out of town.
Jiangnan Snacks
Daily 11am-9pm. 1/F, COFCO Plaza, 8 Jianguomen Neidajie, Dongcheng District (6528 5575)
竹外桃花·江南小食:东城区建国门内大街8号中粮广场购物中心1层
More stories by this author here.
Email: [email protected]
Twitter: @flyingfigure
Instagram: @flyingfigure
Photos: Tracy Wang, Jiangnan Snacks

Visit the original source and full text: the Beijinger Blog