Iron Bartender returns just in time for the Bar and Club Awards. In this edition, we pit a proper mixologist against baijiu and craft beer connoisseurs to see who can most effectively transform our selection of Beijing beers into the ideal cocktail. For the venue, we settled on The Bullpen at Home Plate Bar-B-Que, for their state-of-the-art drink crafting facilities and more than sufficient selection of ingredients for this boozy rumble.
The Contestants
David Putney (Capital Spirits)
With mixing skills forged in the fires of baijiu, you can see David shaking it up and creating interesting infusions at Beijing's only house for this dangerous Chinese spirit. He has come a long way from his southern comforts of South Florida and has since reinvented himself into a drink slinging force to be reckoned with.
 
Kelsey Willis (Slow Boat Taproom)
This beer maiden in charge of sales at Slow Boat Brewery knows a thing or two about squeezing out a delicious beer, but what about the rest of her bartending chops? We forced her out of her comfort zone and into some cocktail chaos with this lofty challenge. Will she sink or swim in this Iron Bartender challenge?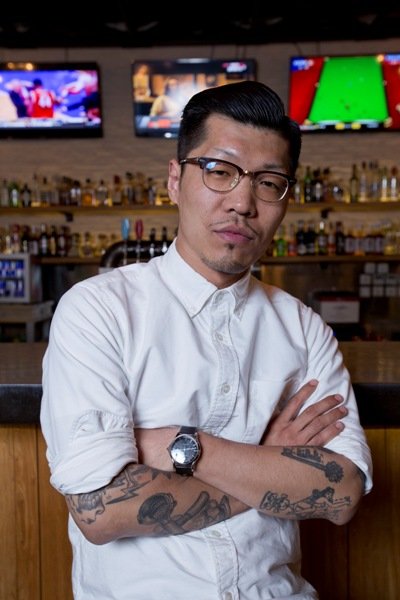 Travis (Daily Routine)
As owner and head mixologist of Daily Routine in Wudaoying, you'll find Travis here tirelessly mixing up tasty concoctions. His prowess for blending has landed him gigs creating a custom drink for the Street Kids party crew and guest bartending at Okra's tiki night with the BBC boys, but will he be able to harness the low-brow tastes of local beer?
 
The Judge
Dave Bob Gasper and Liu Rongrong (Home Plate Bar-B-Que)
Rongrong is part-owner of Home Plate Bar-B-Que and an extreme authority on whiskey and bourbon due to her keen palette. Dave Bob is head flavor creator behind The Bullpen, a newly annexed bar that is turning this house of smoked meat into a veritable party spot one cocktail at a time. Their combined skillsets make this pair the perfect choice to mediate this crew of flavor combining ruffians.
 
Round One: Great Leap's Iron Buddha
Travis (Winner) - Blacklist Brew
Bacardi silver, Gosling's Black Seal Rum, lemon, lime, simple syrup, pineapple juice, topped with bitters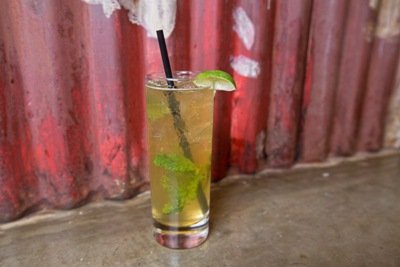 Kelsey Willis - Sex With a Sidewalk
Passionfruit juice, muddled mint, soda water
 
David Putney - Sanlitun Silk
Disarano, lemonade, aromatic bitters
Verdict: Dave Bob and Rongrong thought Kelsey's mix was missing the beer flavor and although David's was very balanced, it was Travis' creation that made their jaws drop in envy and won the first round with a smooth fizzy mix of bitter and sour.
 
Round Two: Yanjing Beer
Travis: Street Kids
Jim Beam Bourbon, lime, orgeat, passionfruit syrup, lime and lemon peel, topped with Tabasco
 
Kelsey Willis (Winner): Pecker Sticker
Wild Turkey Bourbon, Ketel One Vodka, honey, orange juice
 
David Putney: Moxige Guanxi (Mexican Relations)
1921 Tequila Reposado, Cointreau, lime, rim glass with salt
Verdict: Travis's Tabasco topping didn't go over well with the judges and Dave's Mexican inspired mix was a little watered down, so Kelsey took this round with what Dave Bob called a "rich redneck martini."
 
Round Three: Arrow Factory Seeing Double IPA
Travis: Bad Ass Old Fashioned
Decarbonated beer, sugar, bitters, orange and lemon twist, grated cardamom
 
Kelsey Willis: Beatnik's Brew
Sauvignon Blanc, Campari, lemon juice, lemon wheel and beet garnish
 
David Putney (Winner): Bold Fashion
Rye whiskey, brown sugar, white sugar, Angostura Bitters, Peychaud's Bitters, rimmed with orange peel
Verdict: Travis went through some inspired prepping decarbonating the beer then transforming it with sugar and bitters. Kelsey's aromatic creation sent the judges into a flavor frenzy, but it was Dave Putney who fully used the beer's flavor to create a yeasty version of an old classic.
More stories by this author here.
Email: [email protected] 
WeChat: kippwhittaker
Weibo: @KippWhittaker 
Instagram: @KIDDWHIZ
Photos: Uni

Visit the original source and full text: the Beijinger Blog