The buzzword as of late seems to be "unlimited," and brunch is the medium. Perfect for the recent onset of warmer weather and sunny terraces ... or so most of the city seems to think.
In Nali Patio, Agua has a few fresh concepts. Chef Jordi has unveiled a new menu for spring this week (a full post on that coming soon) and this holiday weekend marks the debut of their "Infinity Brunch" which is priced at RMB 298 for infinite food. The brunch menu is completely new and includes what you might expect from Agua: classic staples with Spanish twist. Plus if you're looking to get a little messy on your holiday weekend, tack on RMB 168 for free-flow wine, sangria or bubbles.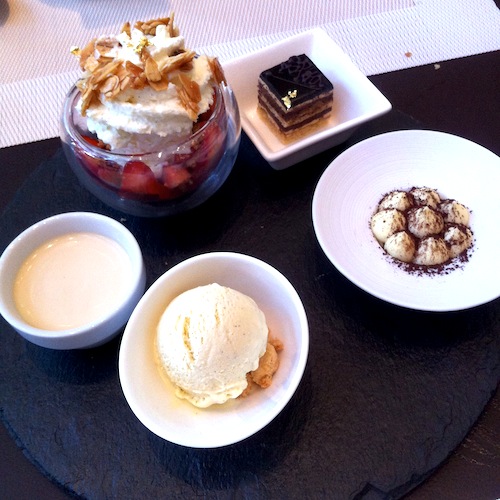 There's more brunch on the horizon post-Qingming. Near Dongdaqiao in Parkview Green, Opera Bombana will be launching a Sunday brunch, with the first official one starting on April 13. The model is a nice hybrid of free-flow (appetizers and desserts) with one made-to-order main for RMB 328 (add RMB 128 for free-flow prosecco). If you'd prefer to keep it under control, they also offer a selection of signature weekend dishes offered a la carte and starting from RMB 128.
Just inside the west gate of Gongti, I discovered that the new Italian restaurant Matta is turning out some impressive fare. I went over for dinner, but they also have a weekend buffet brunch (Saturdays and Sundays) for RMB 88 which I expect is worth checking out. It's in Gongti, yet somehow it's quite tranquil a space with a beautiful outdoor seating area.
And finally, the brunch concept is coming to the dinner table. Kerry's Kitchen has launched this with the moniker "Feast-ival" and its's quite the success. At RMB 198, the dinner is a good value considering that appetizers (seafood, salad, cold cuts, cheese, etc) and dessert are offered buffet-style while the mains are prepared-to-order, but also offered in unlimited quantited. The full run-down on that soon.
Photos: Cat Nelson
More stories by this author here
Email: [email protected]
Twitter: @haimei_baole
Instagram: @haimei_baole
Weibo: @cat_nelson

Visit the original source and full text: the Beijinger Blog