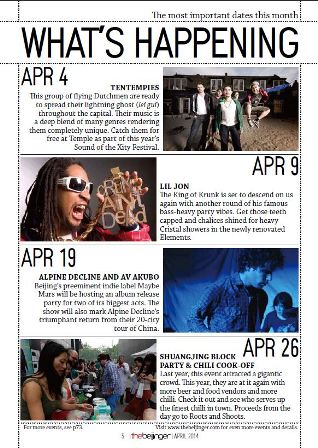 What's Happening is a regular feature in the Beijinger magazine of the hottest upcoming events in the month to come.
TENTEMPIES – APR 4: 
This group of flying Dutchmen are ready to spread their lightning ghost (lei gui) throughout the capital. Their music is a deep blend of many genres rendering them completely unique. Catch them for free at Temple as part of this year's Sound of the Xity Festival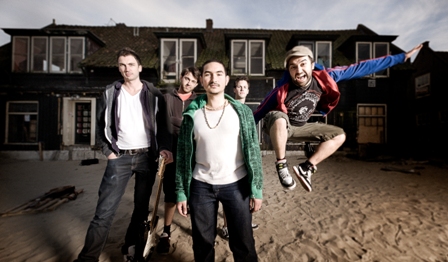 LIL JON – APR 9:
The King of Krunk is set to descend on us again with another round of his famous bass-heavy party vibes. Get those teeth capped and chalices shined for heavy Cristal showers in the newly renovated Elements.
ALPINE DECLINE AND AV AKUBO – APR 19:
Beijing's preeminent indie label Maybe Mars will be hosting an album release party for two of its biggest acts. The show will also mark Alpine Decline's triumphant return from their 20-city tour of China.
SHUANGJING BLOCK PARTY & CHILI COOK-OFF – APR 26:
Last year, this event attracted a gigantic crowd. This year, they are at it again with more beer and food vendors and more chilli. Check it out and see who serves up the finest chilli in town. Proceeds from the day go to Roots and Shoots.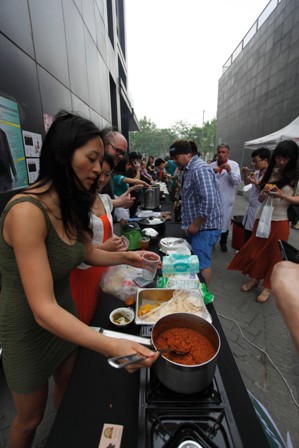 To read the April 2014 issue of the Beijinger online, click here.
Photos: the Beijinger, Genjing Records, TenTemPies

Visit the original source and full text: the Beijinger Blog