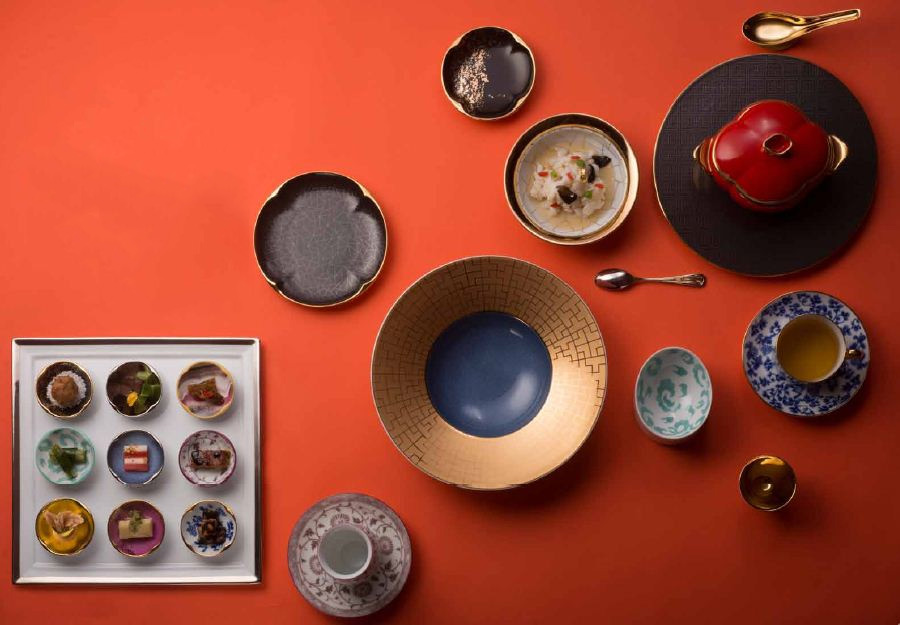 The Waldorf Astoria Beijing
This post is sponsored by the Waldorf Astoria Beijing
 
Despite centuries of history and a vast spectrum of ingredients, Desmond Chang says fine Chinese dining can be epitomized in a few simple terms.
"There are three words for my understanding of Chinese food: "Auspicious," "Celebrating," and "Lavish," says the LEGLE FRANCE Managing Director and fine dining aficianado. These terms, which Chang says "make up the unique DNA of Chinese cuisine," perfectly describe his RUYI Gastronomy banquet series at the Waldorf Astoria hotel, which is going on from now until December 31st in the hotel's Zijin Mansion and Ming Dynasty-modeled Hutong Villa.
The Hong Kong native has organized RUYI Gastronomy series exploring the local culinary history of Hong Kong and Shanghai, and he plans to do the same in Taiwan later this year. Each of these feasts is served on LEGLE FRANCE's exclusive RUYI line of tableware, which was specially designed by renowned ceramics designer Peter Ting.
 
The current Beijing series features some of the most innovative RUYI Gastronomy dishes yet, and Chang says devising the nine-course menu was not without its challenges. "Beijing cuisine is very difficult because, being in the North it is half Manchurian and half Han. It's very rustic," he explains, adding that those hewn characteristics are "very unique, rustic and expressive, but very difficult to make refined." 
Chang surmounted those challenges by delving deep into the history of not only the cuisine, but also the region, explaining: "You have to address it from scratch. You have to ask: 'What is the signature dish of the Han people?' And then you have to look at the recipes and try to redefine them in a delicate way, one by one." 
Working and researching alongside Waldorf Chef Menex Cheung, Chang consulted with a host of famous Chinese cuisine experts and was adamant about maintaining the authenticity of all of the dishes' recipes. "[From there] we laid out the menu, and after that, we designed the tableware and the flow of the dishes that go onto it – this creates the atmosphere that you experience during the meal," he explains.
 
This process proved especially difficult for the Manchurian recipes, which hail from China's north-eastern region and feature such distinctive ingredients as tendon of wild deer. 
"How do you make the tendon of a wild deer a very delicate and tasty food? You also have to present it in a modern way, which is not easy," Chang says, before explaining that the solution lay in stewing the meat in a savory soup, then pairing it with frozen blueberries. 
During his research, he found that the ancient Han and Manchurian people laced such tendon soups with medicinal angelica herbs, an icy frozen fruit that creates a crucial juxtaposition in the flavor of the dish. 
"The angelica is strong in your mouth," Chang explains, adding: "The tendon, the angelica and the soup will make you feel quite warm and conditioned, so you will need to cleanse your palate." 
To accomplish this, Chang takes a cue from contemporary Western fine dining. "The French use sorbets to cleanse the palate, and we use fresh frozen fruit."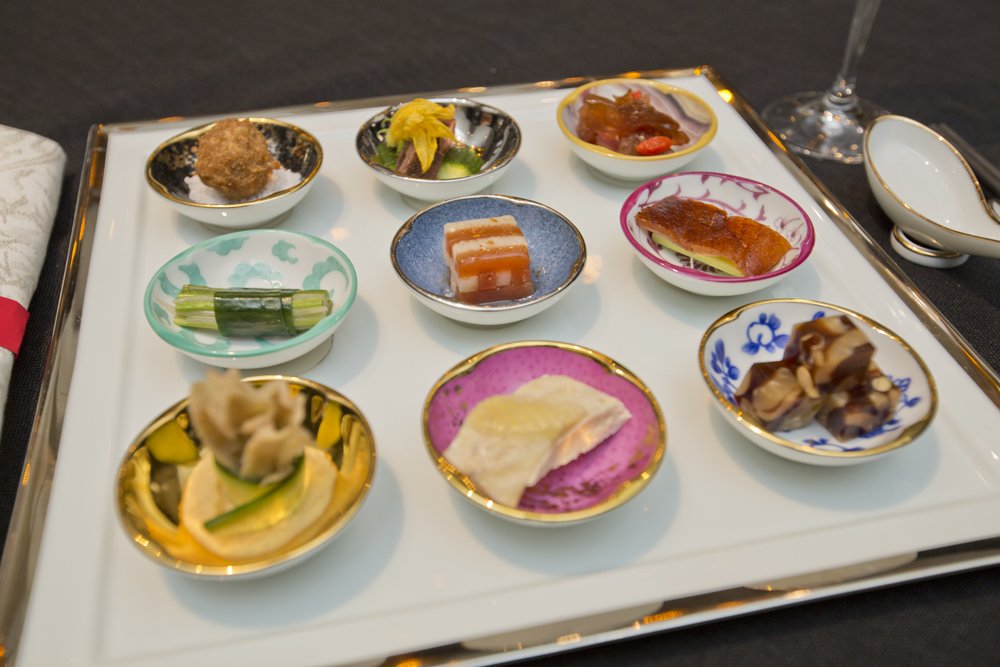 This tantalizingly exotic entrée is merely the sixth of an elaborate nine-course feast. The wild deer soup is preceded by the RUYI Gastronomy's signature, and even more impressive appetizer course based on the traditional Beijing Imperial cuisine that was once served to the Emperor in the Forbidden City. Served on a platinum square platter divided into ornate circular dishes, the appetizer course symbolizes the Jiu Gong Ge (Nine Halls Diagram) that Chang learned about while researching about the Book of Changes, the tome of Daoist philosophy and one of China's oldest classic publications. The course is comprised of nine quintessentially regal Beijing Imperial delicacies: deep fried meatballs, cucumber with ox tongue, jellyfish with vintage vinegar, bean sprouts and baby coriander roll, pear and hawthorn with Osmanthus syrup, Peking duck slice, mustard duck web, chicken with Chinese wine and traditional pork jelly with soybeans.
The RUYI Gastronomy banquet also includes the classic Tan style braised fish maw with chicken soup, which was served to state officials during the Qing dynasty. For this version, the soup is made from a combination of three types of free-range mature chickens and sweet pumpkin juice, the latter of which gives the dish a sweetly subtle flavor. That course is followed by the Chinese Spring pancake with Dragon Beef and Crispy Rice, a "pizza-esque pancake originating from China's Jin dynasty … brimming with five varieties of vegetables." Beijingers traditionally believed that this pancake invigorated the body's vital organs, making the dish a perfect addition festival feasts that celebrated the beginning of spring. The meal includes several other traditionally-inspired dishes with modern twists, including the bean sprouts and baby coriander roll, pear and hawthorn with Osmanthus syrup,  "hutong style" suckling pig, baby cabbage cooked in seasoned spring water, and a rose and lychee jelly desert - all of which come with their own fascinating backstories.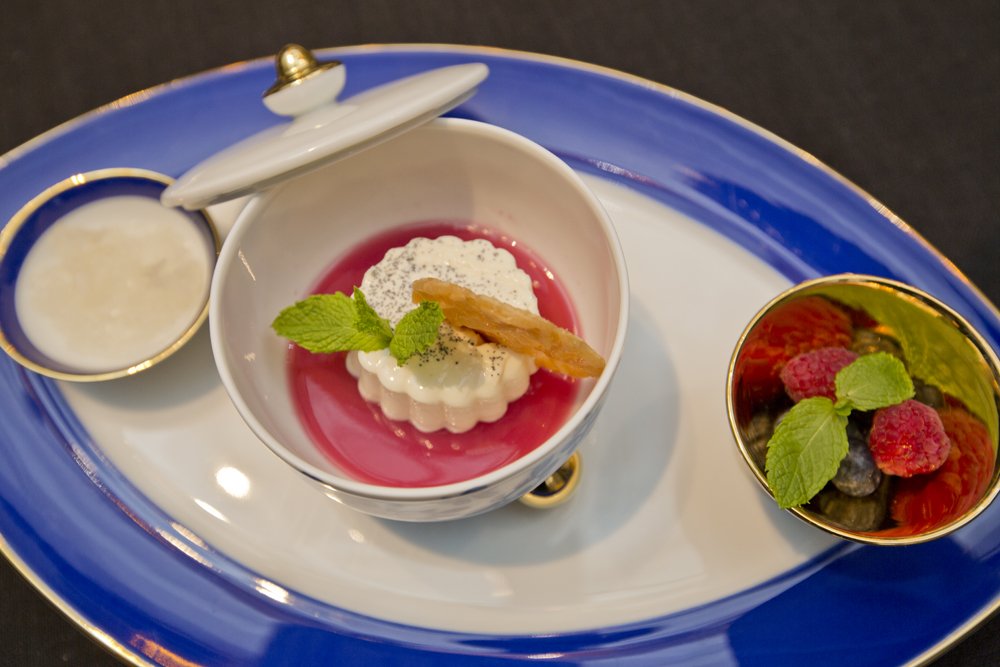 Researching the ingredients and recipes for these dishes was intense, and equal care was given to planning the service and presentation of the meal. But for all of its intricate detail and aesthetic beauty, Chang says RUYI Gastronomy is not meant to be the definitive take on Chinese fine dining. "RUYI is not the ultimate answer, what we're saying is: 'this is our version of Beijing gastronomy cuisine' – any other chef can jump in with their own version. If everyone does so, we'll see a very quick revival of Chinese gastronomy, which is what we are all looking for."
The Waldorf Astoria Beijing and LEGLE FRANCE's Beijing RUYI Gastronomy event runs from now until December 31, 2015 in the historic Ming Dynasty-style Hutong Villa. Guests will enjoy an elaborate nine-course meal inspired by the cuisine of Imperial Beijing paired with a selection of Chinese spirits, wines and teas, all served on fine RUYI tableware. 
RUYI Set Menu I: RMB 1,688 + 15 percent service charge per guest
RUYI Set Menu II: RMB 1,088 + 15 percent service charge per guest
For reservations and more information please call 8520 8916.
Photos: Uni You, courtesy of LEGLE FRANCE

Visit the original source and full text: the Beijinger Blog