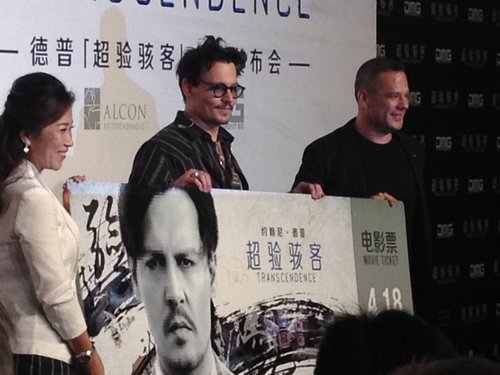 "It's like Saturday night at my house."
That's how Johnny Depp described Monday's media scrum at the Grand Hyatt Hotel, which hosted the China press conference for Transcendence, the Pirates of the Caribbean star's latest sci-fi thriller, which will have a day-and-date release with the US on April 18.
Depp, making his first visit to China, wowed the female attendees when he showed off one of his tattoos, a symbol from China's I-Ching.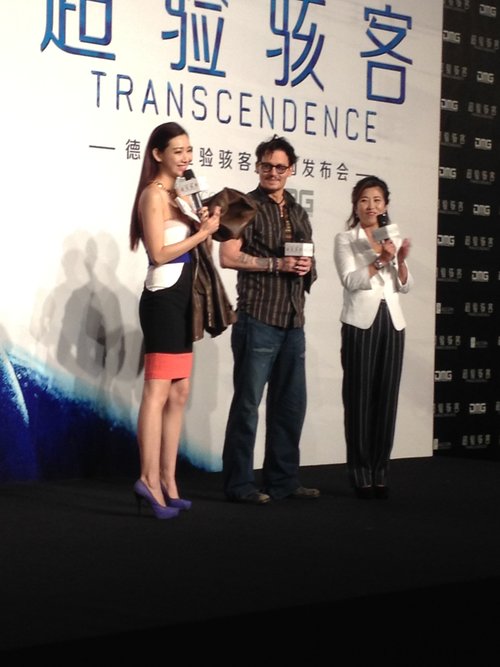 Revealing it required the removal of his coat and rolling up one sleeve, which received cries of approval from many of the journalists and fans that had gathered.
"If I were uploaded to a computer, I think I'd break it, with my rotten mind," Depp said of the film's key plot twist. Transcendence features Depp as a computer scientist who finally discovers a way to upload human consciousness. That discovery must be immediately employed when an anti-technology terrorist group attempts to assassinate Depp's character. To prevent destruction of the world as we know it, the new, electronic Depp must "transcend" the boundaries of life and death and consciousness and technology.
Neither Depp nor DMG management took questions from the press at the event. The film also stars Morgan Freeman, Rebecca Hall, and Kate Mara, although Depp's promotional visit was a solo affair.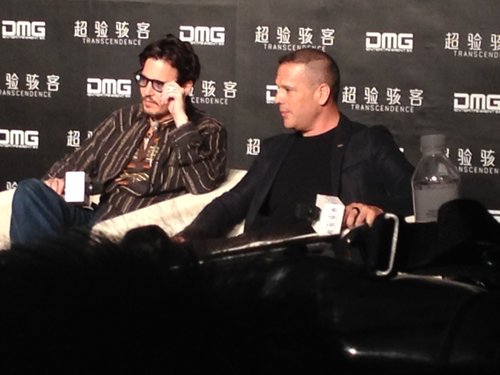 Transcendence is the first of a multi-film slate of movies that Beijing-based film company DMG Entertainment, which also has production credits for films including Iron Man 3 and Looper, is producing with Los Angeles-based Alcon Entertainment. The next film set for production on that list is a remake of Keanu Reeves surfer crime story, Point Break.
Beijing has been a hive of cinematic activity lately, with Scarlett Johansson and Samuel L. Jackson in town last week to promote Captain America: The Winter Soldier. The action will continue next month, with the Beijing International Film Festival running April 19-26.
Photos: Steven Schwankert/True Run Media

Visit the original source and full text: the Beijinger Blog