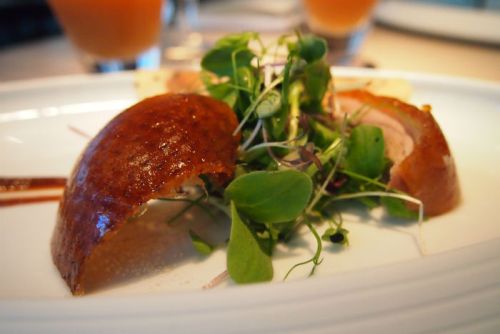 PS We Ate You is a regular magazine column where, every month, we shine a spotlight on some of the most delicious dishes we've stumbled upon recently. Dig in!
Peking roast duck
Hua's Restaurant, RMB 168
This delicacy might be the most famous dish in the city, but that doesn't diminish the pleasure you experience when bingeing on the crispy bird. It's served with the usual fare of thin rice paper pancakes, plum sauce, and various fixings, including a small side of sliced hawthorn apple that delicately compliments the duck.
pork carnitas
Más, RMB 50
These Florida dandies make a mean taco. They recently added this spicy little fellow to their new spring menu. Slow-roasted pork topped with chipotle aioli and radish escabeche (pickled vegetables) rests on a slightly darkened flour tortilla. The juices ooze out with every bite, and the tender, spicy meat pairs well with a side of their famous nachos and the lip-smacking daiquiris Más is famous for.
chicken curry
Lilly's Vegetarian Restaurant, RMB 48
Some people will never understand the appeal of fake meat. It's a unique experience that shouldn't be associated with the actual animal it references. This yellow curry is pleasantly thick, filled with carrots and potatoes. The soy protein used for chicken retains a pleasing, bumpy texture and soaks up the flavor of the sauce.
oyster omelette
Longxin Dayue Taiwan Eatery, RMB 16
This omelette is probably the most challenging thing you'll eat this month. You literally have to gnash your teeth over it. But the springy texture is balanced by a finesse of subtle oyster fragments with open leaves of fresh spinach and even more oyster sauce on top, dominating your pallate without mercy.
crispy golden shrimp
Jingui Restaurant, RMB 68
Prawns are wrapped with super thin rice noodles and fried to a golden crisp. We suspect some manner of hormone treatment because these suckers are pretty massive and come to the table stacked in a log cabin formation and are served with a sweet and tangy dressing on the side.
Photo: bookatable.com

Visit the original source and full text: the Beijinger Blog