There are two types of places that you wouldn't go often: one whose beer/dishes/service/owner sucks and you wouldn't want to bother wasting the calorie allocation or the hope, or one that you know is worth saving a little for a special occasion. Georgia's Feast, located in the embassy area by Liangma River, falls into the latter and if you have yet to visit, their three-year anniversary in March may be the perfect time to visit.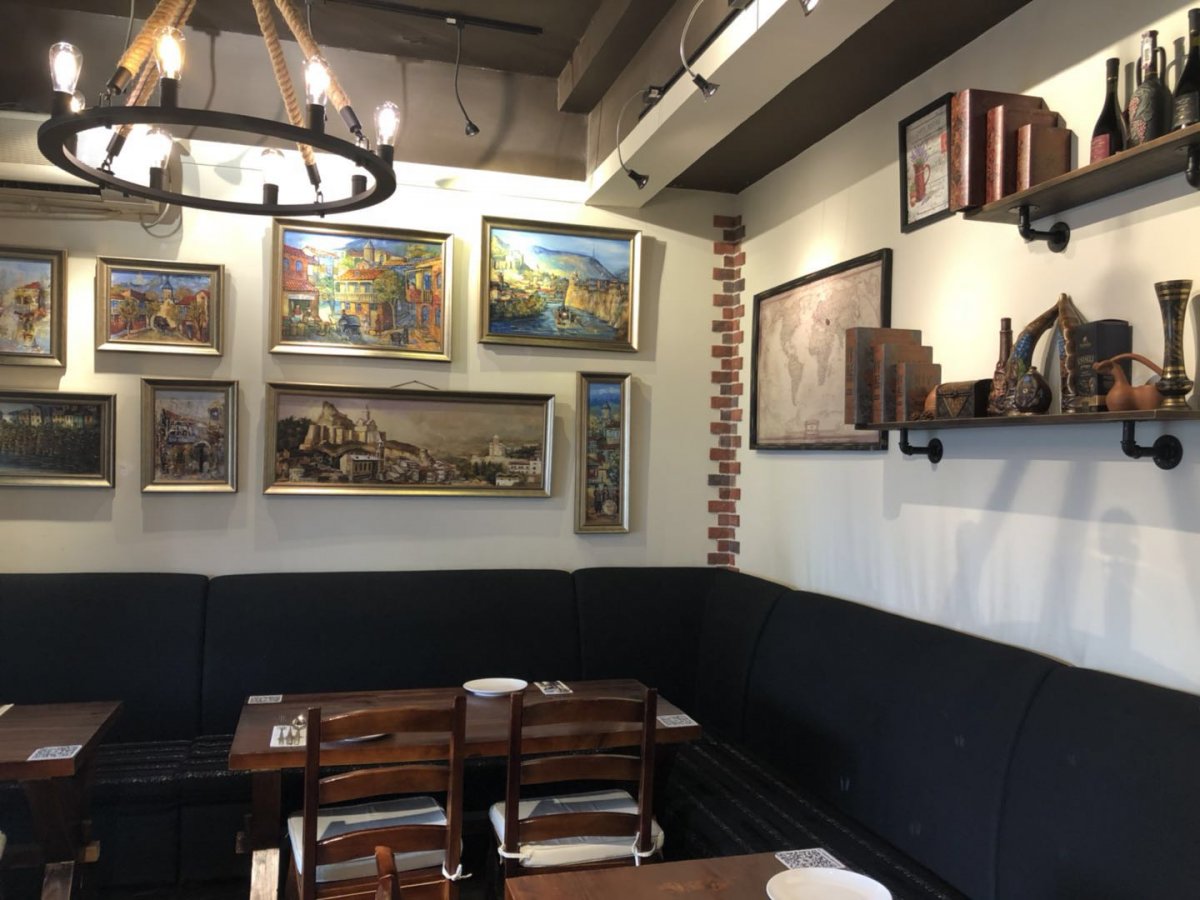 The venue is purposefully rustic with an open brick wall behind the bar and paintings of Tbilisi, the capital city of Georgia, throughout as well as decorated with antlers and clay jars and pottery traditionally used to hold for wine, one of Georgia's biggest exports.
The menu is equally as traditional and is packed with Soviet-leaning dishes like olivier salad, eggplant stuffed with walnuts, satsivi (chicken in walnut sauce), chanakhi (braised mutton), grilled lamb shashlik, various khachapuri (traditional Georgian cheese bread).
The kharcho, a Georgian soup (RMB 38) made from beef, cherry tomatoes, onion, and celery, fused with a hefty mixture of Georgian herbs, hand-carried from Georgia, knocked the cold right out of us and enlivened of tastebuds for the more filling dishes to come.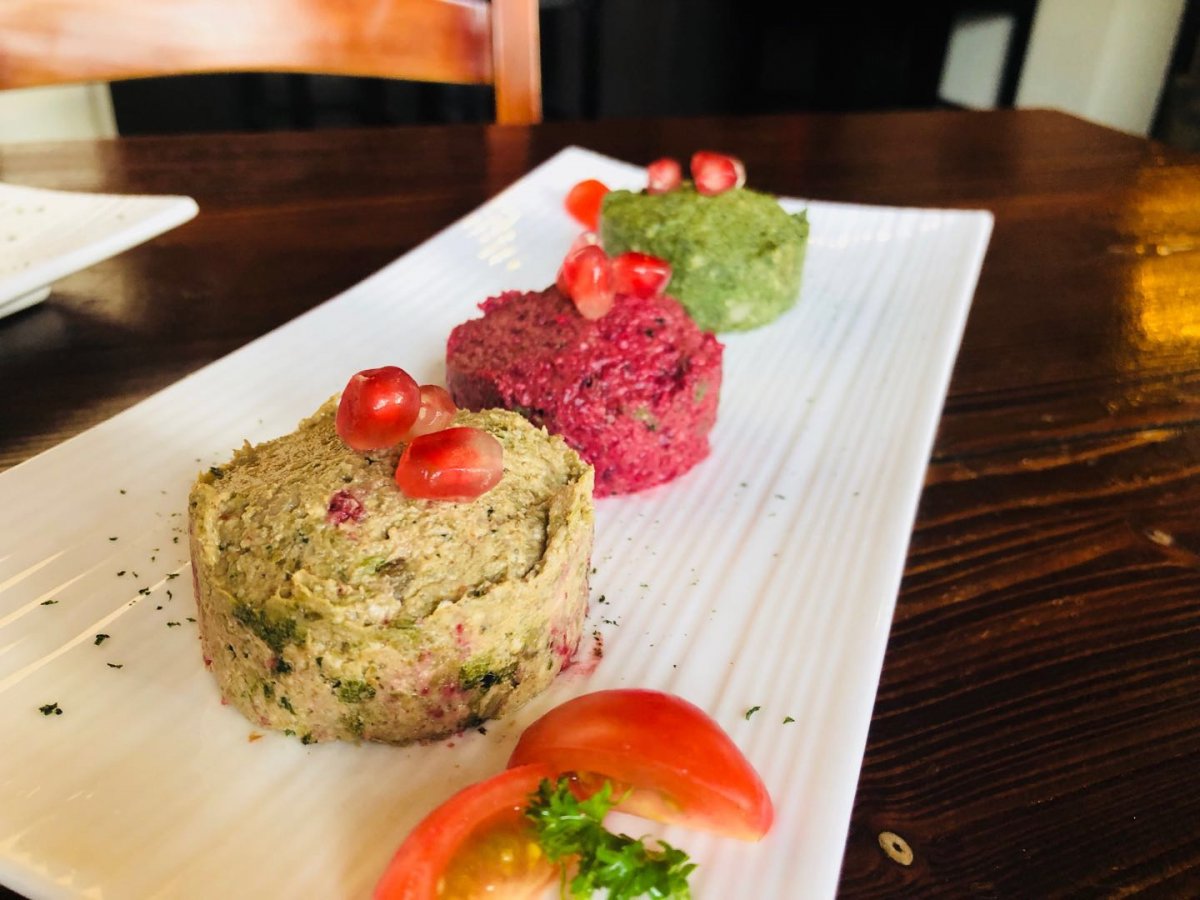 Next up was the assorted Georgian pkhali (RMB 36), three colorful balls made from chopped and minced beetroot, spinach, and green beans, and topped with pomegranate. The fuchsia pink beetroot rendition won out thanks to its rich herbal notes and a moreish texture from the minced cabbage, eggplant, beans, beetroot, vinegar, garlic, and ground walnuts, a fixture in Georgian cooking.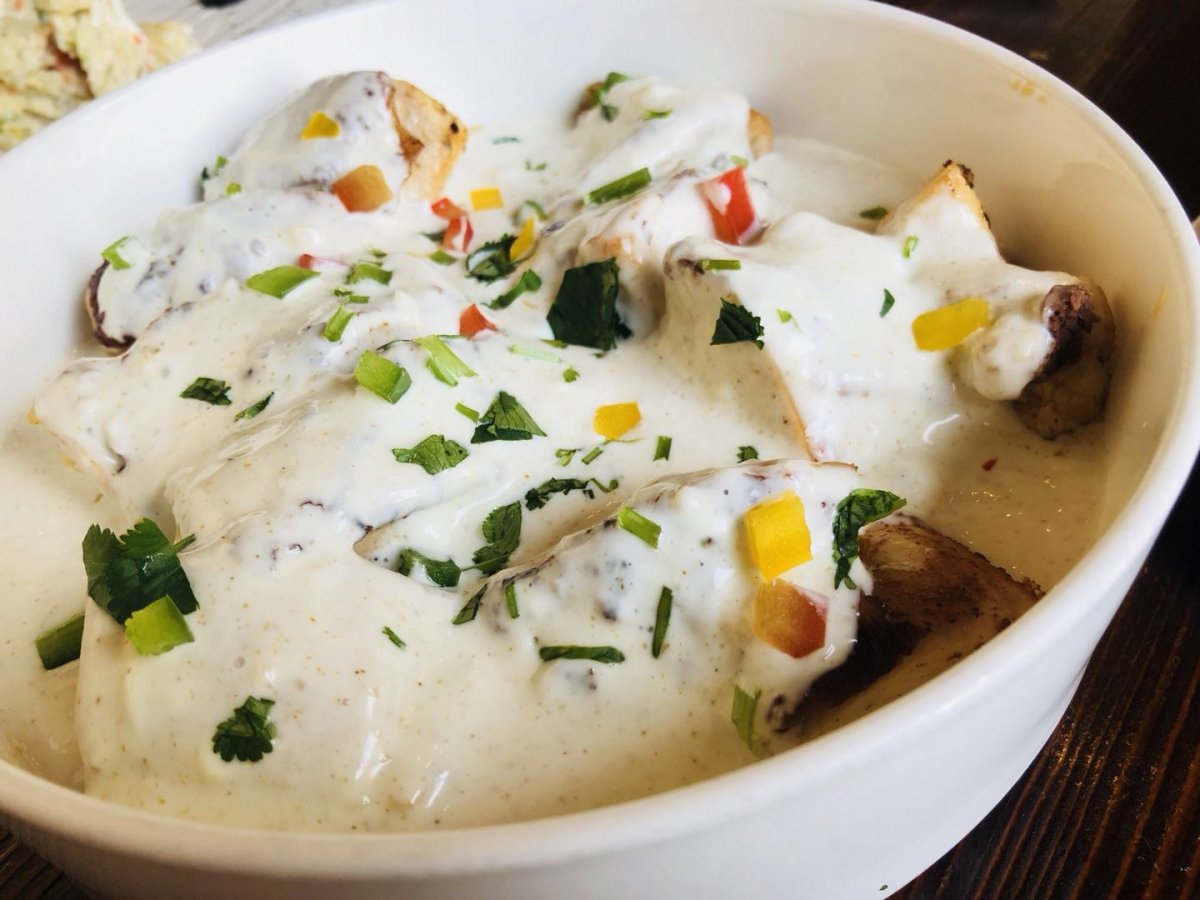 The star of the show was the chkmeruli (RMB 78), chicken in garlic sauce. Seasoning and sautéeing the chicken first, the meat is then stewed in a garlic and milk sauce. The chicken was tender and succulent, seasoned to perfection with garlic, pepper, and a touch of spice, and oh-so-addictive thanks to the rich and creamy sauce., ah, I wish you were here.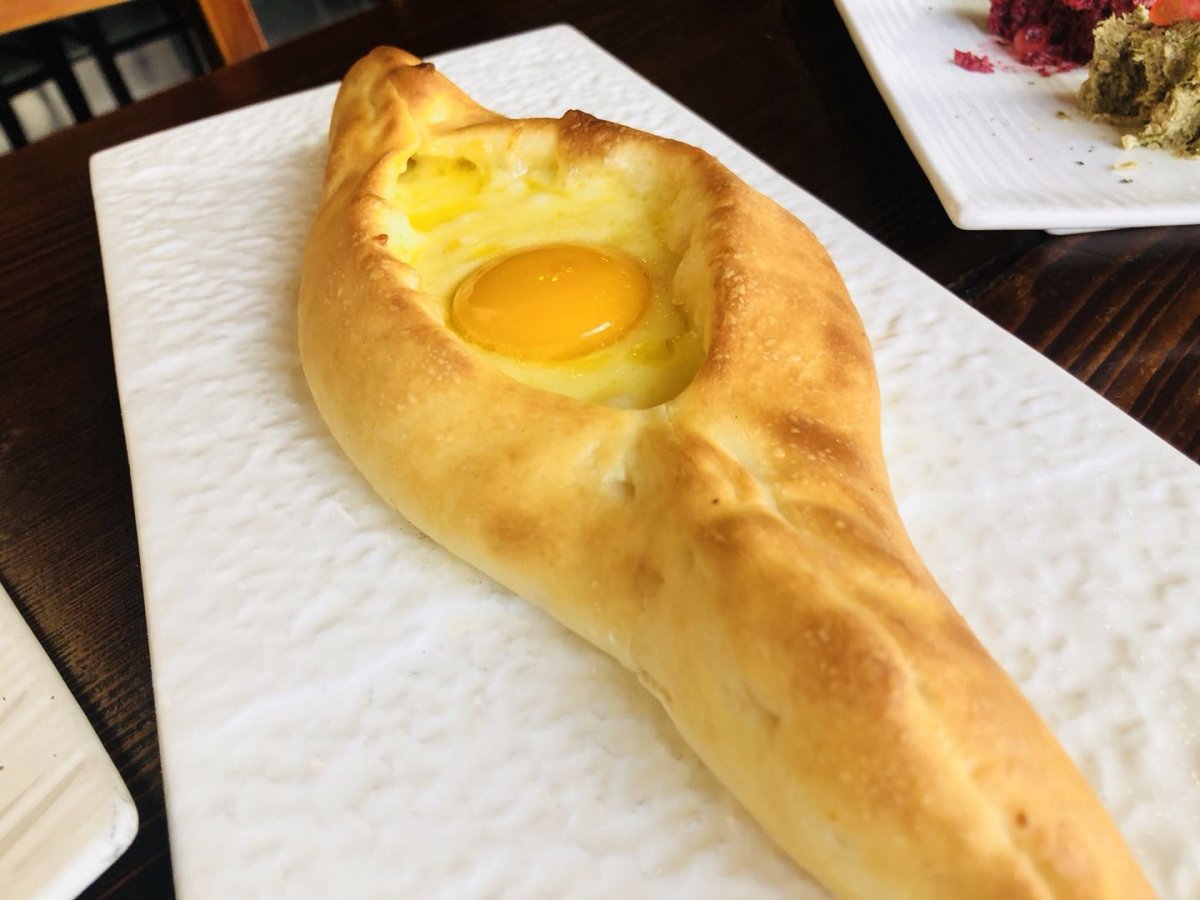 As for the staples, we recommend the khachapuri (RMB 68), the Georgian take on pizza, sans tomato sauce. The steaming-hot bread is served with a raw egg in the middle, which is cooked through once you mix it with the underlying and molten cheese. This dish is so popular among Georgia's Feast's customers that Georgian chef Neli Tomaradze has to bake over 100 per day.
The beef, lamb, and cilantro khinkali (RMB 42), or dumplings, are similar to huge baozi in shape but not in means of consumption. With careful instruction from the management, we learned that you first dust the khinkali with black pepper, grab it by the top pleats, nibble the side gently to avoid it bursting, drink the soup, and then eat the insides. Also unlike the baozi, many people don't actually eat the pleats as they're too gluttonous and filling (taking up valuable space for more khinkali).
Taking a breather, Georgia's Feast energetic manager Muhammet Annayev explained to us what he considers to be the biggest differences between Georgian and Chinese cuisine, saying, "the dishes are served the same – family-style – but the difference is in the presentation; people don't care much about the presentation in Georgia but customers here eat with their eyes, ears, and mouths."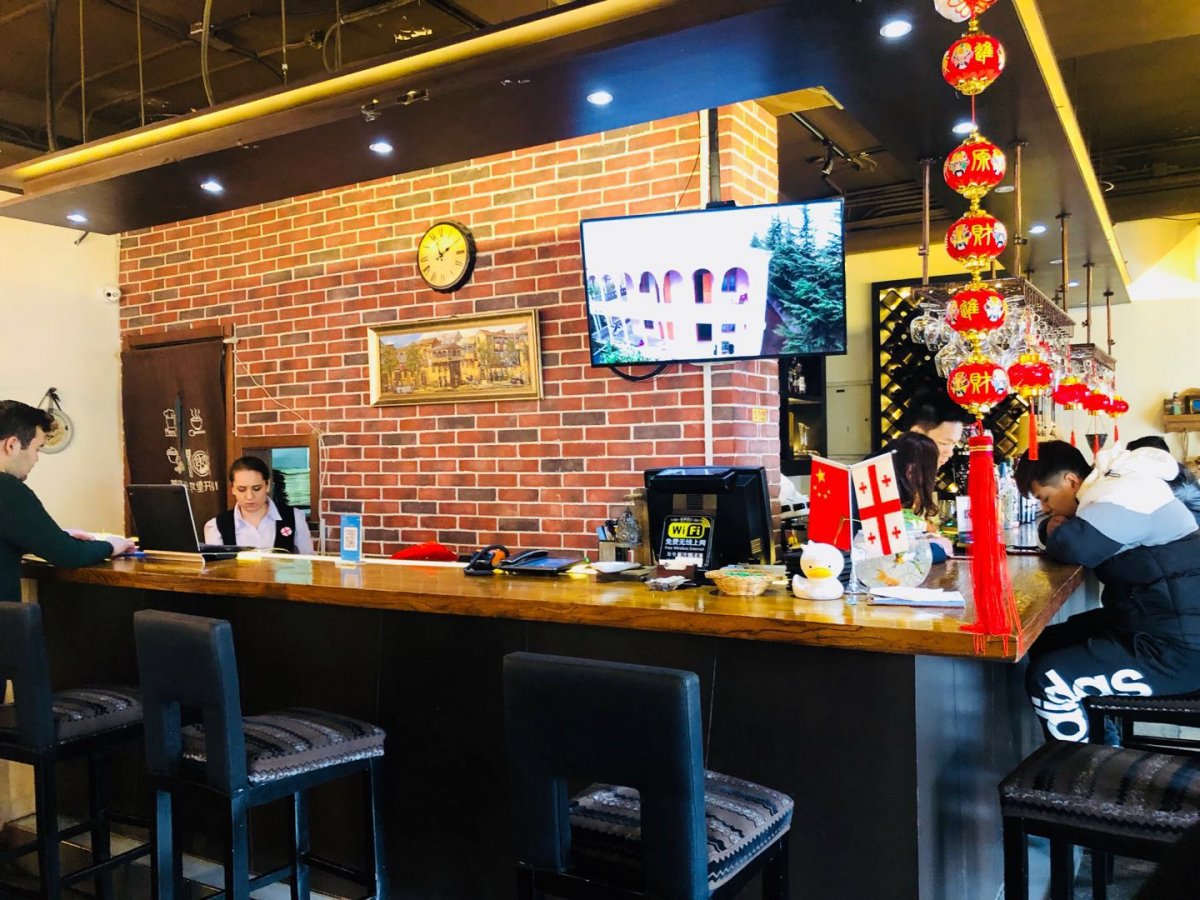 Of course, you can't have a Georgian feast without talking about Georgian wines, with unique varieties from the region that date back as far as 8,000 years. The glass of red that we tried (RMB 68 a glass), a saperavi variety by Dugladze winery in Kakheti, was rightfully packed with floral notes, a smooth texture, a full body, and a deep ruby color.
Georgia's Feast is the type of restaurant that makes you feel grateful to live in a mega-city like Beijing, a place that provides access to delicious cuisine from every corner of the world. Once the next special occasion rolls around, we'll be sure to return so as to feast again.
Georgia's Feast
Daily 11.30am-3pm, 5-11pm. 2 Sanlitun Beixiaojie, Chaoyang District (8448 6886)
格鲁·秀色西餐厅:朝阳区三里屯北小街2号
More stories by this author here.
Email: [email protected]
Twitter: @flyingfigure
Instagram: @flyingfigure
Photos: Tracy Wang

Visit the original source and full text: the Beijinger Blog