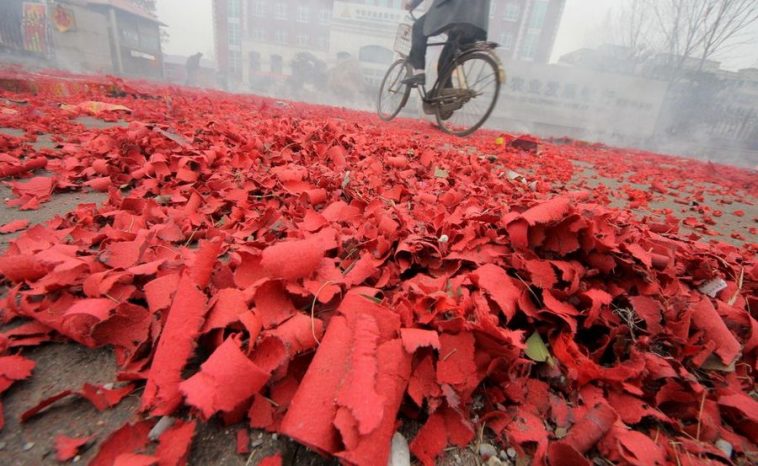 Throwback Thursday takes a look back into Beijing's past, using our nine-year-strong blog archives as the source for a glance at the weird and wonderful of yesteryear.
The Spring Festival celebrations and days of incessant munching on the sofa are sadly (?) drawing to a close. As we know, the end of China's biggest holiday means that the hustle and bustle of Beijing is starting to return to normal with tumbleweeds in the streets making space for returning Beijingers.
One major difference this year, however, was the comparatively subtle festivities – sans smoke and fire – given that the use of fireworks were banned within the Fifth Ring Road (in comparison, fireworks were banned in CBD as far back as 2011 as a delayed response to the 2009 fire that engulfed CCTV's Television Culture Center). This year's ban has been surprisingly effective with the occasional sneaky firecracker going off every once in a while. Perhaps part of the efficacy of the ban is down to the relentless flags flying every few meters in the center of town, reminding conscientious citizens of the new restrictions.
Back in 2011, we were nodding our heads in agreement with a particularly spot-on experience chart (see below) published by The World of Chinese. The graph illustrated how the foreign community commonly reacts to Spring Festival celebrations. The clincher this year was that we didn't have fireworks to distract from the requisite family time and dumpling rolling, either quickening the inevitable encroach of insanity or reducing it, depending on your fondness for high explosives.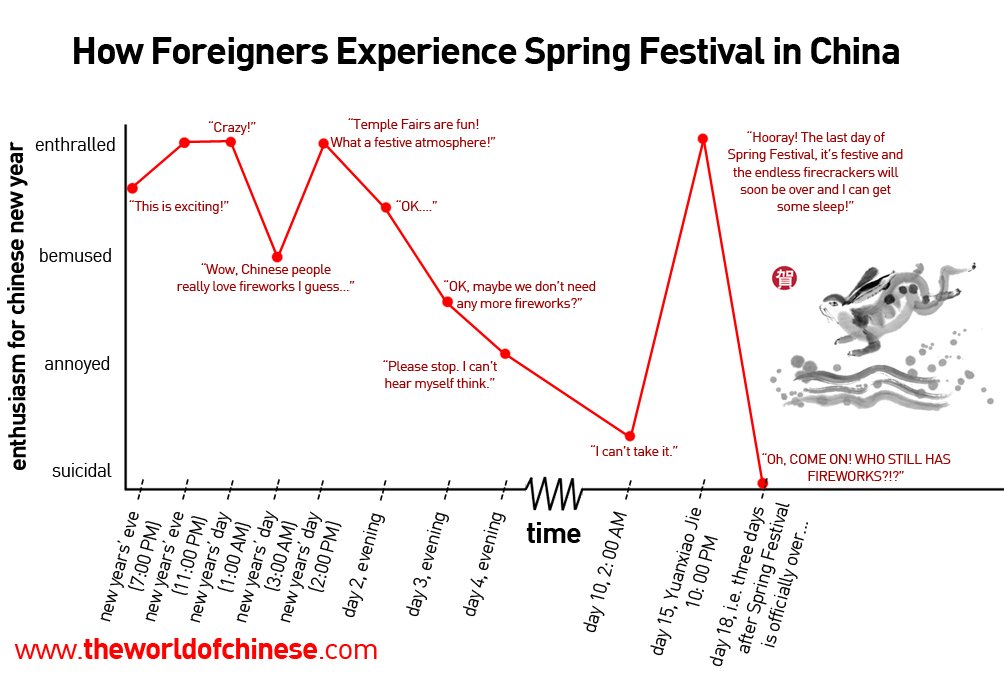 An expat's first Spring Festival in China is often met with fascination that slowly dips towards bewilderment. As late as last year, we could still take a trip to the one open store in the neighborhood while strafing through a scene that resembled a fervid game of Counter-Strike. All the while, your inner monologue asking questions like, "Why are these toddlers still awake at 2am?" and then, "Why do these toddlers have firecrackers in their tiny hands?" Needless to say, it used to get wild. 
All in all, the silence and clean air are the byproducts of positive change but that will still take some getting used to. The city's emptiness now coupled with the relative silence throughout the holiday now makes Beijing more akin to a yoga retreat than a war zone. Join us now in enjoying it while it lasts, as come Monday, the chaos that we know and (most of the time) love will have conspicuously returned.
More by this author here.
Email: [email protected]
Images: The World of Chinese, China Smack

Visit the original source and full text: the Beijinger Blog