Be it widely read pop culture outlets like i-D, or indispensable DJ platforms like Resident Advisor, plenty of outlets have been giving Shanghai crew Genome shine lately. On the heels of the Pearl City electronic music label, live set coordinator and artist platform's recent compilation release, its members are making their way to Beijing on Feb 24 to spin those for a capital crowd dying to get back on the dance floor after the quiet Spring Festival holiday. Below, Genome live set coordinator and promoter Kilo tells us about his crew's dancefloor-friendly endeavors.
How did you begin working with Genome?
I've been working at The Shelter since 2012, as a bartender who also happened to be a music lover. So it happened naturally, when my music collection grew big enough, that I'd want to share my passion for those songs with others and start playing DJ sets.
How did you begin Genome?
Everyone meet each other at The Shelter basically, and my friend Tavi got the idea to release Hyph11e's track under his label. I was interested in running parties and organizing sets, so we made a group chat and then everything went from there.
What have been some of the highlights that Genome has achieved so far?
So now we have a monthly party night Shanghai's ALL Club. That, and running the label Genome 6.66 Mbp have been our biggest achievements so far.
We're really proud of the label side of things. Through it, we release EP's and albums on all good digital music platforms. We also hold monthly shows on [Australian Digital Radio station] Radar Radio to promote our stuff to people in other locales and to get connected with other forward-thinking labels. We never tend to "use music" to get money, prestige or so on. We are loyal to music and maintaining its purity.
Can you elaborate on that last point?
In my mind, there are not so many labels in this country. Even though some groups claim to be, you can easily count on your fingers which ones are truly doing the work. So "being a label" is the biggest achievement so far for Genome 6.66 Mbp. I believe that will deeply affect our peers and the younger generation to start doing their thing the right way in China. It's good for the scene. Because of our hard work, people will come up to me and say "Hey, I saw Genome is featured on [widely read music outlets like] RA, Electronic Beats, The Fader" and so on. Any good or bad exposure from these outlets is meaningless to us on one level because we are just going to do what we do regardless. All the same, we appreciate and value that exposure on another level.
Then there are our Genome Parties. We have had more than 30 parties all over the world last year, and we hope to keep it moving in 2018. We brought forward-thinking international artists to China like Rabit, Lao, Dinamarca, Whybe, and so on. We have developed our own concept for these parties, including mind-blowing visuals and uncompromising sound. You can easily identify that this is a Genome Party by these features. And most importantly, we have attracted so many local young people to come dance to our stuff all night long with these parties!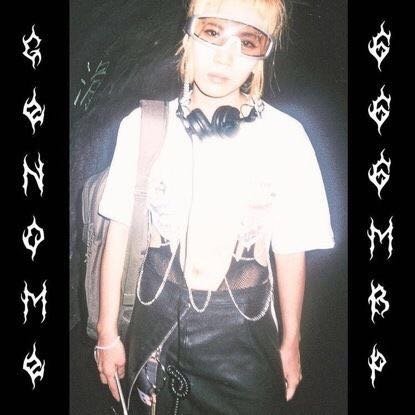 Tell me about your Genome cohorts.
I want to give props to Tavi, who is running the label. She is mainly responsible for the whole direction of Genome 6.66 Mbp, and also the releases and visuals. I help with promoting stuff on social media. And I love playing music and running parties. It gives me such an emotional release. It makes me feel good deep inside, and it's a way to share my deep feelings with others. Also, I try my best to push the local Shanghai scene's development all over the country through my promotional work.
Now we are on our second compilation mini-tour. I'm always excited to play at Dada Beijing. It is a wonderful venue for us, and it also continually supports local artists. To be honest, I kind of feel like I've lost touch with Beijing's music scene these days, everyone seems to be talking about Hangzhou, Shenzhen, or Chengdu now. So this week's party will be a good opportunity for us at Genome to plug back into what is happening in the capital, and communicate with Beijing's local artists and develop more together.
The Genome crew will hit up Dada on Feb 24. For more information, click here.
More stories by this author here.
Email: [email protected]
Twitter: @MulKyle
Instagram: mullin.kyle
Photos: Courtesy of Genome

Visit the original source and full text: the Beijinger Blog