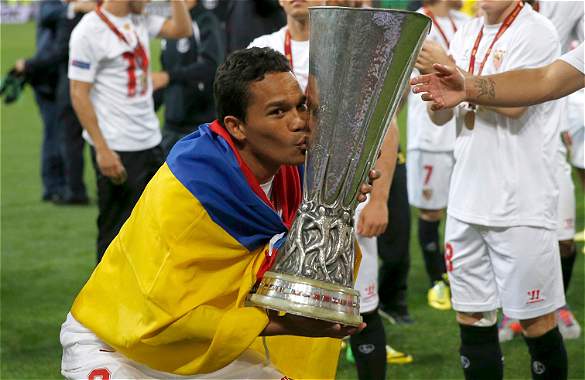 For those who haven't been following hometown Guo'an's news recently, all you need to know is that our team has stacks of cash to spend this summer ... One hundred billion dollars. OK, maybe not that much.
According to various sources, Guo'an is currently bidding for Sevilla FC's top scorer Carlos Bacca for the tune of 25 million euros (RMB 174 million). If the offer were to be accepted, Guo'an will provide the Colombian striker a monster contract worth 6 million euros per year.
The 25-million-euro transfer fee would make Bacca the highest valued soccer player in Asia, in fact, anywhere except for Europe, according to transfermarket.com, his market value roughly equaling that of Britain's favorite Theo Walcott or Germany's captain Philipp Lahm.
The lucrative 6-million-euros-per-year contract would also make Bacca one of the highest paid soccer players in the world and the second highest in China, behind Shanghai Shanggang's Dario Conca who earns around 8.13 million euros per year.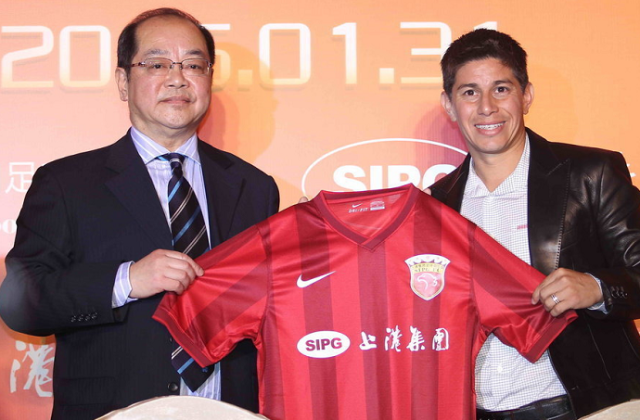 The 28-year-old Colombian striker has become one of the finest players in Europe and a hot cake in the transfer market over last two seasons. In 2014, he scored 21 goals for Sevilla and was named LFP's Best South American Player, beating Real Madrid's Angel Di Maria and Barcelona's Neymar. Last year, he scored 28 goals over all the season's competitions and helped his team win the Europa League championship. He scored two priceless gaols in the final which clinched Sevilla's 3-2 victory over FC Dnipro Dnipropetrovsk.
To acquire Bacca, Guo'an is facing fierce competition from Liverpool, one of the world's most reputed football clubs. It is rumored that The Reds have also turned their attention to Sevilla's top striker, after a rethink over buying Aston Villa's counterpart Christian Benteke.  
According to sina.com, if Bacca were to turn down the irresistibly lucrative offer, Guo'an's back-up plan involves securing Roma's striker Seydou Doumbia. It is rumored that at least 14 million Euros would be needed for Guo'an to take the legendary Ivorian forward to Gongti.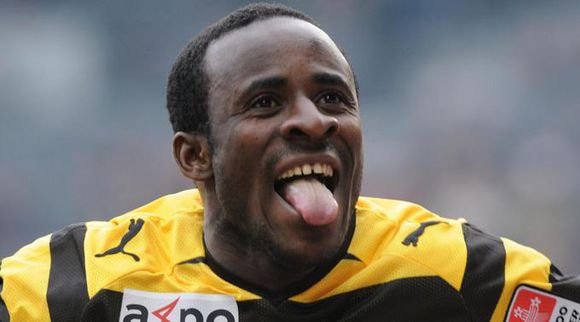 In recent years, China has become a real powerhouse in soccer, not so much in how well the teams play, but in how much money they have spent. According to a recent report from Daily Mail, the CSL (Chinese Super League) ranks 15th among all professional soccer leagues in terms of average salary. In 2014, the average player in the CSL could earn about 210 thousand pounds per year, or about 4,000 pounds per week. These figures make CSL the highest paying soccer league in Asia and Oceania, surpassing Japan's J-League, Australian's A-League, and all other Asian and Oceanian soccer leagues.
A sharp contrast to the average wage ranking, China's national team currently only ranks the 99th in the world.
The CSL has also been leading the way in transfer spending, with teams splashing a total of 74.6 million euros during the last transfer window (2015 winter), making it the second highest in the world, narrowly behind the Premier League where teams spent 77.1 million euros. However, as the CSL consists of only 16 teams, compared to the Premier League's 20, it is in fact number one in the world for total transfer expenditure per team.
Even if basketball is currently crowned China's most popular sport, money-wise, CSL players are earning astronomical figures that CBA players can't even hope to achieve. The current highest paid CSL player Dario Conca earns about 8.13 million euros per year, making him the ninth highest paid footballer in the world, compared with the Beijing Ducks' Stephon Marbury who earns the equivalent of 1.3-1.8 million euros per year.
Spanish-speaking? Maybe it's time to think about building connections and getting into China's booming sports industry. The football teams really like South American players, and they have tons of money, but don't expect to get a start in China's university league.
More stories by this author here.
Email: patrickli@thebeijinger.com
WeChat: xinwurenli
Weibo: @lucky__strike
Photos: stackexchange.com, scooponthecity.com, wildeastfootball.net

Visit the original source and full text: the Beijinger Blog