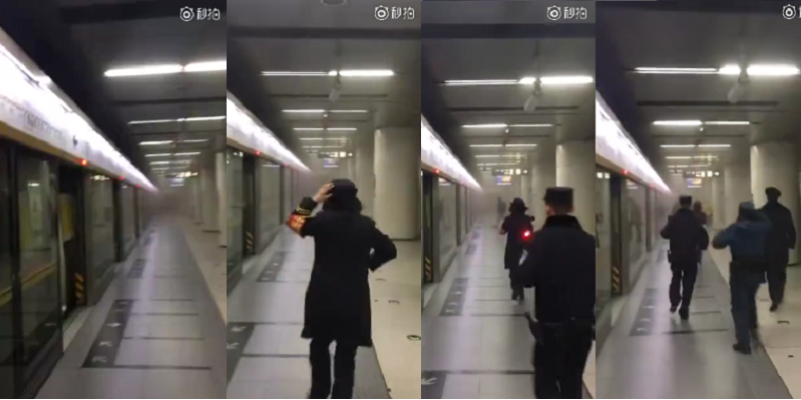 Beijing commuters were evacuated from a subway as smoke filled up a subway platform during the Tuesday morning rush hour, thereby causing multiple delays.
The incident occurred at Hujialou Station on Line 6 at around 8am, reported the New Beijing News.
A video posted online of the incident shows security personnel rushing towards a cloud of smoke at the end of the subway platform, thick enough to obsure any clear line of sight.
READ: Multiple Malfunctions Mar Opening of Beijing's New Streetcar Line
Subway commuters are seen leaving the train en masse in an orderly manner, some even taking the time to take photographs on their phones. However, audio from the video show the scene to be very chaotic as voices loudly call out in the background.
On their official Weibo account just after eight o'clock, the Beijing Metro explained that there was a malfunction at Hujialou Station, affecting subway traffic in both directions. Thirty-nine minutes later, the account said the affected train had been removed from service, and that normal operations had resumed.
READ: Beijing Subway Train Rumbles Down the Tracks With Door Wide-Open
It is unclear whether there were any injuries suffered in the incident, nor any explanation as to what malfunction caused the thick smoke.
Last July, the Beijing Metro shut down Shuangjing Station at the height of morning rush hour after commuters reported hearing loud bangs and seeing bright flashes before they were evacuated from the station. Last November, malfunctioning plaform safety doors delayed Line 10 subway service for over an hour, again during the morning rush hour.
READ: Ride the Beijing Metro by Swiping Your Phone... As Long as It's Not an iPhone
Line 6 is one of Beijing's more recent additions to its subway system, and was even recently selected to showcase its "model Beijing citizen" promotion.
Currently undergoing construction that will extend it to Pingguo Station on Line 1, newly announced plans will extend Line 6 even further west, eventually linking it with the new S1 Line.
More stories from this author here.
E-Mail: charlesliu1 (at) qq (dot) com
Twitter: @Sinopath
Images: Weibo

Visit the original source and full text: the Beijinger Blog