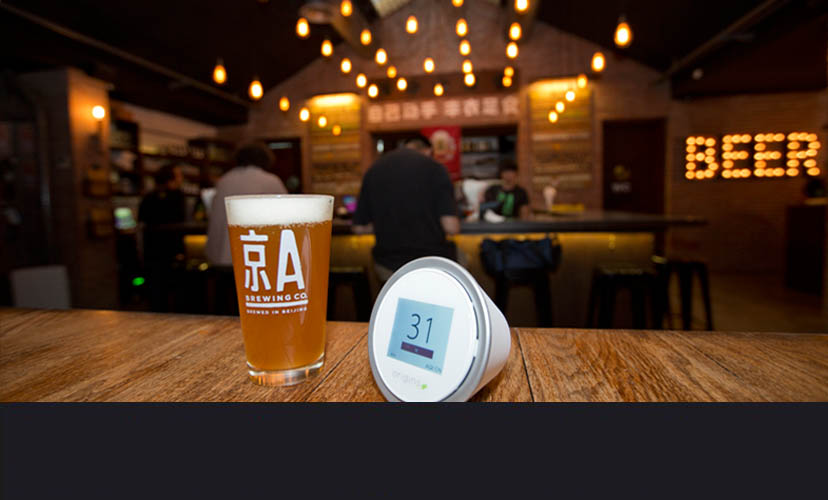 This post is sponsored by Origins, a young technology company based in Beijing that develops cutting edge smart devices designed to help people build and sustain a healthy lifestyle.
The air's bitter stench is stinging your lungs, and its murky plumes are dense enough to leave you squinting. As you slowly struggle to make your way down the sidewalk, a soft glow suddenly cuts through that haze. When you get closer, the source of that beckoning light becomes clear. It's a digital screen set up outside a storefront that says: "Today's AQI is 300 outside. Inside our venue, the AQI inside is 35." 
Liam Bates is working to turn several local businesses into such fresh air safe havens. The founder of Origins is outfitting Prime Fitness Center, Tribe Organic restaurant, the Jing-A Brewing Taproom, Lily's American Diner, Crossfit Slash and Papp's Tea (as well as several other forthcoming venues) with his startup's highly accurate and affordable Laser Egg air quality monitors. These Laser Eggs will transmit their readings via Wi-Fi onto simple big screen displays at each of the venues, so customers can easily see the improvement in their surroundings upon entering those venues. In the coming weeks Bates will also launch the "Breathing Space" iOS and Android smartphone APP map that will allow them to easily pinpoint all of the businesses taking part in this clean air partnership. 
The idea for this venture struck Bates during an extended period of heavy pollution last year. He had succeeded in sealing his apartment's windows and installing enough high quality purifiers to ward off the pollution, but that dedicated pursuit of clean air left him feeling somewhat isolated from the outside world as he waited for the smog to lift. 
"I remember being stuck inside all day because the air at home was really clean, and it was really dirty everywhere else," he says, adding that he had little confidence in the air quality of some of the nearby businesses. "My local coffee shop had one air purifier in the corner, and a sign tacked next to it saying: 'We have clean air' … one purifier for an entire shop where people are opening the door and walking in and out? Are you kidding?'"
---
As Origins' reputation for affordable, high quality air purifiers and AQI monitors began to grow amongst homeowners last month, Bates began reaching out to other small independent businesses to create a network of clean air oases. Victor Rowse, General Manager and a Personal Trainer at Prime Fitness, says it's crucial for a gym like his to be such a fresh air reprieve, prompting him to accept Bates' invitation to join Origins' clean air collective. 
"When you're working you're not only breathing the heaviest but also breathing through your mouth instead of your nose, so there's even less natural filtration going on," he says. "If we're not looking after the air quality then we're not doing our clients any favors or helping them get in shape — that would only get them a lung problem."
Rowse says he and Bates have a shared philosophy about clean air, making their partnership a natural fit. Bates agrees, saying that he is happy to hear that Rowse had been long been looking for an easy and affordable way to display the AQI in his gym, adding: "Victor told me he spoke to many companies and big brands, but it would have been too expensive for them to make such a setup. Also, these products would display the air quality in a way that wasn't sexy. Ours looks cool, with a color coded circle and a clear display of the AQI level, rather than a bunch of complex figures."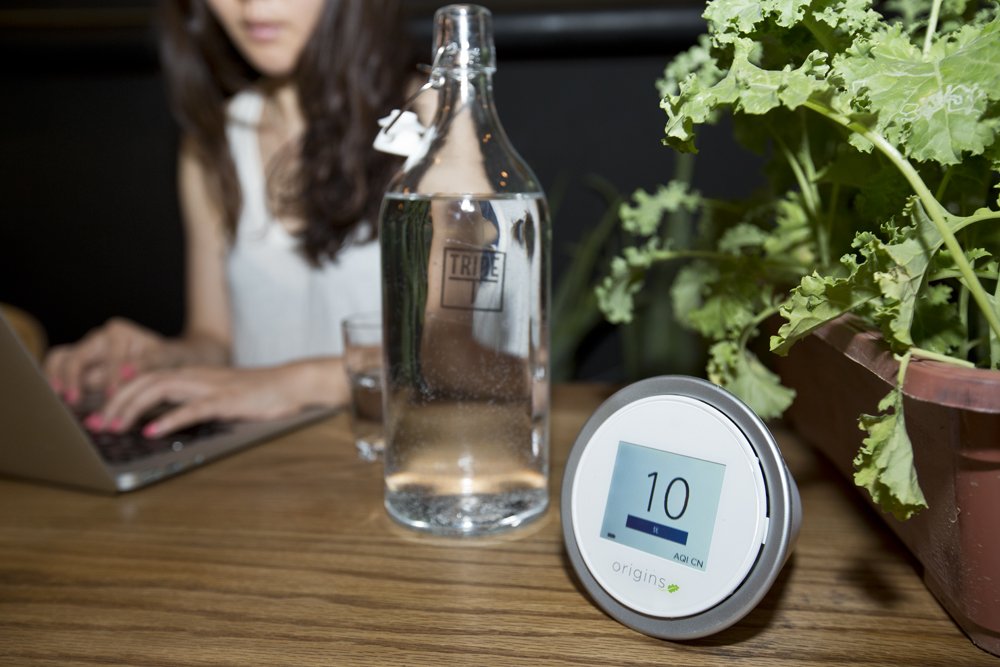 That sentiment is shared by Yvonne Yu, Executive Director at Tribe, who has also been looking for a simple way to display AQI levels to the patrons of her organic restaurant. Yu invested heavily in installing high quality air purifiers, double glazing the windows to seal out smog, and other anti-pollution measures for the venue shortly after its opening in 2014 and she is eager to build on those efforts by showing customers just how clean the air is inside Tribe. 
Yu adds that Origins was the first firm to be a good fit for such an AQI centric initiative. "I talked to some other companies before about doing something like this," she says of displaying the AQI levels in Tribe, before describing the frustrations she faced with those early efforts: "It was too expensive, and it was also too complicated. These other companies would have to get some people here to test it (the AQI) for you. It wouldn't be continuous." 
But before Yu could grow to discouraged, Origins approached her and offered the exact air quality services she was looking for. She explains: "I like that Origins' display is going to be simple, and I like the idea of how their technology works with iPhone apps and WiFi."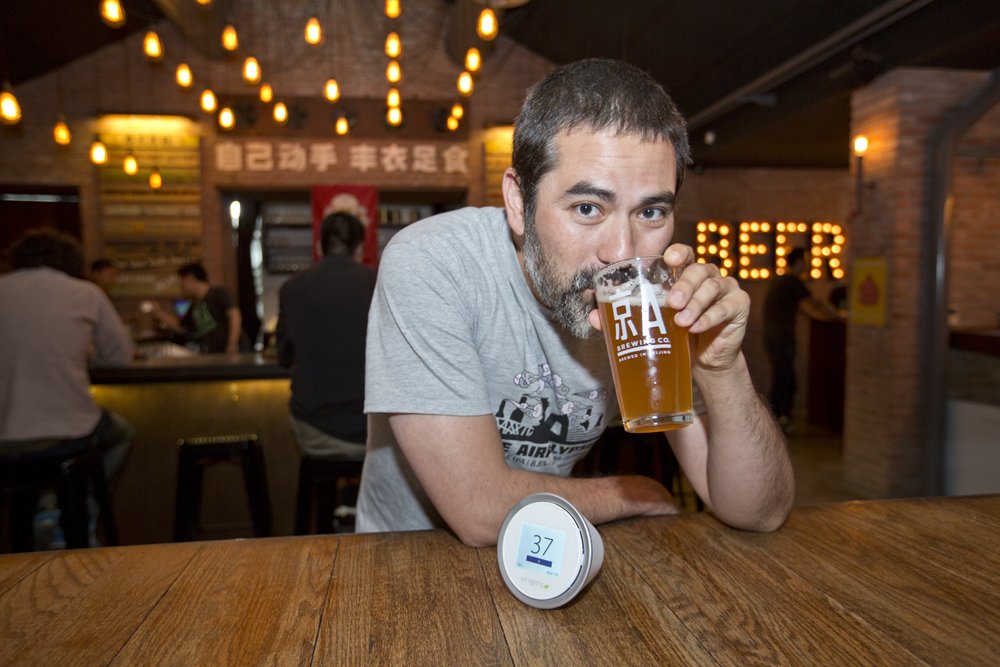 Bates says he is also happy to partner with another AQI conscientious business: Jing-A. The craft brewery shot to fame in recent years, in part, because it places a savvy discount on its Airpocalypse IPA that coincides with dismal air quality levels. But aside from boosting Beijingers' morale (and tipsiness) on those smoggy days, Jing-A has now also joined Origins' new network of businesses by installing six of the startup's air purifiers throughout their venue so that patrons can breathe easily as they sip away. 
Alex Acker, Jing-A's cofounder and one of the brewers behind the Airpocalypse IPA, says he's not only looking forward to having Origins' AQI display screen up and running at the Sanlitun taproom soon, he's also excited that Bates will inspect the bar and offer some tips to make it more pollution proof.
Acker says that clean air has always been a primary focus for the brewery, explaining: "People have been talking a lot about the smoking ban (at bars and restaurants) lately. But we've been smoke free since we opened. We always wanted to give people a fun craft beer environment minus the second-hand smoke." He adds that the ideal way to take that fresh air ethos a step further is to collaborate with a forward thinking firm like Origins, saying: "As craft brewers, we're part of the whole startup vibe that's here in Beijing, so we love opportunities to work with other startups that are making a difference. We love Liam's idea, and what he is trying to do. So we definitely want to support it."
Rowse echoes that sentiment, and says that this AQI themed partnership with Origins is appealing because the start-up has: "Really invested the time to come up with a quality product. They thought hard about the requirements in the market. And I think what we're really impressed with is that they have a vision — they want to change the way people think about air quality, and make it easier to monitor the AQI in the environment they're in. Origins' vision and great technology make them a great partner for us."
The Laser Egg costs 379 RMB and is now available for pre-order via credit card on Paypal or Jingdong at this link.
Photos by Uni You 

Visit the original source and full text: the Beijinger Blog