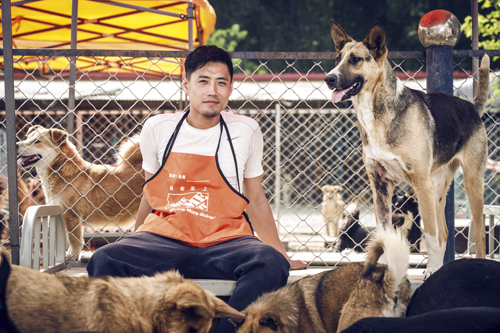 Editor's Note: As the Yulin Dog Meat Festival grabs headlines around the world, we thought it would be worth looking at an animal protection advocate right here in Beijing.
Though Xiangping Xu works for an investment group by day, animals are his true passion. "I grew up with cats and dogs. When I see poor, helpless creatures on the street, I just want to help," says the 32-year-old Beijing native. Xu volunteered for seven years at dog shelters around the city before opening two centers of his own in Shunyi less than a year ago. When we meet Xu at one of them – the Loyal Dog Adoption Center – for the interview, we're greeted by scores of happy, wagging pups. Xu shares the story of his involvement in Beijing's fledgling animal activism scene as well as his hopes for the future of animal rights in China.
How did the shelters begin?
They started because of an incident last August. There was a truck full of dogs going from Beijing to Changchun [the capital of Jinlin Province] for the annual Dog-Eating Festival. I found out about it after seeing posts on WeChat and Weibo, and banded with a group of volunteers to stop the truck. There were more than 400 dogs in total. Other people took the purebreds; there were 223 dogs left and I took them all. I couldn't just let them die. The same day, I rented this space. 
Afterwards, many dogs got sick. We took them to the animal hospital and got them medication, but around 40 died. These remaining dogs are the survivors. Since then, we've brought in about 40 to 50 more strays and abandoned dogs. People know us now; they've left dogs at our gate when they couldn't take care of them anymore. Sometimes, people spot strays on the street and bring them here.

What kind of services do you provide?
We provide all shots, vaccines, tick treatments, and spaying and neutering through licensed veterinarians. The other thing we do is adoption services. Aside from the official documents, the veterinarians must sign off on adoptees to get the dog licensed. We also have our own terms that new owners must agree to, which include having sufficient indoor space and pledging to have the dog on a leash every time they go for a walk. The owner must also promise not to abandon the dog for reasons like marriage or childbirth. The whole family must agree to these terms.

What are some of the challenges of running a dog shelter?
Since this is a private shelter, we don't receive funds from any governmental organization and our budget is limited. In the beginning, it was just a friend and I running and financially supporting both shelters. Then, three more volunteers came on and in the end we all became financial supporters.
It's expensive, however, and we're in debt. We have four full-time employees at each shelter. We have to cover salary, rent, and utilities. Dog food is our biggest expense. We make our own food, which consists of a mix of corn powder, meat that changes daily, eggs, and carrots. We also have snacks for the dogs. Overall, monthly expenses total between RMB 25,000 and RMB 30,000.
Every now and then, the dogs need medical attention or medication. Sometimes, they fight each other. Right now, we have 160 dogs at Loyal Dog Adoption Center and about 130 dogs at the second shelter. Capacity is about 100 per shelter, so we are far over. Many are big dogs and need to have their space. We're currently looking for larger accommodations, but it's hard because either the rent is very high, or the landlord or owner doesn't want to have a dog enclosure on their property.
We want to continue finding homes for the dogs to let new dogs in, otherwise our model doesn't work. So far we've found homes for just under 20 dogs. We want to start a trend in our society where people adopt from shelters instead of buying from pet shops. I post about this a lot on my WeChat and Weibo accounts.
Read the full interview on our sister website, beijingkids.

Visit the original source and full text: the Beijinger Blog