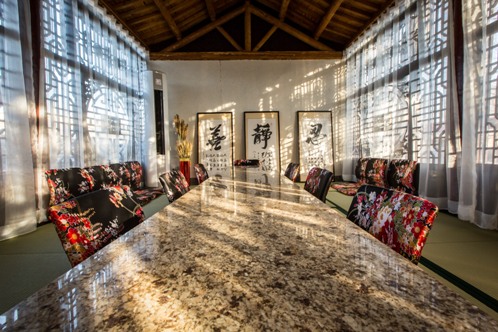 We love a good hutong roof terrace and we love a good brunch, although up to now options that combine the two have been limited to roof of the (admittedly very lovely) Orchid. So we were happy to find that hutong restaurant Mulu, which first opened early last year, had recently renovated and introduced a weekend brunch menu.
Mulu feels like the courtyard home of your classiest friend. An open kitchen and expansive dining space on the first floor gives way to a second floor dining room and a roof top garden with seating for 20 people, all decorated with cool colors and Chinese-style furnishings. Mulu's owners describe the food as "hutong cuisine". In practice this means a fusion of Western, Chinese, and Malaysian culinary techniques. A strange mix, maybe, but not when you consider that one of the owners is Chinese and the Chinese head chef has a background in Western hotels.
On the brunch menu (RMB 268 for four courses, RMB 298 including house wine) you can choose from a main course of a trio of eggs Benedict with smoked salmon, spinach, and prosciutto, or an authentic laksa Sarawak with tiger prawns. Taken on the terrace overlooking the hutong rooftops, either is a pleasant choice.
On the dinner menu, these forays into fusion produce varying degrees of success. A laksa risotto, prepared with more than 30 different spices, is a triumph, the al dente rice giving way to a broth reminiscent of a Southeast Asian scented lobster bisque. A dish of glazed black cod with sweet and sour lentils, on the other hand, fails to reach the same standard, although for us it comes as the sixth course of an eight-course menu, so it's possible we were just too full to appreciate it.
Tue-Sun 6-10pm, Sat-Sun 11.30am-3pm. 7 Xinsi Hutong, Dongsi Shiertiao, Dongcheng District (6400 3627) 东城区东四十二条辛寺胡同7号 500m northeast of Zhangzizhong Lu (Line 5)

Visit the original source and full text: the Beijinger Blog