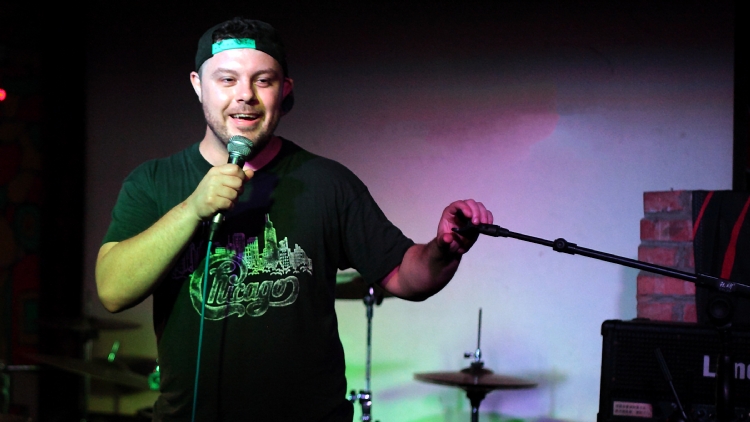 Stop me if you've heard this one. A guy walks into a bar. He spots the friends who had ditched him earlier that night and decides to air his grievances. For some unexplained reason, he also clutches a takeout bag of cheeseburgers. He's so distracting that the crowd can't focus on the comedian onstage trying to do a set. A fight almost breaks out. And CCTV is there, filming it all.
Yes, it'd be an understatement to say that things got weird this past Wednesday during Comedy Club China's regular open mic at The Local. But it's not the wackiest experience David Fertitta has had while hosting those open mics over the past six years. He's about to leave all that behind, and head back home to tend to some urgent family matters. Before that, Fertitta will have the chance to bookend his Beijing standup career by opening for one of his heroes, star comic Kyle Kinane at The Bookworm on  Feb 11. And on Tuesday, his Comedy Club China pals will bid him adieu by giving him a Comedy Central-style roast at Paddy O'Shea's. Below, funnyman Fertitta (who is also known for his Club Paradise DJing project, and for writing some viral satirical articles) tells us more about cracking wise in the Chinese capital.
So what happened at The Local earlier this week?
After five comics did their sets, this dude walks in, waving a bag of cheeseburgers and just screaming nonsense like "These fucking guys! They left me!" His friends were like: "Sorry! We saved you a seat." But he kept yelling at them, while also apologizing to the room. At first, it was kind of funny. But he wouldn't shut up, and another comic named Dave stepped in at a certain point. It looked like they might fight, and Kenn [Bermel, owner and manager of The Local] had to break it up.
The best part was, CCTV was filming it the whole time. They're doing this English language comedy program. They'll have thirty seconds of usable footage. It was just: dick joke, dick joke, angry guy.
Hopefully your opening spot for Kyle Kinane will go better. How does it feel to share the stage with one of your heroes?
It's surreal. I'm a proper dorky fanboy about him. I'm sure I'll embarrass myself. It's all encompassed in this one bit he has about his girlfriend getting worried when he goes on the road, that ladies might hit on him. And he says: "Ladies? It's just other dudes that look exactly like me." And I said to myself: "Yes, that's pretty much it. Chubby. Beardy. From Chicago. Ok, yeah. Nailed it."
It'll be a good sendoff for you.
I was going to stay in Beijing a little longer and have a headlining, self-indulgent going away show. Probably one that no one wanted to see, but that I was going to give them.
Whether they wanted it or not? [Laughs]
Yeah. That's part of our brand; "Comedy Club China: Doin' It For Us." In the end, I'm glad to be doing a shorter set and opening for one of my favorite comics of all time.
Looking back, how has Beijing's standup scene evolved during your time here?
It's great. But kind of the same as before I got involved, meaning it's still a bit of a drunken mess. That said, I feel like the comedians who've been here awhile are getting and more polished.
Doing standup in Beijing is so different than in the States, where you'd get a very tight 10-minute set together, and just work it and work it. We don't have the audience for that here; people would get really sick of that 10 minutes. So we're a little more comfortable coming up with things on the fly. You see people get more comfortable on stage here.
You've learned some valuable things then, if you want to continue doing standup back in the States?
Oh, I've learned so much. When we first started here, we were putting on open mics with no time limit. Which was insane. And we had some properly insane people. One guy once got up at Giggle Bar, back when it was still open. This guy was known for having literally killed a man and going to jail for manslaughter. So this giant, scary tattooed dude lay down onstage during one open mic and kept shouting: "This is lay-down comedy! Everyone else is doing standup comedy. I'm doing laaaaaydown." And we had no time limit. And we were too afraid to get him offstage. Every Chinese person in there left immediately.
After that, we figured out what a good time limit was, and how to host better overall.
What other crazy stories do you have?
Well, my first set in Beijing was at Centro in Guomao. The most cavernous, ridiculous space. Terrible, laughs just die in there. You want a tight space with a low ceiling.
Humor goes to die there?
Exactly. What's even worse, we were opening for a Chinese magician. As you can imagine, the center of the Venn diagram between people who enjoy my comedy, and a Chinese magician, is very small. The entire crowd was there for the Chinese magician.
It amazes me how popular magicians are in China.
I know, right? The other day I was hosting bingo for the Hatchery at Arcade, and some guy kept trying to do magic at me. He'd ask me to guess his card, and I'd tell him "I could not care less, dude. You're palming it, or something."
Another disastrous show was this one at Fellas awhile back, a bar way out on the airport express. I turned it down flat when I found out it was an all-ages show. I took so much heat, the promoters were like: "You don't want the stage time?" And I said, "Absolutely not, I don't like comedy that much." My friend who did it told "It was terrible! I was doing crowd work with eight-year-olds. I'd asked them: 'What did you play today? What color is your shirt, little homey?'" I'm a jokey comedian, I couldn't do crowd work with eight-year-olds. But nobody can, really.
What's next for you?
I'll keep doing comedy, and look for a scene back home, I hear Denver actually has a pretty good scene now. But comedy isn't as fun back in the States. Here in Beijing, it's more about doing it with your friends, and everyone's supportive. In the US you're really trying to make it work, and it can be a bit cutthroat. I mean, we have two open mics here in every week Beijing, and I can barely be bothered to go to both of them. As one of my friends would say: "No one hates comedy more than David!" So I don't know, I want to do it but on my terms, and focus on getting a job in comedy, probably a writing job.
It actually does seem like a good time to have that attitude. You can podcast, blog, do YouTube videos. It's not like in the '80s when bitter comics had to always go to the clubs.
Yes, there's a lot of different ways to make it happen now, which is exciting. It'll be so different though doing it back home compared to here, though.
Like, one thing that's kind of unique to Beijing's scene that frustrates me is we have an audience, but not enough comics. I know people who have the potential to do it, but they're too nervous to get onstage. I know public speaking is scary but, when you think about it, what are the stakes? Could they be any lower than open mic comedy, really? No one will remember how bad you are. Just go for it, it's the only way to get better. So I hope Comedy Club China continues to do well and to get more comics up and involved.
David Fertitta will open for Kyle Kinane at The Bookworm on Feb 11 before getting roasted by his Comedy Club China cohorts at Paddy O'Shea's on Feb 13 as part of that venue's weekly Tuesday comedy night. Comedy Club China's open mics are held every week – see the full schedule here.
More stories by this author here.
Email: [email protected]
Twitter: @MulKyle
Instagram: mullin.kyle
Photos: beijingcomedy.com, Mitchell Pe Masilun

Visit the original source and full text: the Beijinger Blog