Upon entering Jeanne Tattoo Studio, you will find a Pandora's box of psychedelic alien paintings and black lights. Though it has been open for less than a year, her tattoo guns have been generating quite the buzz. Jeanne's is a beloved addition to the 206 Gulou fortress, nestled just down the hall from Dada and Temple Bar, where a healthy stream of purring twentysomethings saunter in to transform themselves or just piss off their parents.
The studio itself has a pleasant communal atmosphere, with people playing video games, chatting, and a steady amount of enthusiasts commissioning Jeanne to design their dream tattoos. Jeanne has been involved in one way or another with tattooing since she was 16 years old. She did her first ink job after finding the family tattoo gun, which was used mainly for cosmetic applications (fake eyebrows). It was at this point that her interest gained momentum, and at 18, she opened her first tattoo studio. Now with plenty of experience and a couple of awards under her holster, Jeanne was kind enough to take us on a detailed walkthrough of the necessary steps required when one plans on getting inked.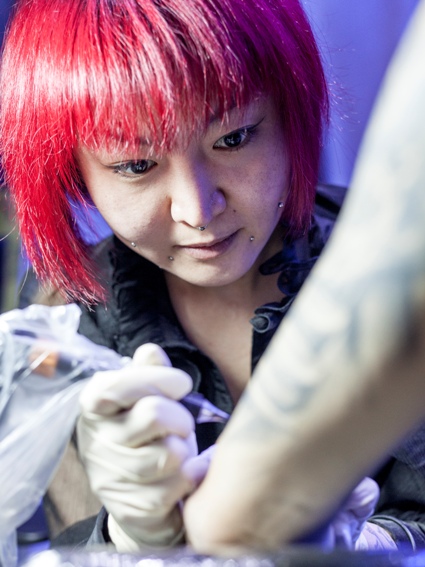 Precautions
The most important thing about getting a tattoo, is getting it done safely. Make sure you are up-to-date with your immunizations and have a plan for where you would get medical care if your tattoo should become infected.
Let's Talk About it
You probably already have a couple of ideas of the design you want and where the artist should put it. It doesn't matter if it is a basic sketch or a fully-fledged concept. Tattoo artists are just that – artists – and if you can provide a decent idea of what you want, they can easily build on that. Jeanne also has some examples of previous work, but encourages every customer to find something unique. She specializes in a three-dimensional gothic style (with plenty of depth and shading), like the mechanical organic aesthetic of H.R. Giger combined with the dark romantic imagery of William Blake.
How Much Will It Cost?
She charges RMB 1,500 for an hour which may seem steep, but keeping in mind all of her materials are imported from Europe and her excellent communication skills guarantee a pleasant experience, it's actually quite reasonable. Most simple tattoos will take less than an hour. The quickest tattoo she has ever completed took about ten minutes, while the longest she remembers was over 12 hours. Drawing It Out It can be a difficult process to materialize a possibly abstract idea into a tattoo. The tattoo artist inherits the role of an ancient scribe, translating words into pictures. Depending on what you want, she will draw it out straight on your skin. She is a talented illustrator, having studied at the Tianjin Academy of Art and Design, and in France she studied special FX makeup for film. Jeanne prefers to have complete freedom for the design, but is very easy to communicate with if you have something else in mind.
Ready to Begin
After the planning stages, she will begin the tattoo, using the dark inks first and tracing out the design with the gun. The initial tracing is followed by filling it in with color and or shading to make it pop. I saw her methodically wiping away the blood as the tattoo progressed. She is very professional and clean about the whole process, taking all of the necessary precautions to ensure an enjoyable, safe experience. After the tattoo is finished, make sure you are happy with the results so that the artist can fix it if need be. Don't be shy about asking for alterations. After all, it is your skin on the line.
Caring For Your New Tattoo
For the final step, keep a bandage on the area for at least two hours. Avoid touching the tattooed area, and don't pick at any scabs that may form. Wash the tattoo with antibacterial soap and (because a rub could damage the skin) gently pat it dry using a soft towel. An ice pack compress on the tattooed area will reduce any redness or swelling that is likely to occur. Try not to get the tattoo wet until it fully heals. Pools, hot tubs, and baths are out of the question. Then, make sure to keep your new stamp protected from the sun, using sunscreen to prevent the ink from fading, unless you are going for that withered Myrtle Beach bartender style.

Jeanne is currently looking for an able apprentice. Meet her everyday (3pm-3am) at A0103, 206 Gulou Dongdajie (132 9997 4086)
Photo: Sui

Visit the original source and full text: the Beijinger Blog