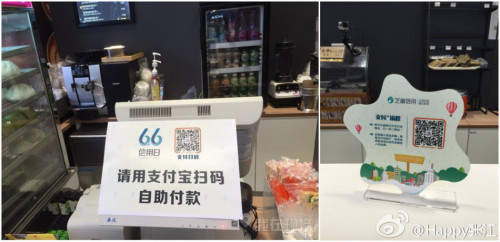 According to Hong Kong based newspaper Ming Pao, popular chain convenience store Vango had a one day trial using self checkout lanes last week at two stores in Beijing and Hangzhou. On the day of the trial, each store withdrew their cashiers and customers were told to checkout by themselves via credit card, Alipay or cash. This should be fun ...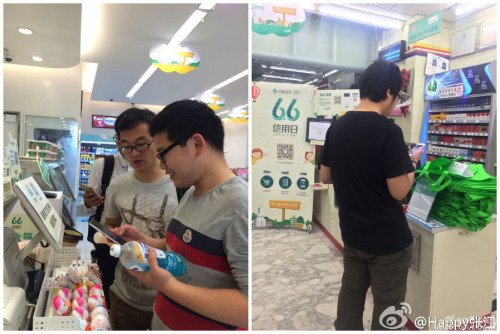 There were about 30 people stepped into the Beijing trial store near Jianguomen in the morning, and most of them paid before leaving, with one or two giving up buying anything after they became frustrated with what was (or wasn't) happening. No one stole anything (or got caught).
However, things changed dramatically in the afternoon. First, three women came to the shop and left without paying. Then a guy gave a fantastic lesson in improv at the store. When he found there was no one at the cashier, he took out a ten-kuai bill and banged it on the counter vehemently, saying, "So, no one takes charge of the cashier, huh?" Before the shopping assistant could reply, he quickly grabbed a few bottles of spirits and a few cartons of smokes and left the store, redefining self-checkout. Civilized Chaoyang fights back!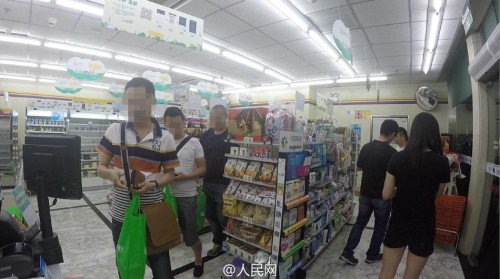 According to Qianjiang Evening News, RMB 16,700 worth of merch was sold at the Hangzhou trial store on the trial day, while only RMB 13,700 was actually cashed, which means about 18 percent of goods were stolen. About 56 percent of the transactions were conducted via Alipay, and the rest was paid in cash.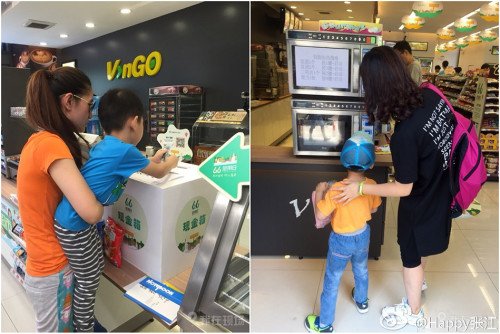 In a survey on Sina.com, 71 percent of those asked believed that self-checkout won't work out in China in immediate future. The following are the full results of the survey as of press time:
Will you pay accordingly at self checkout lanes?
Yes, 88 percent
No, 4 percent
Hard to say, 8 percent
      2. How do you feel about the people who cheat at self checkout lanes?
Contempt. It's theft. 68 percent
I can understand. Such is human nature. 26 percent
Hard to say. 6 percent
      3. Do you think self checkout lanes will work out in China?
      a. Yes, 10 percent
      b. No, 71 percent
      c. Hard to say, 19 percent
More stories by this author here.
Email: patrickli@thebeijinger.com
WeChat: xinwurenli
Weibo: @lucky__strike
Photos: Sina.com

Visit the original source and full text: the Beijinger Blog