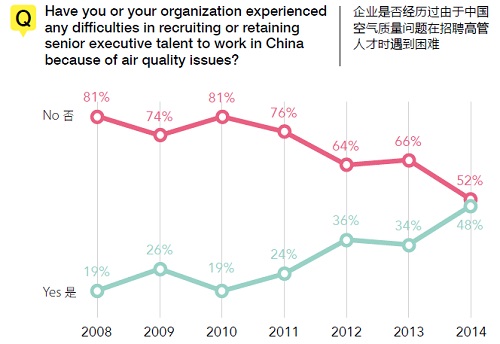 It's official: Beijing's bad air is causing a brain drain. Nearly half the companies polled in the American Chamber of Commerce in China's recently released 2014 Business Climate Survey indicate that they have had difficulty hiring or retaining talent due to the city's increasingly ugly reputation as the planet's Black Lung.
Released last week, the survey of 365 AmCham member businesses in their main membership area of Beijing (plus satellite members in Tianjin, Dalian and Wuhan), indicates that hiring difficulties due to bad air are worsening at an alarmng pace, doubling since 2011 to a full 48% of businesses citing it as a significant problem.
Though we're not an American company (nor a member of AmCham), we here at the Beijinger can relate: 1/3 of our staff departures over the last 12 months were due to staff leaving the city, many of whom relocated overseas to greener pastures.
It seems this trend is hitting expats and Chinese alike -- many of those with a choice are choosing to get the heck out. We hear via our sister magazine beijingkids that traditionally expat-centric international schools are getting hit on two fronts: a declining pool of expat children for enrollment, and increased difficulty in recruting teaching and administrative talent, many of which are choosing between postings in Beijing versus booming international schools in more appealing destination cities.
In perhaps the most direct and tragic remark from a CNBC story on the issue, reporter Katie Holliday quotes a recent Beijing emigre:
Life is short, we can't live there anymore. I'm not thinking about going back," she said. "In my daughter's kindergarten [in Beijing], many kids had respiratory problems and you know when kids get asthma or pneumonia it could be fatal."
Wang Shen, a 36-year old marketing executive at an international IT company, just moved to New Zealand with her three year old daughter to escape the pollution in Beijing. "
The flip side of this is that there's been a general return of the "hardship allowance" (according to the same CNBC article), meaning those hardcases that tough it out and take up posts in cities like Beijing are being lured with additional financial incentives to stay.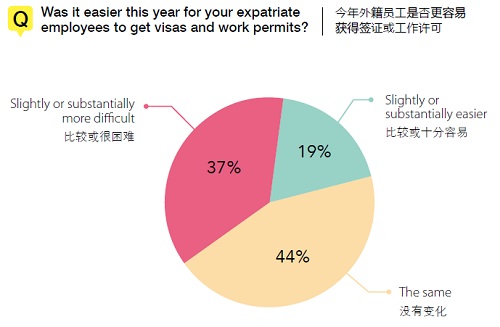 In other bad news, more than a third of those polled indicate that its increasingly difficult to get visas and work permits for their foreign staff. Add that to the diminished appeal of the city due to air pollution and it equals a huge thorn in the side for companies that rely on foreign staff.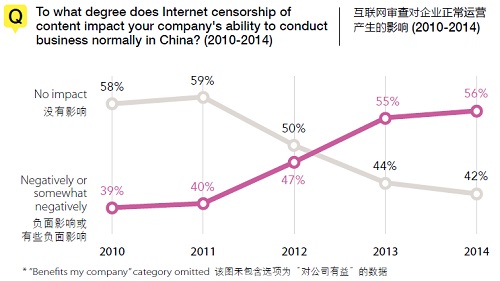 And in a trend that demonstrates how critical being connected to the outside world is to the very core of doing business, more than half of those polled say the blocking of internet sites such as Facebook, Youtube, and many major foreign news portals impacts their ability to conduct business normally in China.
Google's decision to pull out of China in 2010 and the subsquent difficulties of accessing Google's services no doubt plays a part in this increasing internet snafu, as Google is not just a search engine for many businesses, but an email and software-as-a-service provider as well. As recently as 3 years ago, 60% of those polled indicated that internet censorship had no impact on their business.
Despite all this gloom, the trend isn't all bad news -- members cite an increasingly stable investment environment and a gradual trend towards better respect for intellectual property as some of the bright spots of doing business in China. And in perhaps the most important metric of all -- looking towards the future -- a full 75% remain optimistic about the business in China over the next two years.
To obtain a full copy of the report, please visit AmCham China here.
All Graphics: AmCham China 2014 Business Climate Survey

Visit the original source and full text: the Beijinger Blog