You might have already heard of WeSecretary, the recently-launched service that helps foreigners find whatever they need in Beijing. The idea is simple: add "we-secretary" on WeChat, tell the real live human on the other end what you need, they find it for you, and you pay a 10 percent commission charge. My friends and I had cause to try WeSecretary last week, and it was great.
We'd planned a weekend camping trip to Yunmengshan, but our usual driver was unavailable. We needed to find private transportation large enough to fit 11 people plus equipment and only had a few days to do it.
One person suggested WeSecretary, which he'd heard about through one of the expat magazines. He added them on WeChat, explained what we needed, and got a quote for a van within ten minutes. The concierge was friendly, prompt, and spoke good English.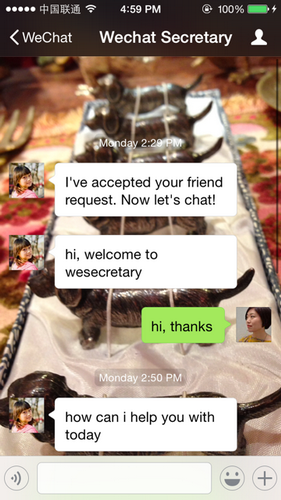 The only hiccup was that she originally quoted us the wrong price, thinking we needed a van for a day trip rather than an overnight camping trip. However, she made up for the mistake by charging us a lower commission fee. After the price was agreed on, my friend paid the commission charge through WeChat Wallet and got the driver's mobile number.
The van itself was smaller than our usual ride, so we had to do some creative re-arranging of the seats in order to fit 11 people, backpacks, tents, ground mats, and sleeping bags. But considering the short notice and how easy the overall process was, we were impressed by WeChat Secretary's services.
On WeSecretary's website, the company says it can also help expats "buy stuff on Taobao, get an Alipay account, book an ayi on demand, have water delivered, find a repairman," and more. Accepted payment methods include WeChat Wallet, credit card, Alipay, bank transfer, and even Bitcoin.
To contact them, just scan the QR code on their website or email [email protected].
This article first appeared on our sister website, beijingkids.
Photos: Wuxi City Guide, Sijia Chen

Visit the original source and full text: the Beijinger Blog