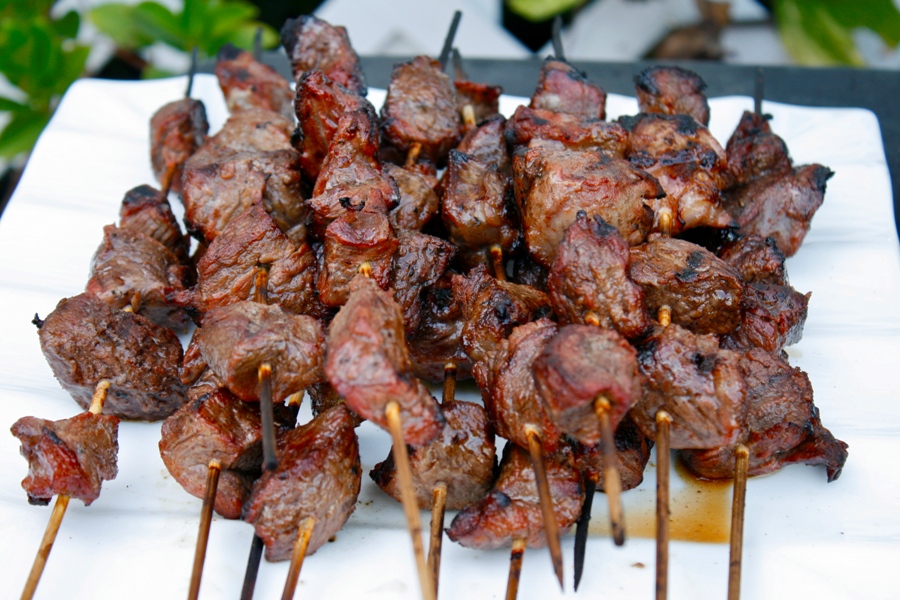 It's that time of year again: the time to sit outside on tiny stools, order way too much chuan'r, overestimate your ability to stand mala, and wash it all down with a mug of jiapi (that delicious draft beer).
Outdoor chuan'r and beer restaurants aren't only the perfect way to enjoy summer in Beijing, but they're a great way to save money during an otherwise expensive travel and holiday season, and make friends too. These are some perfect spots to eat your fill. Bear in mind that none of these joints have official opening times, as most of them will stay open until the last patron has finally had enough. 

Beer Garden, Guizhou Hotel
Located just off the North Third Ring road, this chuan'r-and-beer garden is perfect for meeting up with friends who live in different corners of the city, and is worth the trip in itself. There is a long list of chuan'r options, and you can get classes of beer, or even meters. The garden is located just outside Guizhou hotel, which means you can actually use the swish facilities of the hotel (rejoice, ladies!) once you've broken the seal. 
Guizhou Dasha, 1 Yinghua Xijie, Chaoyang District

Chuan'r Restaurant, Wudaoying Hutong
Within easy reach of Gulou hipster paradise, the chuan'r joint on the southeast corner of Andingmen bridge, at the western entrance to Wudaoying hutong, is a hairdresser by day and a chuan'r trap by night, including portable barbecue. Prices here are relatively low, and the skewers are kept on the chuan'rbecue ''til late. Staff are friendly, and will try to help you read the menu if your character game isn't strong.
Wudaoying Hutong, Dongcheng District

Chuan'r and Beer Garden, Asian Games Village, Huixinxijie Beikou
Open 24-hours, this is a huge chuan'r-and-beer garden that has a good range of cold dishes and warm dishes too, on top of their extensive chuan'r menu. All based covered, this is a great option if you're with a group of hungry friends late at night. This joint also has a bathroom at the back, which is more than what we can say for the average chuan'r stand. As if this place wasn't looking attractive enough, draft beer here costs a mere RMB 4. 
Xiaoyingxilu, Chaoyang District

Xinjiang Fenwei, Beixinqiao
In true Xinjiang style, this restaurant by Beixinqiao is authentic. The only downside is that the restaurant's al fresco seating is located right next to the main road, which makes for some lovely sides of exhaust gas with your chuan'r. Alternatively, walk down Xiang'er Hutong, there are a few more spots to be found, but none of them have as many outside tables.
3 Xiang'er Hutong, Dongcheng District

Tanhua Kaochuan, Jiugulou
With a reasonably sized rooftop in the middle of Jiugulou, this chuan'r place is a little bit fancier than the ones with the stools out on the street. The menu is extensive, in English, and accompanied by pictures, making this the perfect place to go if you're not too confident about your character reading skills. 
141 Jiugulou Dajie, Xicheng District
Editor's Note: Chuan'r like that in the photo not guaranteed at any of these locations. We can dream though.
More stories by this author here.
Email: [email protected]
Instagram: s.xuagram
Photo: Presley Pantry

Visit the original source and full text: the Beijinger Blog