The imitated but never duplicated Great Wall Party is back on June 13 with an insane lineup of local greats including DJs Suki, Patrick Yu, Azat, Mike Hotten, Pancake Lee, and the Syndicate crew. The last time they threw this party was in 2011, and Fatboy Slim was the guest of honor. Due to a later start time this year this time around and with the sheer number of performers booked, the party is likely to go on late into the night, making it without a doubt the don't miss event of the weekend.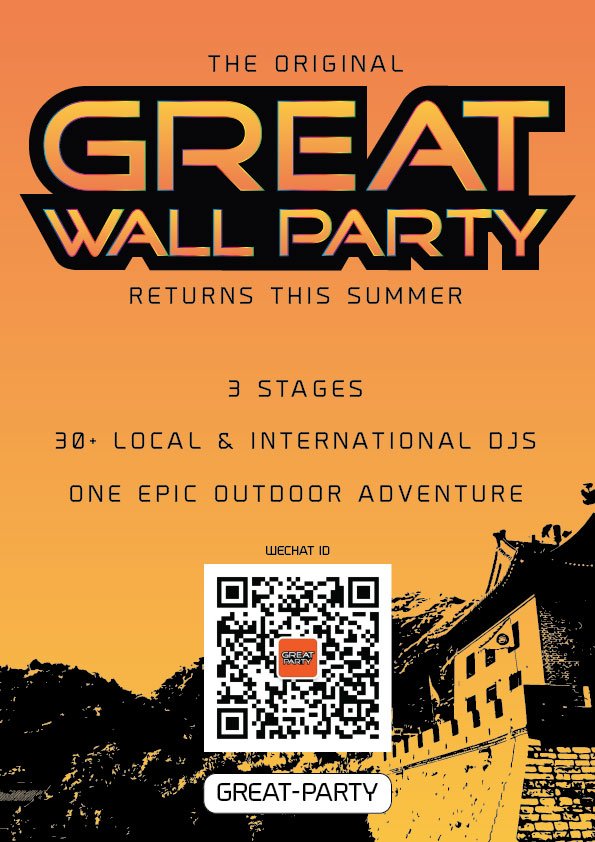 To get your dirty paws on these hot tickets write a brief description of your worst experience at the Great Wall by 4pm on Thursday (June 11) to [email protected]. The tickets are worth a combined RMB 600 and includes a ride too and from the venue (buses leave 3pm and 5pm from Chaoyang South Gate and 4pm and 6pm from Wudaokou, Huaqingjiayuan East Gate).
We honestly have no way of knowing if your stories are true or false so get creative with it. With only five days to go, these are sure to get harder and harder to find as the week rolls on.
For more information, visit the event listing, Great Wall Party official website or follow them via "great-party".
More stories by this author here.
Email: [email protected] 
WeChat: kippwhittaker
Weibo: @KippWhittaker 
Instagram: @KIDDWHIZ
Images courtesy of the organizers

Visit the original source and full text: the Beijinger Blog