Ah, Monday. How the hell are we going to make it until the weekend, when work dissipates and the social calendar kicks back into high gear?
Never fear, this guide will help you get through one more week of the vocational grind by highlighting the best events in town, which over the coming days involve rubbing some hops at Arrow Factory Brewing, grooving to Jim Morrison's music and poetry, getting frustrated in ExtraPolis, a visual virtual-reality city, getting exhilarated by Quentin Tarantino's Django Unchained, and howling at the midnight moon at Gulou Double Decker #5. 
And don't forget that this week kicks off the first Beijing Craft Beer Week. From Monday to Wednesday, each hosting brewery will have its own events, held during their normal business hours. More info here.
Want more events? Check our events section here.
 
Monday
GLB #45 Brewpub Presents: Laugh with Beijing Improv
Experience the on the cuff professionalism of Beijing's most illustrious improv troop. Combine this with a couple of Great Leap's delicious beers and you have the perfect recipe for deranged merriment. All proceeds will go to the Beijing LGBT Center to fund its many programs, including their LGBT-focused mental health counselor training scheme which continues to train counselors and provide help for members of the community who need help. This event is part of the 2015 Beijing Craft Beer Festival. Know more here.

Tuesday
La Bas Screening of Django Unchained
Tarantino's love of pithy language hasn't deserted him, but the dialogue never exists only for its own sake: every moment feels purposeful. Come to La Bas on Tuesday night for a burst of pleasure: the note-perfect performances, the brace of close-to-the-bone, borderline offensive moments, the soaring cine-literate soundtrack and the sheer, relentless drive. So welcome back, Quentin.
 
Hop Rubbing: Calling All Beer Geeks and Hop Heads!
With all the hops available today, how do you decide which to use? Arrow Factory brewers Will and Thomas share some tips that will deepen your understanding of this critical part of brewing. You'll get your hands all over our hops and coax out their distinct and wonderful aromas. Due to space and attention span restrictions, the event is limited to 20 attendees. Attendees will also get a pint of Pilgrim's Progress amber ale, a pint of Seeing Double IPA and an Arrow Factory Brewing glass to take home. Reserve now! This event is part of the 2015 Beijing Craft Beer Week. Know more here.
A Holocaust Survival Story: Talk with Chris Nicola
In 1993, veteran caver Chris Nicola became one of the first Americans to explore Ukraine's famous Gypsum Giant cave systems. His interest began when he heard a rumor: the story of how a group of Jews survived the Holocaust by living in a cave for more than a year. Nicola confirmed the story by locating 14 of the original 38 cave dwellers, then co-authoring a book that led to a documentary about their experiences. Want to know more? Meet the author on Tuesday night at the Bookworm.
Poetry and Rock, the Beijing Doors Concert at DDC, Tribute to Jim Morrison
Jim Morrison was first a poet then a guitarist. The Beijing Doors will put a concert and recitation of Morrison's poetry together at DDC and will lead you into a light weekday-night trance.
 
Wednesday
Ai Weiwei at Galleria Continua/Tang Gallery
Ai Weiwei is a name that needs no introduction. He completely reshapes Galleria Continua and Tang Gallery's spaces in order to bring the public a replica Anhui-style house, an embodiment of local customs, community, and society as well as a number of small clues that may or may not hint towards other cheeky intentions ... you decide. No excuse for missing.
Hagaki Kitchen Take Over at Jing-A
Join us as Rob Cunningham of EAST, Beijing Hotel turns 京A Taproom into a craft beer Izakaya! For one night only, he'll be bringing you a four course Japanese menu designed to be paired with 京A's brews: Hagaki salmon roll with avocado and cucumber, tonkatsu burger with pickled ginger and Japanese mayonnaise, chicken and leek yakitori, and crispy river shrimp with lemon salt.
 
Thursday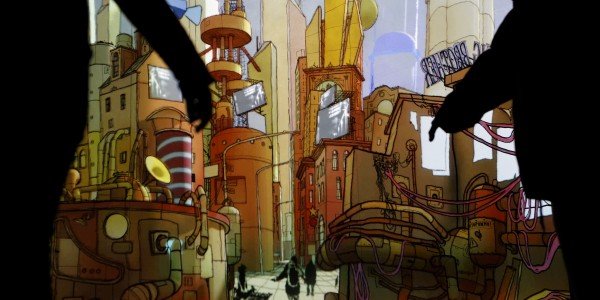 Augmented Interactive Screens: ExtraPolis
An visual installation of a city in which visitor can interact. How cool is that? ExtraPolis immerses the viewer in a city in perpetual motion, offering viewers a unique sensory experience. Observing and being observed, the viewer contemplates a whimsical city coming to life in his very eyes, and he could very well be the protagonist. Jun 11-13 only at the Meridian Space.
Gulou Double Decker Vol. 5
After riotous previous editions of Gulou's craziest new monthly series – the Gulou Double Decker – which combines the kinetic electronic sounds of pangbianr's curation with Dada and the hot-blooded performances of Live Beijing Music's selections at Temple. This time around, Temples sees new sounds from the K-pop manipulator Dong Dong Dong (the stand-up version of thruoutin), frantic exotica haze from Dizzy Di, the emotive and hypnotic guitar and keyboard from Sealed Jar, as well as the long awaited return of electro pop queen Jia Huizhen, whose been busy in the studio as of late.
Meanwhile, downstairs, Dada brings forth the madness as cosmic acid house producer Mark Dwinell of Forma along School Girl Report, Kipp the Menace, and the Nasty Wizard Cul. Bring your tents, cause it's gonna be a treat.
Photos courtesy of the organizers, am774.com

Visit the original source and full text: the Beijinger Blog