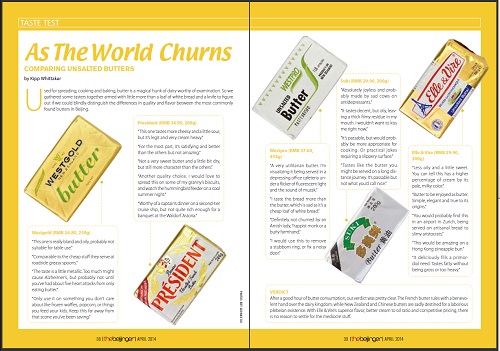 Used for spreading, cooking and baking, butter is a magical hunk of dairy worthy of examination. For our April issue's Taste Test (read the April issue in all its glory online at issuu.com here), we gathered some tasters together armed with little more than a loaf of white bread and a knife to figure out if we could blindly distinguish the differences in quality and flavor between the most commonly found butters in Beijing.
President (RMB 34.90, 200g)
"This one tastes more cheesy and a little sour, but it's legit and very cream heavy."
"For the most part, it's satisfying and better than the others but not amazing."
"Not a very sweet butter and a little bit dry, but still more character than the others."
"Another quality choice. I would love to spread this on some of my granny's biscuits, and watch the hummingbird feeder on a cool summer night."
"Worthy of a captain's dinner on a second-tier cruise ship, but not quite rich enough for a banquet at the Waldorf Astoria."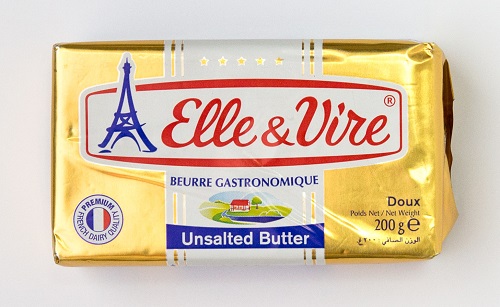 Elle & Vire (RMB 29.90, 200g)
"Less oily and a little sweet. You can tell this has a higher percentage of cream by its pale, milky color."
"Butter to be enjoyed as butter. Simple, elegant and true to its origins."
"You would probably find this in an airport in Zurich, being served on artisanal bread to slimy aristocrats."
"This would be amazing on a Hong Kong pineapple bun."
"It deliciously fills a primordial need. Tastes fatty without being gross or too heavy."
Westgold (RMB 26.80, 250g)
"This one is really bland and oily, probably not suitable for table use."
"Comparable to the cheap stuff they serve at roadside greasy spoons."
"The taste is a little metallic. Too much might cause Alzheimer's, but probably not until you've had about five heart attacks from only eating butter."
"Only use it on something you don't care about like frozen waffles, popcorn, or things you feed your kids. Keep this far away from that scone you've been saving."
Suki (RMB 29.90, 200g)
"Absolutely joyless and probably made by sad cows on antidepressants."
"It tastes decent, but oily, leaving a thick filmy residue in my mouth. I wouldn't want to kiss me right now."
"It's passable, but would probably be more appropriate for cooking. Or practical jokes requiring a slippery surface."
"Tastes like the butter you might be served on a long distance journey. It's passable but not what you'd call nice."
Westpro (RMB 37.60, 454g)
"A very utilitarian butter. I'm visualizing it being served in a depressing office cafeteria under a flicker of fluorescent light and the sound of muzak."
"I taste the bread more than the butter, which is sad as it's a cheap loaf of white bread."
"Definitely not churned by an Amish lady, Trappist monk or a burly farmhand."
"I would use this to remove a stubborn ring, or fix a noisy door."
The Verdict
After a good hour of butter consumption, our verdict was pretty clear. The French butter rules with a benevolent hand over the dairy kingdom, while New Zealand and Chinese butters are sadly destined for a laborious plebeian existence. With Elle & Vire's superior flavor, better cream to oil ratio and competitive pricing, there is no reason to settle for the mediocre stuff.

Visit the original source and full text: the Beijinger Blog