It's hard to believe that everyone's favorite neighborhood bistro and rummery, Cu Ju, is about to turn three years old. Cu Ju is celebrating the fact that it has been three years since they opened their doors just in time for the 2012 Euro Cup with a week of events, from Monday June 8 to Sunday June 14.
This bar gained a special spot in my heart last summer, when it catered to us hard-core embarrassingly-patriotic football fans during the World Cup of 2014 that turned into a catastrophe for my home country, the Netherlands. No match was too late/early, and no drink was too orange.
If you've never been before, this is the perfect time to sample some of Badr Benjelloun's creations, whether it be rum-based cocktails or the Moroccan home-style dishes. 
Here is a rundown of the festivities:
Monday June 8
Everything is buy-one-get-one free, regardless of whether it's food or drink.
Tuesday June 9
Buy-one-get-one on sandwiches and wine.
Thursday June 11
Get a complimentary glass of wine or a cocktail which every main.
Friday June 12
All night happy hour food and drink.
Saturday June 13
Buy-one-get-one on sandwiches and wine.
Sunday June 14
And for the big finale: pop by in the afternoon for a Hutong barbecue with free-flow Kirin beer, mixed drinks and Sangria. RSVP in advance.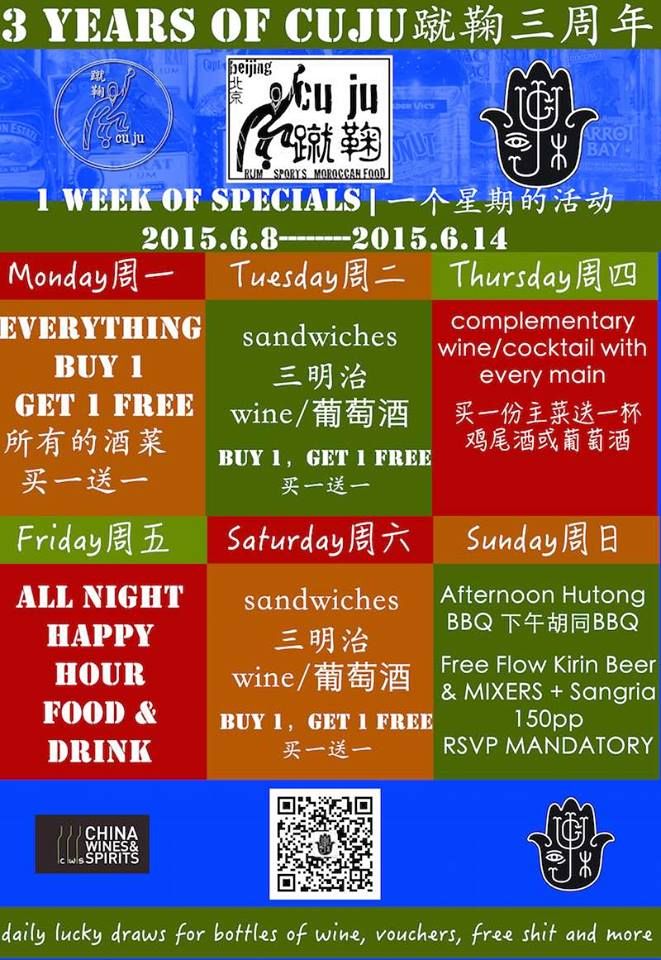 Expect daily surprise deals and giveaways too. See you there!
More stories by this author here.
Email: [email protected]
Instagram: s.xuagram
Photo: Ken

Visit the original source and full text: the Beijinger Blog